2021-2022 Distinguished Alumni Awards: Jean-Marc (J.M.) Allain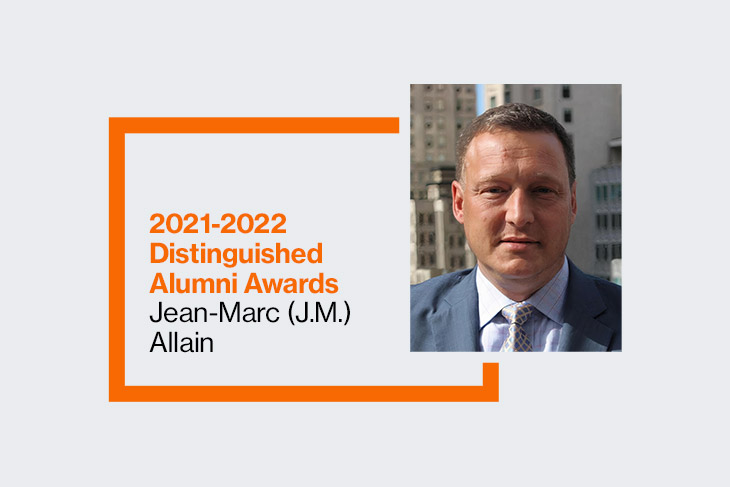 The Distinguished Alumni Awards are presented annually by each of RIT's nine colleges, the School of Individualized Study, and the Graduate School to alumni who have performed at the highest levels of their profession or who have contributed to the advancement and leadership of civic, philanthropic, or service organizations. It is the highest award an RIT college can bestow upon its alumni. The 2021-2022 recipients were honored during presentations throughout the spring semester.
School of Individualized Study honoree: Jean-Marc (J.M.) Allain BS '03
Applied arts and sciences
Managing general partner, JA Pro Services
What is your favorite RIT memory?
"I was one of the first fully online students at RIT. The faculty members were so great. I was traveling frequently for work all over the world and they literally sent me boxes of VHS tapes of classes and lectures to watch and then complete assignments. It was cutting edge at the time. I felt like a pioneer."
How did RIT help to prepare you for success?
"I went straight to work when I was coming out of high school and worked my way up quickly. I realized I needed a degree if I wanted to continue moving forward. I could have just paid for a degree from one of these 'diploma mills' and done very little to improve myself. I wanted a real degree from a top-tier university that would be willing to work with my situation through distance learning—raising a family, traveling for work, etc. RIT was willing to do that. I was able to successfully complete my degree, which helped me succeed both personally and professionally."
Topics