Alumna champions human and women's rights through illustration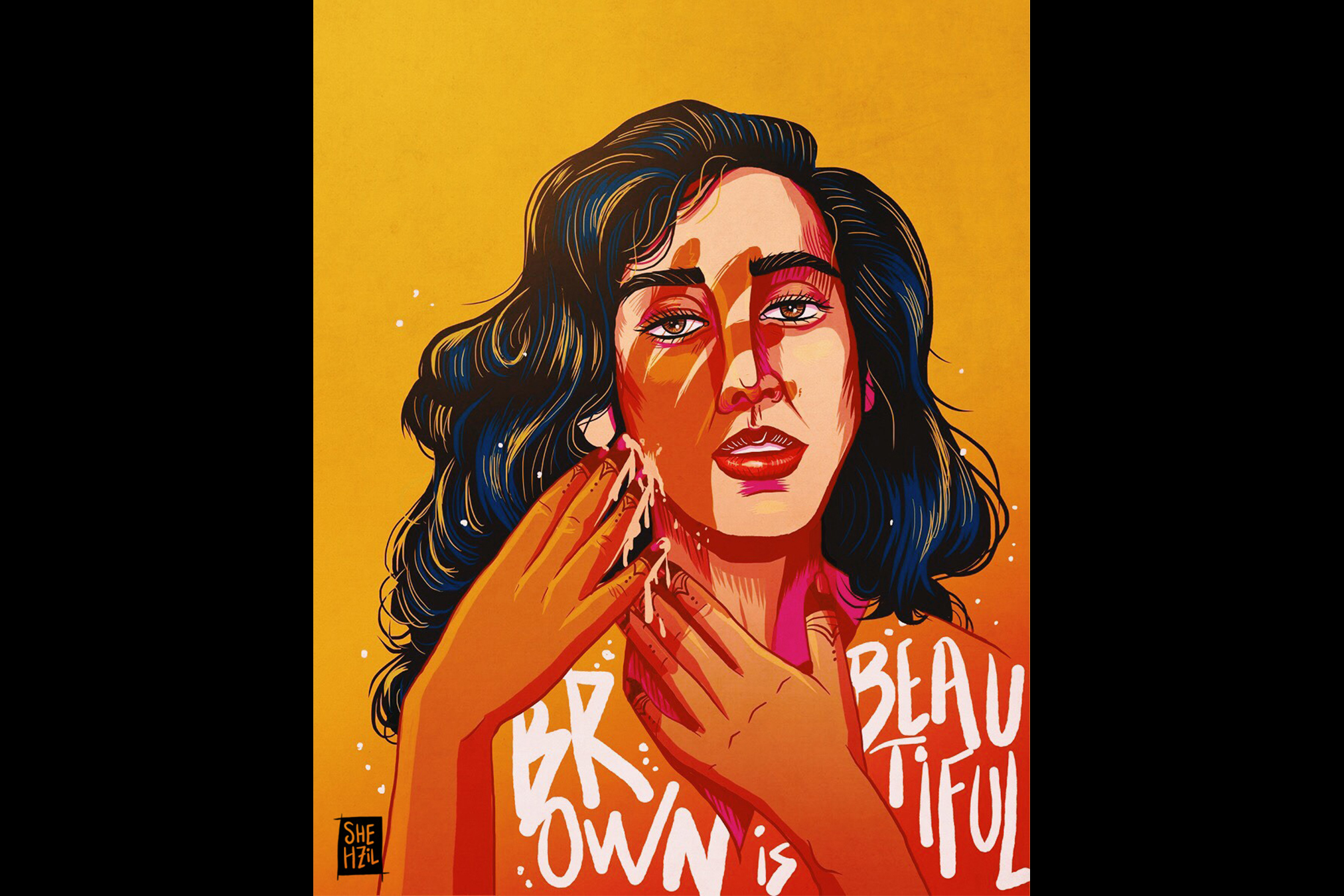 As women's rights advocates in Pakistan increasingly participate in the country's Aurat March on International Women's Day, the corresponding posters have become symbolic of the event's ethos.
Shehzil Malik '14 MFA (visual communication design) designs one of those ever-present posters each year in support of Pakistan's growing feminist movement. She makes it free to download from her website, too, leading to widespread display.  
It is just one measure Malik takes to encourage social change through art.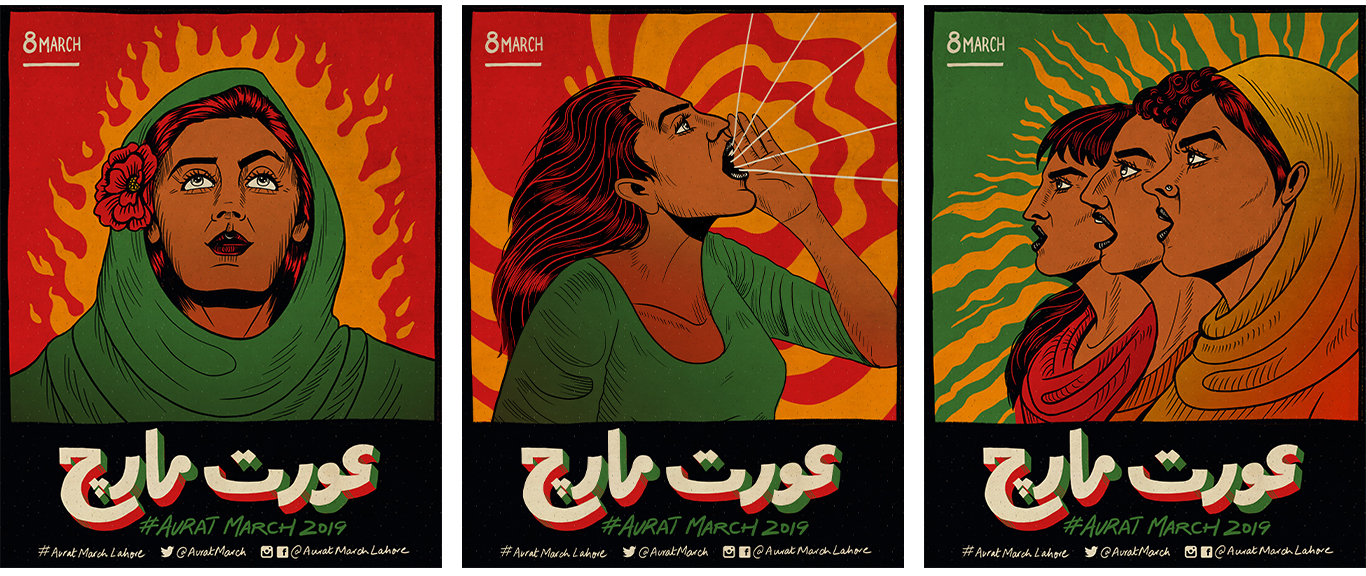 Malik, from Pakistan, is an award-winning illustrator and designer focused on themes related to human rights, feminism and her South Asian identity. Her work empowers women and brings attention to critical issues in her home country and around the world.
"Conversations are now being had on the national front on feminist concerns and my work is accompanying this discourse," Malik said. "Oftentimes it's about drawing an image that encapsulates serious issues relating to women's emancipation and countering gender-based violence, and I can't think of a better use of illustration."
On a lighter note, Malik's unmistakable illustration style was featured in the new Disney+ series Ms. Marvel, which follows Kamala Khan, a teenage Pakistani-American who gains superpowers. 
Previous illustrations Malik produced were licensed for inclusion in the show. In various scenes, they are seen hanging in Kamala's bedroom, on the streets of Pakistan and on clothing, adding authenticity to the set design.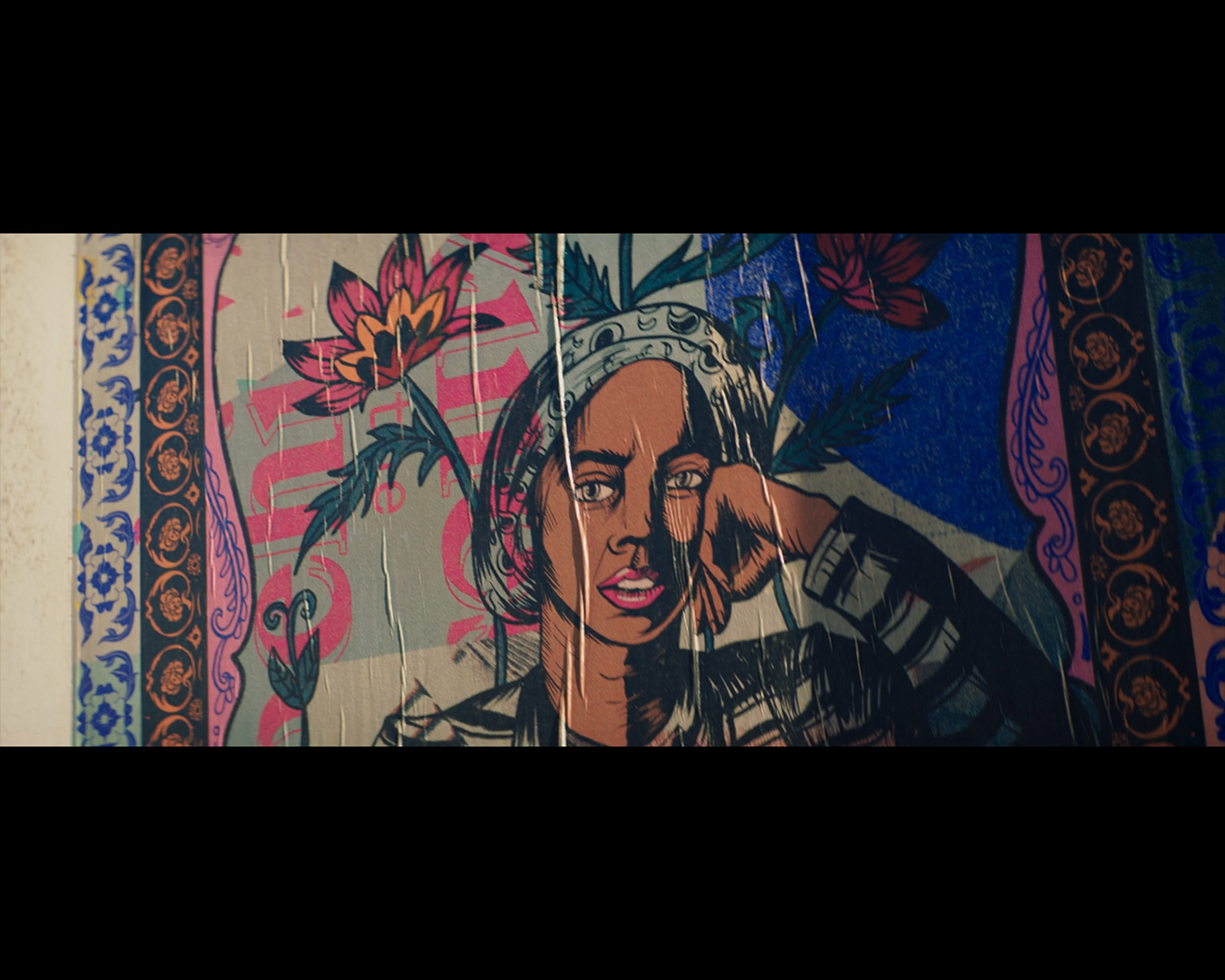 Due to the joyful nature of the series, Malik ensured the selected licensed work was a departure from her socio-politico art and matched the show's tenor. 
For those familiar with Malik's work — and there are many, considering her strong social media following — Ms. Marvel is a "Where's Waldo?" exercise to spot her art. Some of her archived illustrations were also collaged on the official poster.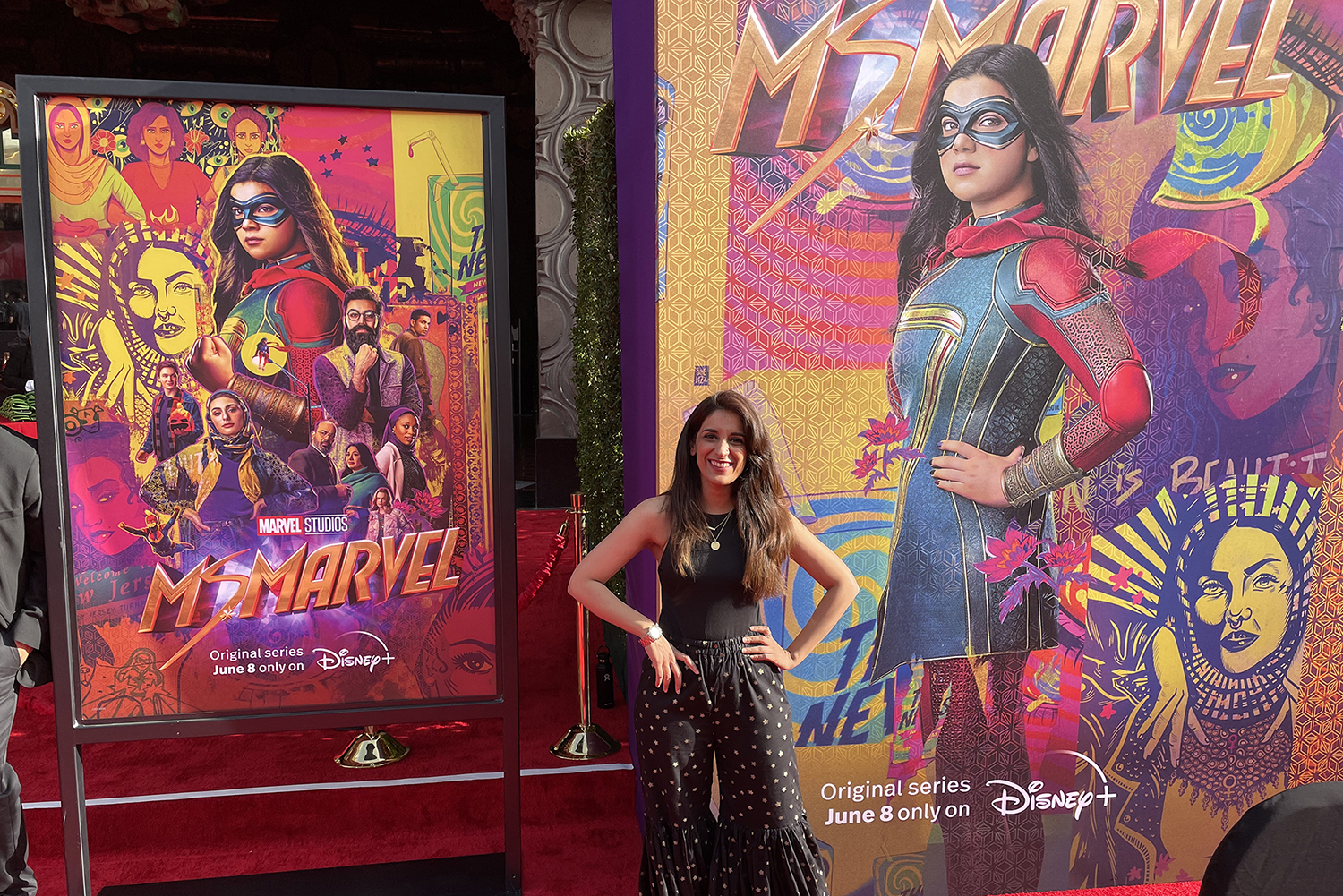 "It's so strange to see artwork I made years ago pop up in cities around the world," Malik said. "While in New York, I saw it in Times Square, too."
Malik said it is "heartwarming" to see a high-profile series starring a Pakistani family. 
"Ms. Marvel hopefully will open a lot of doors to new stories about the region or Muslims in general," Malik said. "Even to get that validation that your stories are important and the world wants to listen to them – that's huge."
Malik was also invited to the Hollywood premiere to co-lead an Instagram Live segment sponsored by Disney, Marvel and Xbox. She marked an Xbox with a custom Ms. Marvel drawing while answering live questions next to the red carpet.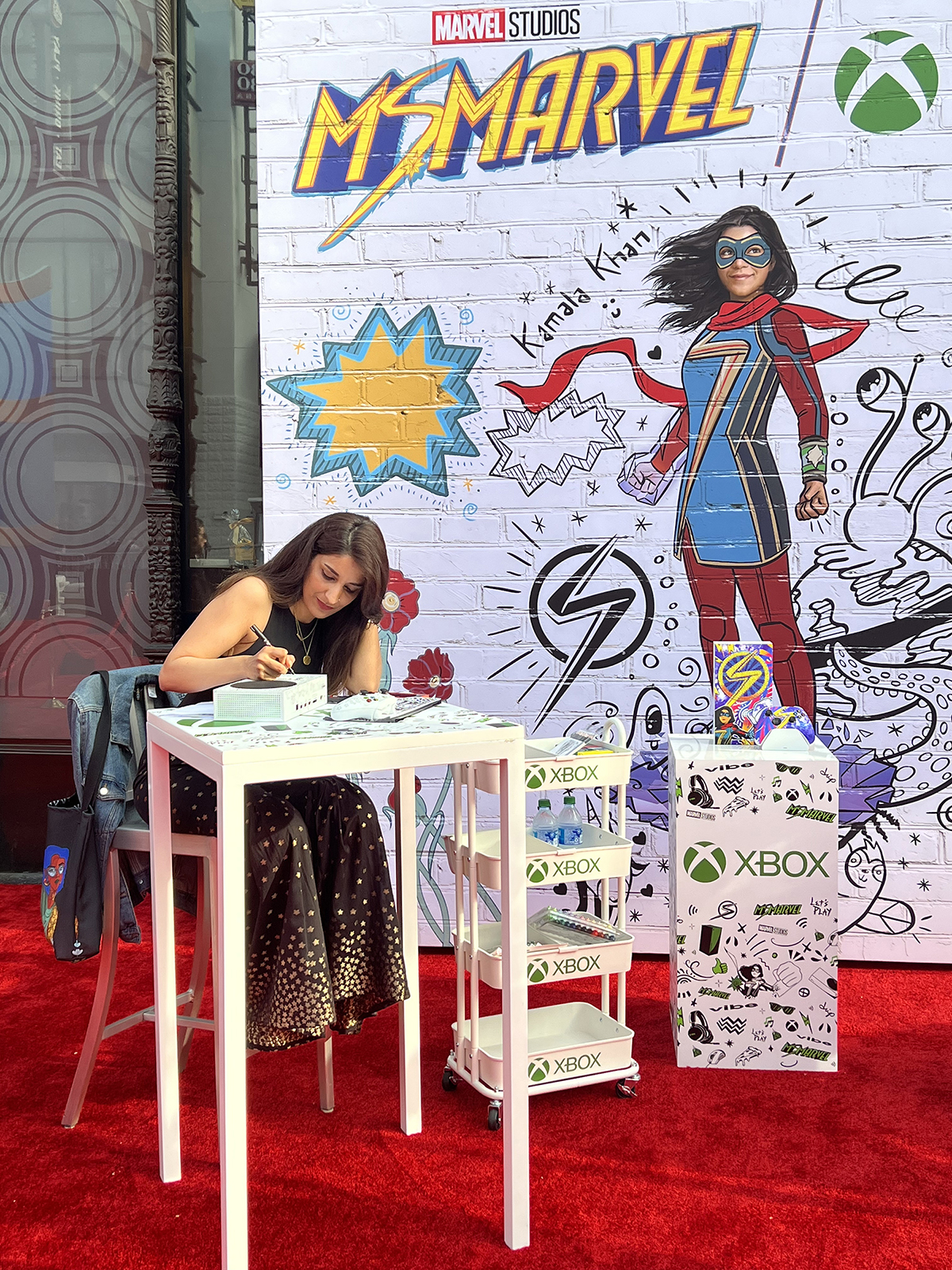 Malik is currently in Berlin, Germany, on a two-year fellowship at Universität der Künste Berlin (University of the Arts). She is engaged in a research project, in partnership with the Digital Rights Foundation, investigating how women in Pakistan use the internet to discuss feminist ideas. 
Malik grew interested in politically-driven art while at RIT as a Fulbright Program scholar. Through experiences in the United States, she realized her background and the complexity of American relations with Pakistan were unknown to many.
"I started making all my projects about Pakistan," she said. "Then when I came back to Pakistan, I began drawing about reverse culture shock and my feelings as a woman. The art has evolved since then to cover feminist issues, politics, and women's stories."
Malik said the RIT environment fostered collaboration and exploration in areas like UX and UI, motion graphics and human-centered design. 
"It was a game changer coming to RIT because the professors are so good," Malik said. "They genuinely care about you."
After graduating, Malik returned home to work in advertising. Before long, she started her own studio, primarily taking on social impact projects and collaborations in fashion design, publication design and branding.
Malik has designed her own clothing line, owns a client list that includes Google, The New York Times, Sony Music and more, and had her thoughtful work featured by the likes of BBC, CNN and Forbes. One of her more recent projects was on climate change and race for the British Council.
Malik uses illustration as a means of catharsis — and views it as a true reflection of her beliefs and experiences.
"When something was upsetting me or making me angry, I would just draw and write an emotional thing and put it on the internet," she said. "I didn't think anybody was paying attention. But over the years people started reading and relating to it. I wasn't setting out to be an illustrator of feminism. It was just my feelings, my life."
By being so personal, and by extension political, with her art, Malik hopes to inspire others to think more deeply about important issues. 
"I think the role of the artist is to have these conversations, make people uncomfortable, push the needle and make these hidden truths visible," she said.
Topics