December 1, 2021
by Shelly Meyer
Alumna establishes RRH's College of Health Careers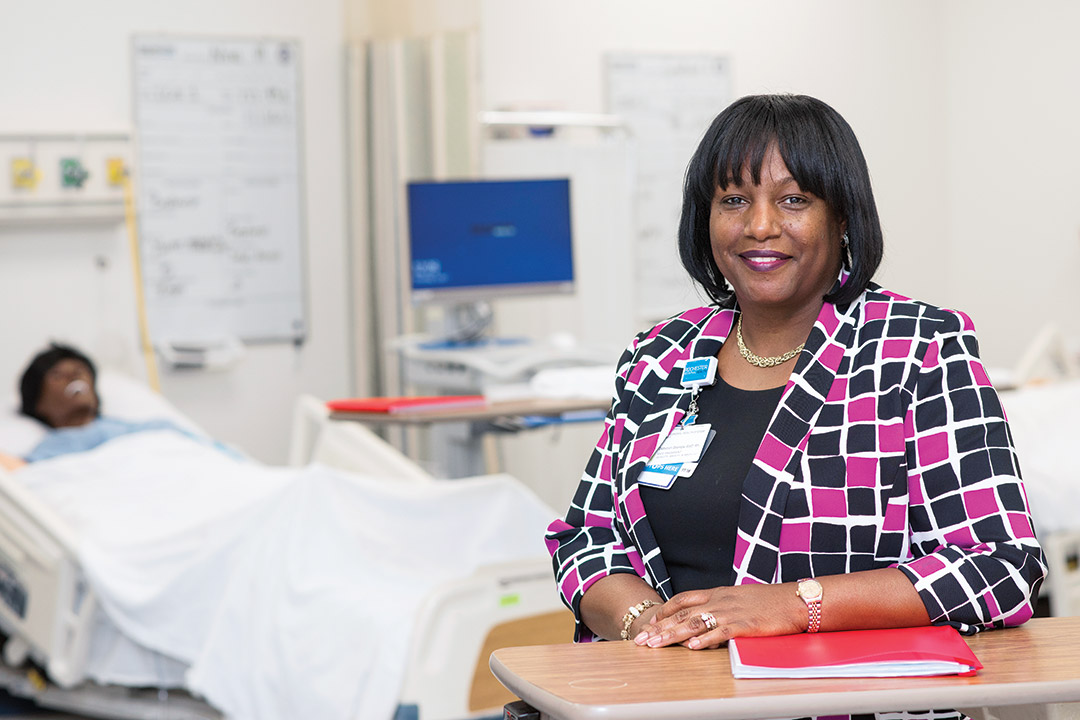 Executive MBA alumna Deborah Stamps '18 was named president of Rochester Regional Health's (RRH) new College of Health Careers. Stamps led the charge to establish the college, which welcomed its first cohort of nursing students in March 2021.
In 2016, RRH made an investment to grow the Isabella Graham Hart School for Practical Nursing program, which was established in 1964. The goal was to provide a seamless progression for students, in which they could graduate as a practical nurse and continue their education in the nursing associate of applied science program to become a registered nurse, then move on to obtain a bachelor's, master's, or doctoral degree.
Stamps, who serves as RRH's executive vice president and chief nursing education and diversity officer, approached the New York State Education Department about establishing a college within RRH.
She put a plan of work together, developed a strategic approach, and organized programming before submitting an application in January 2020.
Once the program was approved by the state, more than 200 students applied.
"Our College of Health Careers is opening doors and changing lives," said Stamps. "We are laser focused on taking members of our community and having them change where they are today. We are truly invested in our students' success."
Stamps was a member of the Nursing Leadership Program, designed by RIT's customized executive education program to raise the leadership level for a select group of nurses at RRH. After the program, Stamps chose to continue her education and pursue an EMBA from RIT.
"I don't think there's one part of the MBA that I didn't apply when establishing the College of Health Careers. It's about understanding the finance, the accounting, the marketing plan—all those components came together."
The new college will offer two programs—the long-standing Isabella Graham Hart practical nursing program and a nursing associate of applied science program. Stamps said her goal is to grow the college while promoting diversity and healthcare equity.
"It's multi-faceted. We have a diverse community, and a community with a very high poverty rate. We're not only impacting the workforce for the community by educating more nurses, but we're educating them in a way that they can pass that knowledge on to their families to make better healthcare decisions. But through education we can also impact poverty. It's like a trifecta, I'm really proud about that."
When reflecting on her time at RIT, Stamps thought back to the faculty who shaped her education.
"Even now, some of the faculty have reached out to me after hearing that we've started the college to see if there's anything they can do to help. You get the sense that you weren't just a student there."
Topics