Alumna's internationally recognized design enhances workplace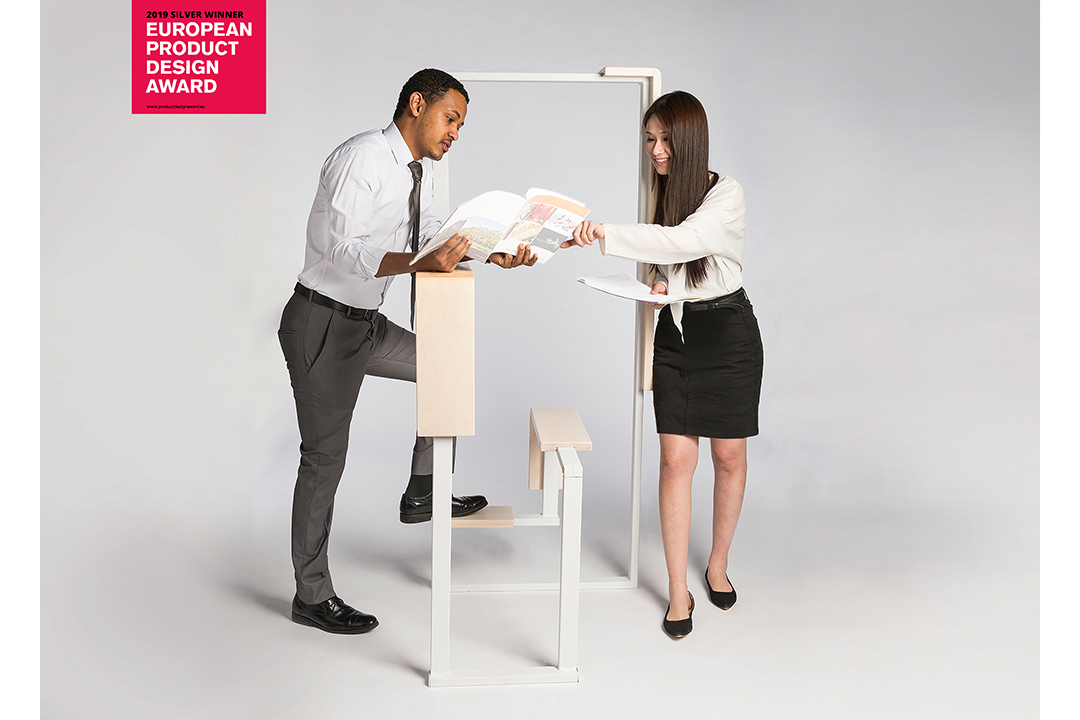 As bustling New York City foot traffic hit a lunchtime peak, inspiration struck for Xinyue Guo '18 MFA (Industrial Design).
While on a lunch break during a design conference at a NYC office in 2017, Guo noticed a steady stream of customers going in and out of the restaurant she was at. What she really witnessed, though, was a design problem: a mass of people transitioning from working hard at the office to grabbing a quick midday bite and heading back to the office. The hectic, on-the-go nature of it was hardly a "break."
The experience set the foundation for Guo's award-winning thesis project, the "Office Stretcher" — a modular product that enhances the workplace environment by promoting productivity, engagement and mental and physical health. Guo's work was recognized in the 2019 European Product Design Awards, taking silver in the student Office Equipment - Furnishings/Modules category.
"Office Stretcher" is a furnishing that encourages the stretching of the body, space and time. Components are assembled to create a compact piece — outfitted with multiple platforms — that supports interaction and productivity. Users can use it as a regular break zone to stretch their bodies, relax and facilitate discussions with co-workers.
Below is a Q-and-A with Guo, from Liaoning, China. 
Question: How did it feel to be honored in an international design competition that recognizes work from designers around the world?
Guo: I feel honored and grateful that my work was recognized at such a high level. From my perspective, being selected for this award is not just a matter of my abilities and determination, it also represents the good luck I have had to be supported by my family, friends, professors and the broader community — including the jury who evaluated my work.
The award process was also a valuable learning experience. Through competing, my work was evaluated by leading designers and I was able to gauge my strengths and weaknesses by comparing my designs with my peers from around the world. I walked away from this experience with a bigger picture of my skills and the aspects I want to continue developing.
I also view this award as validation of my focus and career path. I switched from engineering to design in graduate school. Instead of jumping into work right after graduation, I chose to spend time focusing on applying theory to practice and polishing my projects. Before I won the awards, I felt like I was always on "the road less traveled." But now I believe that I can use my own way to be part of building a better world through design.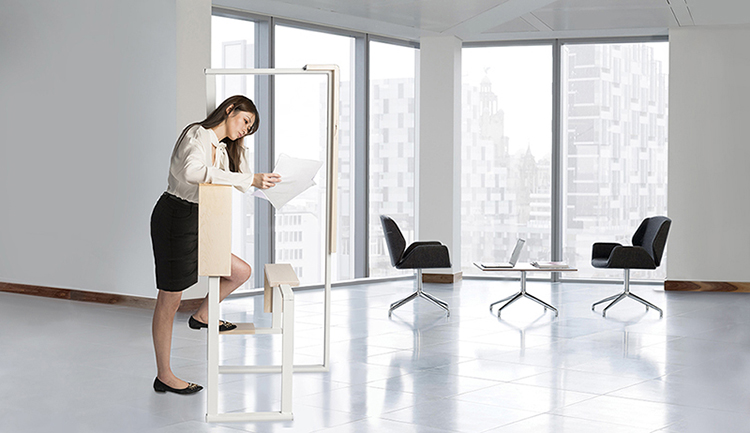 Question: Can you describe your experience in the New York City office and restaurant that launched your idea for "Office Stretcher?"
Guo: Like most offices in the cities I researched, theirs was compact and space was limited. During a lunch break I witnessed how people who work near the restaurant flow in at noon to have a quick meal and then rush back to work. So I came up with the idea to design a better workplace environment for them.
To improve upon how office spaces are used, I designed "Office Stretcher." The "stretch" part of the name refers not only to stretching exercises but also stretching time and space. In terms of space, the product compresses various kinds of office space, such as break rooms and small seminar rooms, into specific compact zones — increasing the use of space. For time, the product nurtures small group discussions, which are typically more efficient than large meetings. While communication is stimulated by the product, it also helps to reduce conversations in the main office areas where people need to concentrate. Therefore, involuntary distractions are prevented and productivity is improved.
Question: How influential was thesis advisor and associate professor Stan Rickel throughout the process?
Guo: Stan played an important role of mentoring me. He inspired me to explore the relationship between form and function. He provided lots of advice on the material, technique and practicability of my design and he also enabled me to tap into his network. I appreciated his encouragement, because his expectations and belief in my abilities and potential kept me motivated. 
Question: What are you up to now, professionally?
Guo: I've been doing freelance work for the past year. I've supported several companies in making their designs, including electronics, packaging, UI/UX and visual communication. Through these projects, I got to know my clients and users on a deeper level. I had the opportunity to explore different fields related to industrial design and gain insight into what can influence people most (and what interested me the most, too).
Question: In what ways did RIT help you grow as a designer?
Guo: The Industrial Design MFA program helped me to develop the skills and qualities essential to a good designer. I especially value the program's emphasis on design thinking, not to mention aesthetic sensitivity, technical competence and the analytical thought needed to improve the user's experience. Besides the projects, I enjoyed and benefited from RIT activities such as T-Minus 151, Thought At Work, Imagine RIT and IdeaLab. They provided me with great opportunities to interact with clients on their real-life design issues, collaborate with my peers and get exposed to successful designers in the industry.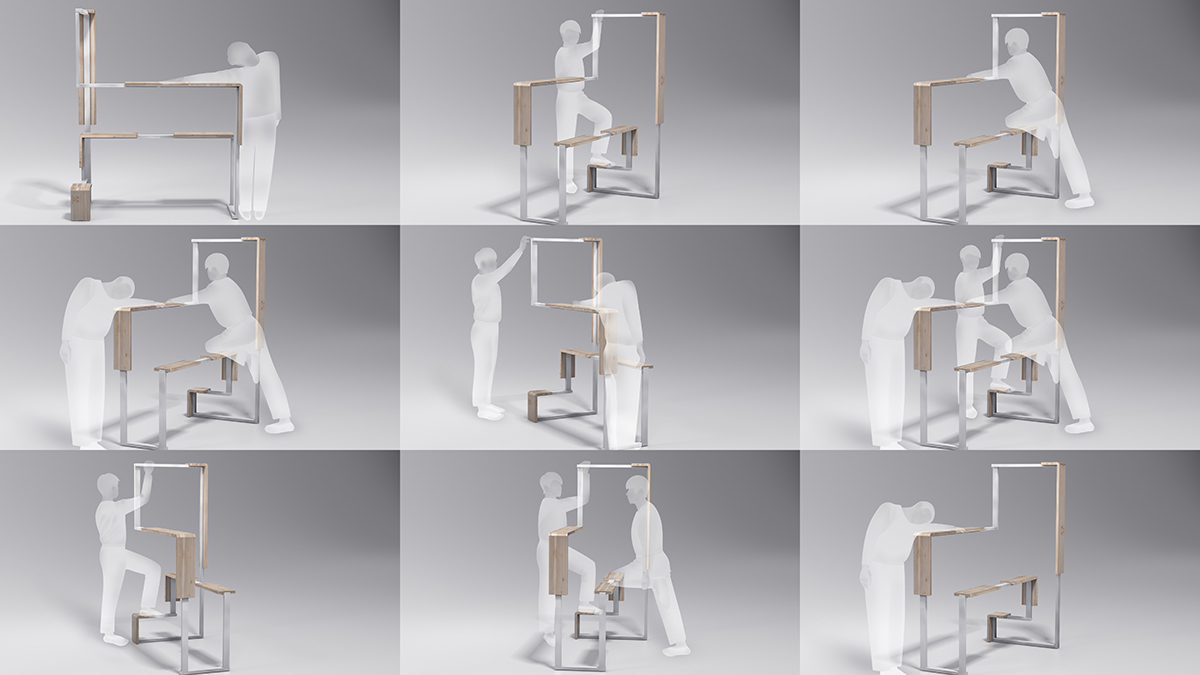 Topics