Alumni, faculty collaborate on Buffalo public art project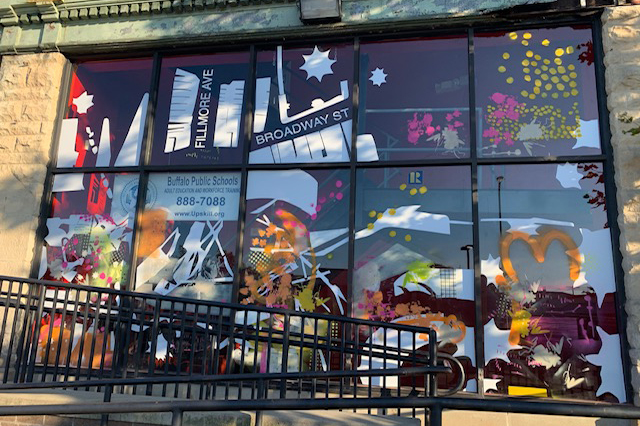 A pair of RIT College of Art and Design alumni and faculty was selected to contribute a collaborative installation to a public art project in Buffalo, N.Y. 
Laural Hartman '05 (Illustration), '07 (Secondary Education of Students who are Deaf or Hard of Hearing), '20 MFA (Fine Arts Studio) and Sarah Kinard '19 MFA (Fine Arts Studio) created "Parallel Intersection" — a large-scale mural that combines printmaking and painting — for PLAY/GROUND earlier this summer. PLAY/GROUND is an annual showcase of site-specific installations across downtown Buffalo. This year's public art celebration ran from Aug. 6-15. 
Hartman is also a lecturer in RIT's National Technical Institute for the Deaf (NTID) while Kinard is an adjunct faculty in the School of Art in the College of Art and Design.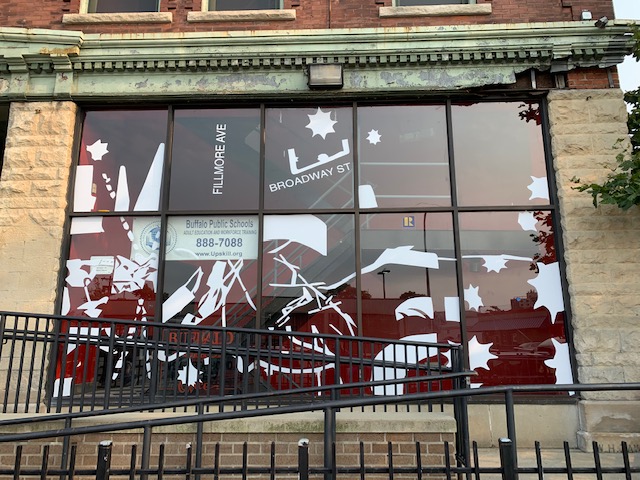 Laural Hartman and Sarah Kinard
Their joint work was displayed across multiple storefronts of the Matt Urban Hope Center, a nonprofit organization dedicated to addressing issues related to racial inequity. "Parallel Intersection" straddles the line between abstraction and representation, featuring layers of visual and geographic elements — including architectural details of the Buffalo area — physical ephemera, and distorted illusions. 
The installation remained on view after the conclusion of the 10-day event, and is slated to stay up for the foreseeable future.
"We wanted to go beyond the traditional form of painting and printmaking by creating a large-scale art that would give participants the opportunity not only to interact but to compare and contrast their own perspectives and experiences," Hartman said, according to the PLAY/GROUND website. 
Hartman and Kinard were among 30 artists invited to participate in the initiative. 
More of Kinard's contemporary printmaking is currently being exhibited at RIT City Art Space through Sept. 25. A gallery talk and reception featuring Kinard and co-exhibitor Joshua Enck is scheduled for 6 p.m. Friday, Sept. 3 at the venue. 
Meanwhile, Hartman is among the featured artists in the "Homecoming" exhibition opening Aug. 27 at NTID's Dyer Arts Center. It is one of four shows celebrating the venue's 20th anniversary and its reopening to the public in the wake of COVID-19. 
Topics