Alumnus captures Emmy for sound work on popular HBO show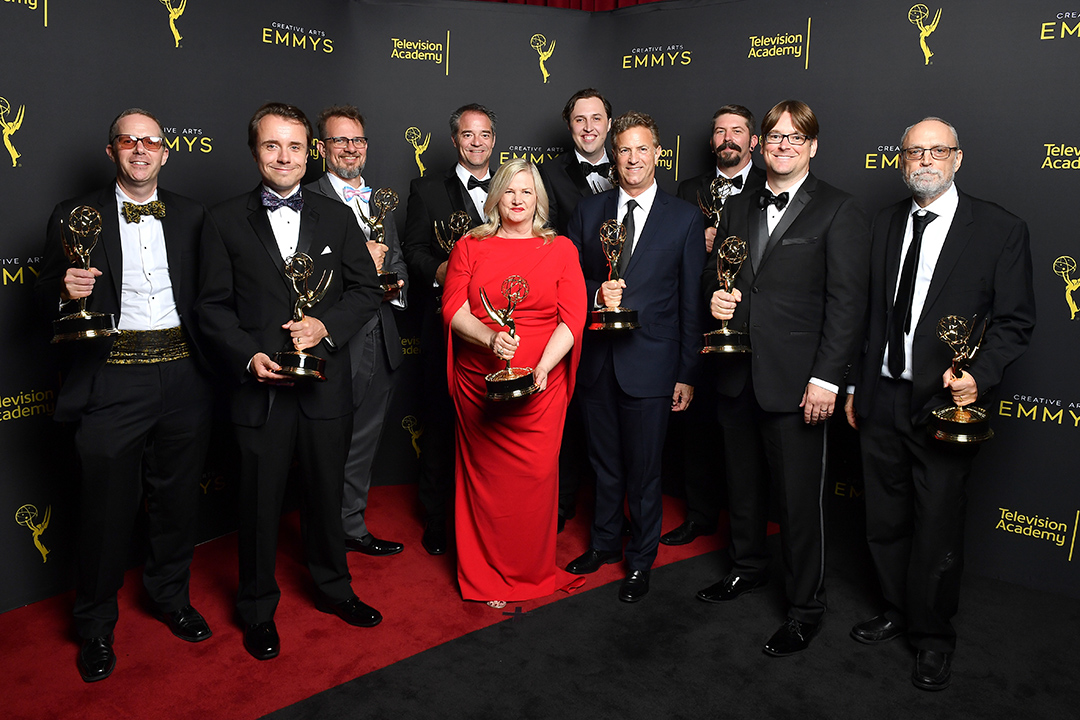 It took some time for everything to sink in for Matt Taylor '02 (film and animation - production option). 
Winning a foremost honor in the TV industry will do that. 
Taylor led a Warner Bros. sound team that captured a 2019 Emmy Award for its work on HBO's Barry. Taylor is credited as the co-supervising sound editor for the show, which won Outstanding Sound Editing for a Comedy or Drama Series (Half-hour) and Animation. 
Initially overwhelmed by the monumental achievement, Taylor said for him, the award's significance is rooted in the peer-voting process that decides winners.
"I'm honored because it's high praise from people I work with who felt that our work this year was worthy," Taylor said. "That means a lot because I hold those people in high esteem. I am honored to be a part of it and very happy for the crew that I work with because they put a lot of work in."
To boot, Taylor was the sound supervisor for Star Trek: Discovery, which was nominated for a 2019 Emmy for Outstanding Sound Editing for a Comedy or Drama Series Emmy. Combined with being on the Barry and Star Trek: Discovery sound teams when both shows were Emmy nominees in 2018, it's been an exciting couple years for Taylor. 
In fact, it's been a thrilling career as a whole. 
Taylor has dozens of sound credits on the most popular TV shows and movies. On top of the Emmy-recognized shows, he's worked on Curb Your Enthusiasm, Shameless, 22 Jump Street, Spider-Man: Into the Spider-Verse and much more.
"The journey has required a lot of persistence," Taylor said. 
The last year has been especially busy, and rewarding, for Taylor, whose work on the latest seasons of Star Trek: Discovery and Barry overlapped. 
For his Emmy-winning role, Taylor was heavily involved in spotting sessions, sharing sound ideas with Barry directors Bill Hader and Alec Berg, as well as picture editors. 
"We work pretty closely with them," Taylor said of the big-name directors. "It's an absolute pleasure to work with everyone on the team — they care so much about the sound, and dare I assume, enjoy what we can bring to the process."
Episode 5 of the second season of Barry ("ronny/lily") was submitted to the academy as the representation of the show's sound editing as a whole. 
There was very little music in the episode, so the entire soundtrack landed on Taylor and the crew's shoulders. Of special note was the character Ronny's wheezing — created via Taylor and co supervisor Sean Heissinger whistling through misshaped drinking straws and then combining it with tea kettle whistles and the actors' re-recorded efforts. To accentuate the comedy and destruction of the supermarket fight in the episode, Taylor and sound effects editor Rickley Dumm did extra field recording of grocery aisle destruction. 
As a freelancer, most of Taylor's current work is through Warner Bros. — a relationship that started in 2010. Prior, Taylor moved to Los Angeles shortly after graduating from RIT in 2002. He has remained there sans living and working in London from 2009-12.
Taylor got a head start on his career while still at RIT, completing camera work in the field for one of his professor's side projects. He was able to network and make a connection that landed him an internship in LA, where he later met a location sound recordist who pulled him into that side of the field. Taylor transitioned to post-production sound in 2007 — a decision that eventually led him to an Emmy.
During his time at RIT, Taylor said he was especially influenced by Jack Beck, associate professor and production undergraduate program director, and Dave Sluberski, senior lecturer and a sound expert. Taylor said Sluberski piqued his interest in the creative influence of sound. 
"It helped me find what I wanted to focus on," Taylor said. "Dave is very encouraging and cares about the path people go on."
While Taylor placed an emphasis on developing his sound skills, he credits an overall diverse education with preparing him to enter the LA film scene following RIT. 
"The film program encourages you to learn all major facets of film production — camera, sound, writing, producing and directing," Taylor said. "You weren't bound to one path for all four years. That was huge because it allowed me to figure out what I felt my strengths were. And it taught me about working with others on a team."
Topics