Automotive enthusiast student pursues his passion in his career and beyond
Graham Cullen put his skills to work at his internship with Polaris, ahead of full-time employment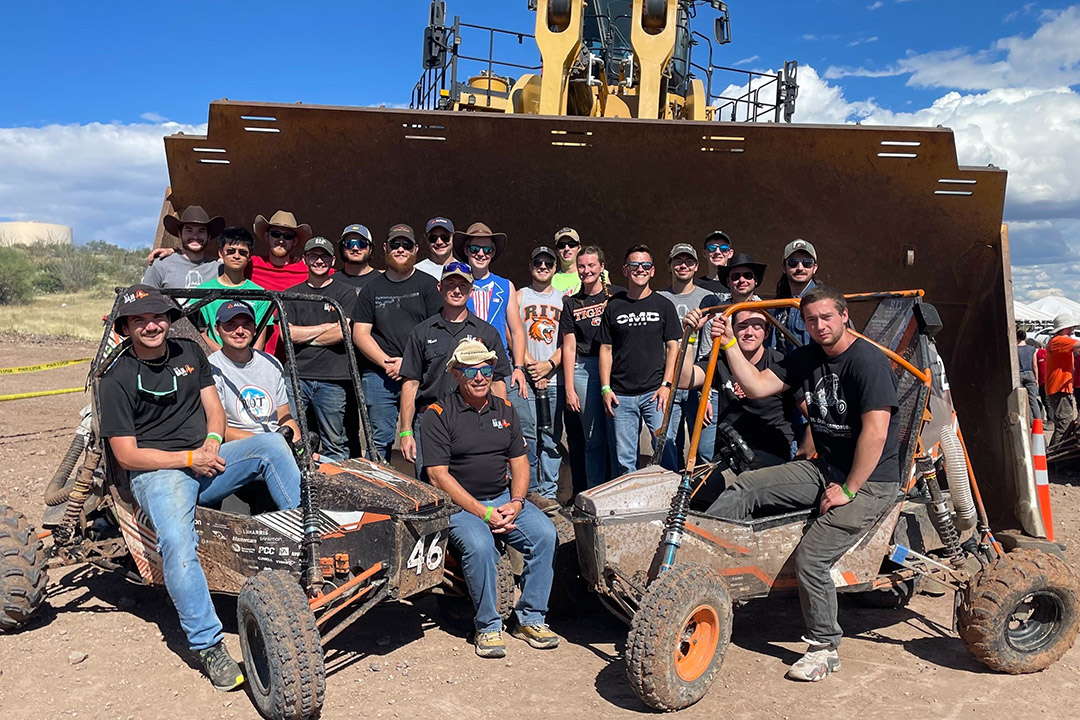 Fifth-year mechanical engineering technology student Graham Cullen has incorporated his love of cars and anything motorsports into his education and his career. At RIT, Cullen, who is from Manlius, N.Y., is a member of the frame team on the RIT Baja SAE team and also participates in RIT Car Club. And, recently, he worked as an intern at Polaris Inc., an automotive manufacturing company.
Talk about your experience working with Polaris.
Provided photo
Being an intern at Polaris this past summer was truly a dream come true. It took me three years to get that internship, but it was definitely worth it. I was sent up to northern Minnesota to work as a project engineering intern for the ATV group. There I helped organize and manage the different issues that were found during validation testing and helped system engineers problem solve and find solutions. I worked on a cross-functional team of different engineers and led weekly meetings to keep everyone up-to-date on the current issues.
The company culture at Polaris is truly unmatched. Everyone I worked with was super helpful, and we all shared a common love for the products we worked on. Some of the more exciting parts of the job included being hands-on with the products and testing to troubleshoot issues. Polaris was an exceptional company to work for, but the people are who really make it great, both in and out of the office.
What have you loved most about being part of RIT Baja SAE and the RIT Car Club?
RIT Baja gives you such valuable experiences that I personally don't think you can find in many other places. I have loved the opportunity to be part of a team where people have to work together to solve issues, design parts, test components, and overcome obstacles in a given timeframe. It truly mimics a real-world engineering design cycle and validation cycle. Though it's not always easy, Baja has been so rewarding both professionally and socially. One of my favorite parts of Baja is seeing all of our hard work come together when watching the car compete. The camaraderie of the team at races is unmatched. Something else I truly love about Baja is the friendships we have made over the years and the passing on of knowledge to younger members. The team can feel like one big family sometimes and that is something really special to be a part of in college. There are so many Baja memories that I will never forget.
Car Club has been fun to be a part of because it is a relaxed environment where weekly meets spur conversations among people who might not usually interact. Everyone shows off their ride, and people talk about each other's cars and share stories. It is cool to see all the different cars that show up to the meets and especially to the car shows each semester. Most semesters the club travels down to Watkins Glen to drive a few laps on a track, which is always a good time, too. Although I'm not as active in the club as I used to be, I have had the opportunity to meet a lot of cool like-minded car people over the years.
How has your love of cars and other vehicles shaped your education?
Being a big car guy and a really hands-on mechanical person has definitely shaped my entire educational journey. It was the main reason why I chose the mechanical engineering technology route over regular mechanical engineering. True application-based thinking and actually seeing how things work is the best way I learn. That is part of the reason I like working on cars and anything to do with motor sports because I can utilize my mechanical abilities to build or fix things and understand how they work. Secondly, my love for all things automotive has guided my internship/co-op path. I knew that I wanted to find myself in the automotive or power-sports industry after college, so all my internships have been focused in those fields and have truly opened my eyes to what being an engineer in these industries entails.
What plans do you have after graduation?
I have recently accepted a full-time position back at Polaris where I will be working in their engineering development program. This is a two-year program where I will experience four, six-month rotations working at various locations performing different engineering roles. This will be a really unique and exciting experience as I will be able to see all the different sides of engineering within Polaris and work with multiple product lines. The development program will give me a great professional foundation as well as grow my engineering abilities before rolling into a more permanent role at the company.
Topics