Billy Brumley named new Endowed Professor in Cybersecurity
Brumley brings industry experience and side-channel analysis expertise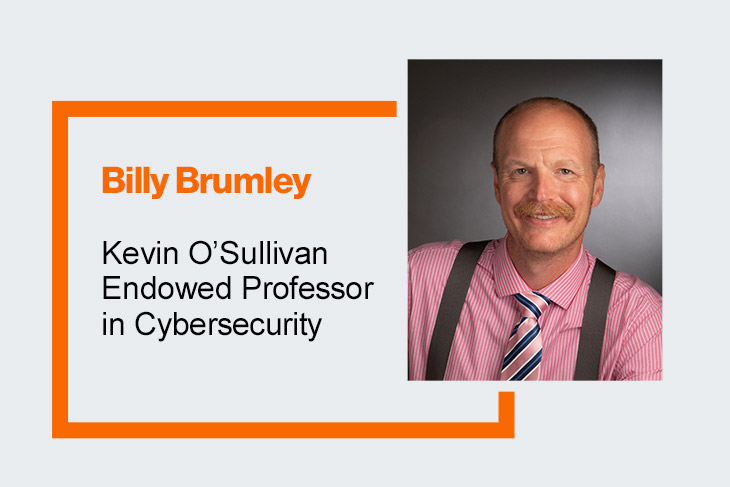 Billy Brumley has been named the Kevin O'Sullivan Endowed Professor in Cybersecurity at RIT. As part of RIT's ESL Global Cybersecurity Institute and Golisano College of Computing and Information Sciences, Brumley will contribute to the university's growing cybersecurity research profile and lead expertise in side-channel attack analysis.
The new endowed professorship is one of four made possible by a $50 million gift from alumnus Austin McChord '09. In naming the awards, McChord honored his grade school teachers.
Before joining RIT, Brumley spent a decade as a professor at Tampere University in Finland. As a second-generation professor, he said that he always wanted to work in academia. He also has industry experience as a staff engineer for Qualcomm's Product Security Initiative in San Diego.
"In cybersecurity, there is the theoretical side of a proof and the applied side of implementation," said Brumley. "There is a growing gap between them that attackers are exploiting when it comes to hardware attacks. With our research, I hope to bridge that gap."
Brumley specializes in system security, cryptography engineering, and side-channel analysis. He is currently teaching a seminar in side-channel analysis.
In a side-channel attack, adversaries do not target a program or code directly. Instead, they seek to gather information from or influence a system by measuring or exploiting indirect parameters of the hardware. A side-channel attack could exploit inadvertently leaked electromagnetic emissions, supply currents, or by observing execution times. These attacks commonly pose threats to cryptographic systems.
Brumley explained that side-channel analysis is becoming a more popular research area in the United States. It has had a longer tradition in Europe, due to the continent's earlier adoption of smart cards with an embedded integrated chip for the payment industry.
At RIT, Brumley plans to help students learn through research-based learning. He also wants to make sure the research has long-lasting impact in the fast-paced world of cybersecurity.
"We hope to do research with real products and make sure the implementation matches the characteristics of the proofing," said Brumley. "Having these learning acuities and research allows students to build fundamental techniques, so they can hit the ground running in the workforce."
Brumley received his Ph.D. from Aalto University in Helsinki, Finland, in 2012. He is a 2018 European Research Council Starting Grant Laureate.
"We are very excited to welcome Dr. Brumley to RIT and ESL GCI. His contributions to the field of cybersecurity research and open-source libraries like OpenSSL is well recognized in our community," said Ersin Uzun, Katherine Johnson Endowed Executive Director of ESL GCI. "We look forward to working with Dr. Brumley on our aligned goals and commitment to continuously improving cybersecurity technologies and education."
The Kevin O'Sullivan Endowed Professorship in Cybersecurity is one of 10 endowed positions that are part of Transforming RIT: The Campaign for Greatness, the university's $1 billion blended fundraising campaign that successfully concluded in 2023.
Topics