Biomedical sciences major Maduka Gunasinghe wins RIT public service award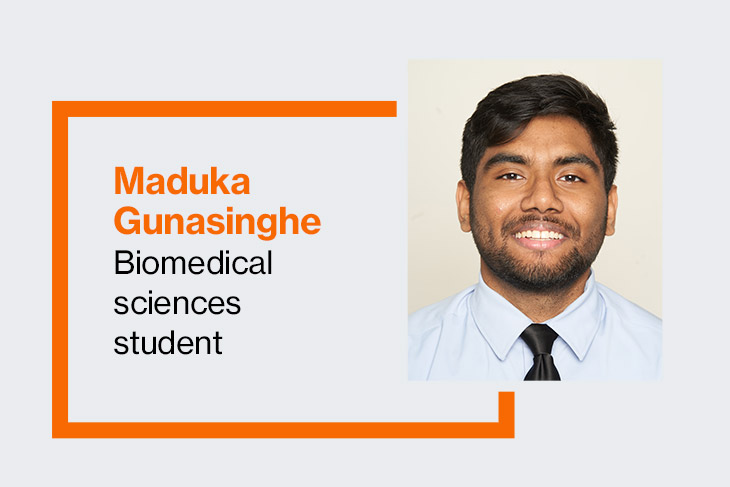 For RIT biomedical sciences major Maduka Gunasinghe, compassion for others is a gift he shares freely and community service is the expression of his character. RIT has recognized his commitment to other people's well-being with a Bruce R. James Distinguished Public Service Award. He will receive the award at a ceremony on April 5.
RIT is where Gunasinghe found a calling for community service. His efficient study habits as a first-year student left him with free time that he filled with community health-related activities. He joined the Health Sciences and Technology Student Association Club and has held various leadership roles.
As the club's current president, Gunasinghe helps organize blood drives, food and clothing collections, and provides connections, resources, and professional development experiences to pre-health majors. He attributes the club's success to its "excellent" executive board and advisers. "The goal is to do an event every week that benefits our community and challenges us in planning," Gunasinghe said.
The Health Sciences and Technology Student Association helped him realize his love for community service and for helping the RIT community. Public service has been a meaningful way for Gunasinghe to return the generous spirit and caring shown to his own family when they immigrated to the United States.
The Gunasinghe family escaped the turmoil caused by the Sri Lankan Civil War when Maduka was a young boy. They lived in New York City and in rural Oklahoma before settling in Rochester. Gunasinghe learned English here, formed lifelong friendships, and integrated into the American culture.
He enrolled at RIT with a love for science and education, and he recently was named an RIT Outstanding Scholar and the College of Health Sciences and Technology undergraduate delegate for the university's academic convocation.
Gunasinghe chairs the RIT Honors Program special projects committee, through which he introduced an internal admission program and planned a Research and Creativity symposium. He is also a Collegiate Science and Technology Entry Program student and a McNair scholar. RIT's inclusivity and diversity program provided him with opportunities and resources to excel.
"These programs allowed me not to restrict myself based on my financials," Gunasinghe said. "I hope to give back to these great organizations in the future."
Gunasinghe's concern for others has shaped his time at RIT.
As a teaching assistant in the College of Health Sciences and Technology and the College of Science, Gunasinghe looks out for students who seem uncertain and lonely. "I love talking to students," he said. "I look for people who remind me of myself when I was younger, when I didn't have a lot of guidance or confidence in what I could do."
During the first year of the COVID-19 pandemic, Gunasinghe represented students' needs and concerns on RIT's COVID-19 Fall Planning Task Force. He also volunteered virtually as a crowd mapper for the United Nations' Tanzania Development Trust to improve navigation and visibility of rural Tanzania. Gunasinghe also advocates for his cultural community through the Sri Lanka America Association of Rochester, N.Y., where he is a youth committee leader.
He currently volunteers with Friends of Strong at the University of Rochester Medical Center and has been a health coach through the Greater Rochester Independent Practice Association through Rochester Regional Health. Gunasinghe has been accepted to multiple medical schools and will select the one that enables him to work in underserved areas and with immigrant populations.
"In 10 to 20 years as a physician, I want to go back to where I was born, in Sri Lanka, to help increase access and increase health care to people there," he said. "It is one of my long-term goals."
The Bruce R. James Distinguished Public Service Award was established by Alfred L. Davis, vice president emeritus, to commemorate the distinguished public service of the chairman emeritus of the RIT Board of Trustees and 1964 alumnus who served from 2002-2005. James is known for his business acumen, leadership, philanthropy, and community service. Davis took inspiration for the award from RIT's May 2002 commencement speaker, former CIA Director George Tenet, who urged the graduating class to commit to public service.
Topics