July 25, 2013
by Marcia Morphy
Book decodes the world of comics
Book published by RIT Press discusses narrative structure of popular and beloved medium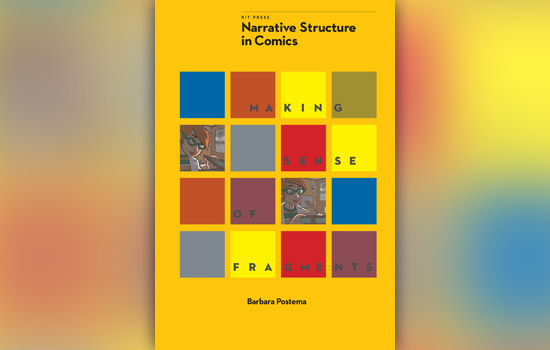 Barbara Postema's new book, Narrative Structure in Comics: Making Sense of Fragments, explains how comics create meaning for readers by cleverly combining still images with text.
The author says comics share characteristics with a number of different art forms. "Like written literature, comics tell stories and employ words, most often in the form of panels on pages. Like film, comics tell stories and use images, but in contrast with film, the images in comics all exist simultaneously, separated only by space…"
Narrative Structure in Comics is the first book of the Comic Studies Monograph Series published by RIT Press, the scholarly publishing enterprise at Rochester Institute of Technology. The series is edited by Gary Hoppenstand, professor of English at Michigan State University, and will introduce scholars and the general reader to various theories and methods of Comic Studies including graphic novels, comic books and comic strips.
In her book, Postema focuses on the formal aspects of comics, including page structure and word-image relations. "Reading comics is such an intricate and seamless process," she says, "but it's easy to get distracted by details in the images—like visual jokes, motifs, or themes."
To that end, the book reveals how the space between the images or dialogue is as important as the graphics contained within the sequence of comics.
"In comics, the use of gaps and fragments is important at all levels of signification," Postema explains. "Some comics take the gap one step further and extend it to the level of the narrative… What ties them together is largely left unspoken, and yet it is what creates the plot."
Postema, who hails from the Netherlands and is a research fellow at Ryerson University in Toronto, says she was interested in comics before she could read. "At home, or visiting my parents' friends, there would always be comic books lying around to look at: Asterix, Donald Duck, Lucky Luke, Prince Valiant, and so on. I pored over the pictures, read them for the stories, and later in my life was struck by the graphic novel in the same way as contemporary fiction."
Narrative Structure in Comics: Making Sense of Fragments is available in softcover for $29.95 at the RIT Press website or by calling RIT Press at 585-475-6766.