Ceramics class employs modern fabrication processes to connect with past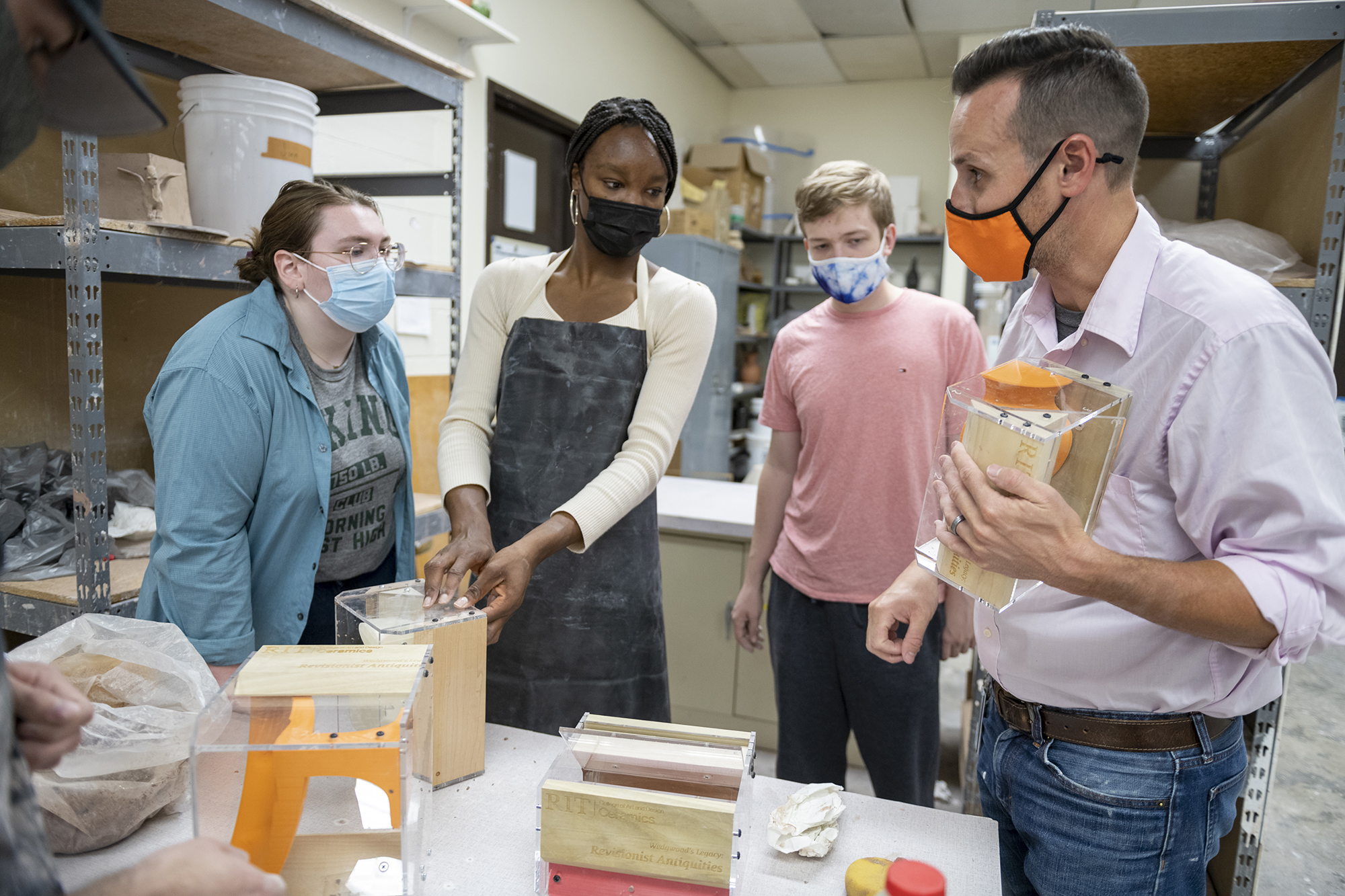 A computer scientist constructs a mold system that snugly houses a vessel he 3D printed while a physics major carefully pours plaster into her structure. Design, marketing, psychology and public relations students are also curiously navigating the same multidisciplinary process, creating an enthusiastic energy in the studio.
A ceramics class for majors and non-majors offered this semester represents the connective tissue between the earliest forms of pottery and the contemporary practices of today. Twelve students from majors across Rochester Institute of Technology are immersed in the Josiah Wedgwood's Legacy course, which exemplifies the university's strategic focus on technology, the arts and design.
Taught by Assistant Professor Peter Pincus, the class explores parallels between innovative methodologies in ceramics and manufacturing in the 18th century and the role modern fabrication processes play in those fields today. 
For the second assignment, "Revisionist Antiquities," students armed themselves with a wealth of historical knowledge. They then — through computer-aided design (CAD), 3D printing and laser cutting — made mold systems that can quickly and efficiently create replicas of fourth-century Etruscan vessels.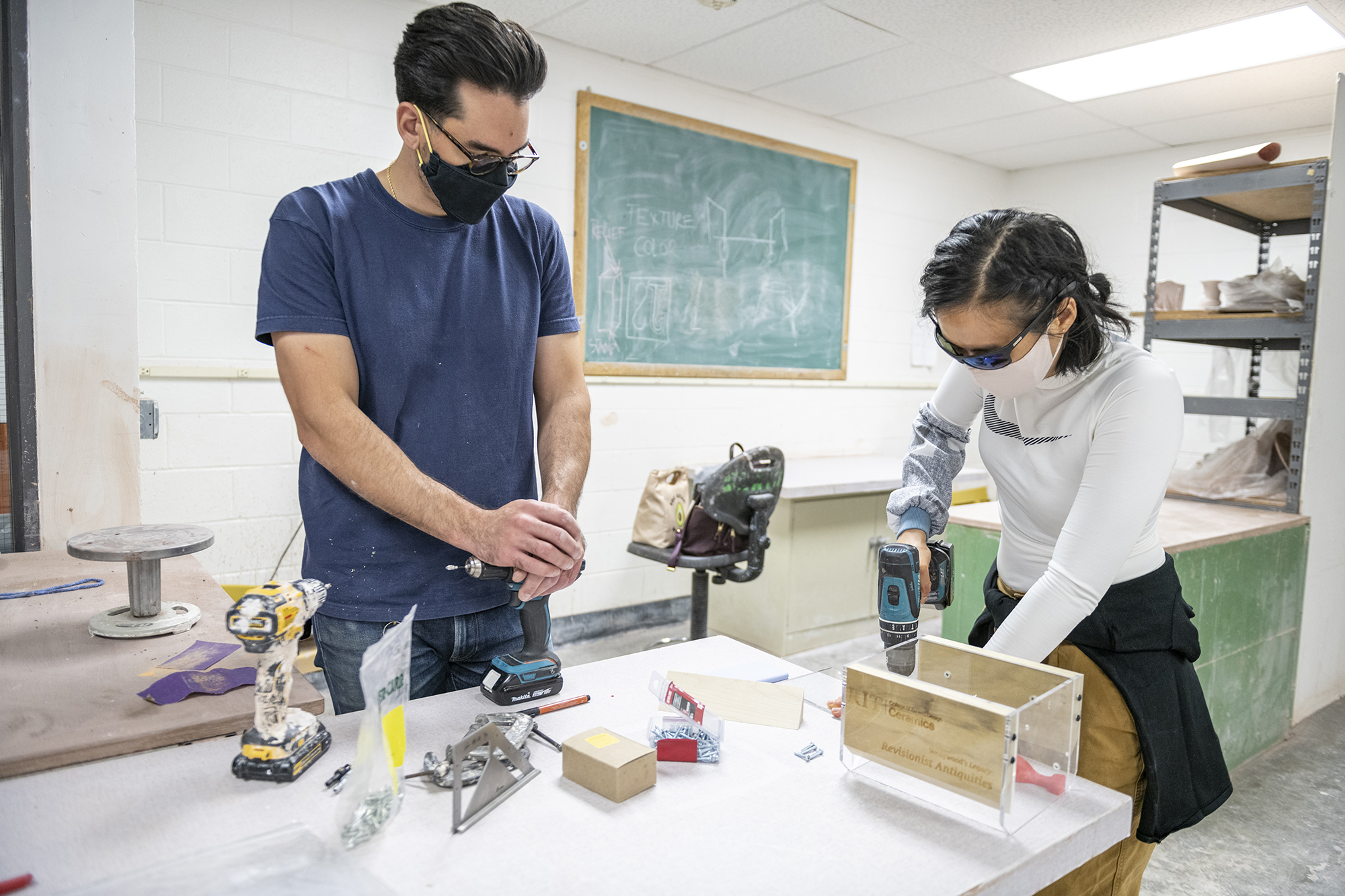 Elizabeth Lamark
Lindsey Bouthiette '22 (Psychology), who previously took ceramics in high school, said she enrolled in the class to immerse herself with the material again, while learning new techniques and processes like 3D printing. 
"The experience is very engaging and based on us collaborating as a class to get through it," Bouthiette said of the Revisionist Antiquities project. "We worked out various challenges along the way and had to improvise at difficult moments. My biggest takeaway from the assignment is recognizing the dedication artists have to plaster mold making and ceramics. It takes a lot of hard work each step of the way to make a mold."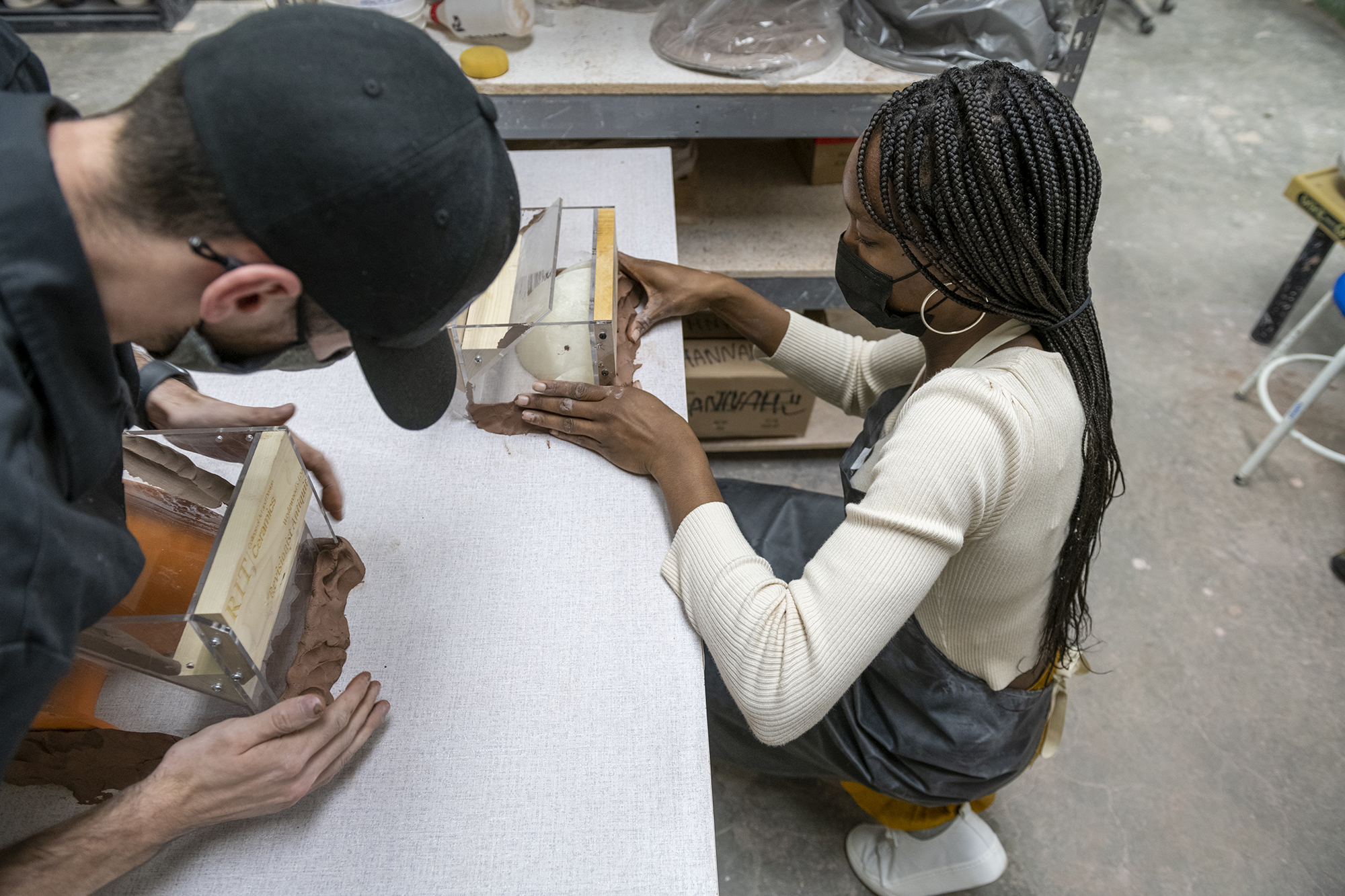 Elizabeth Lamark
The inspiration to reproduce the Etruscan style of pottery popularized in ancient Greece traces back to the course's namesake, Josiah Wedgwood, an 18th-century potter and social activist known for his pioneering manufacturing and marketing techniques.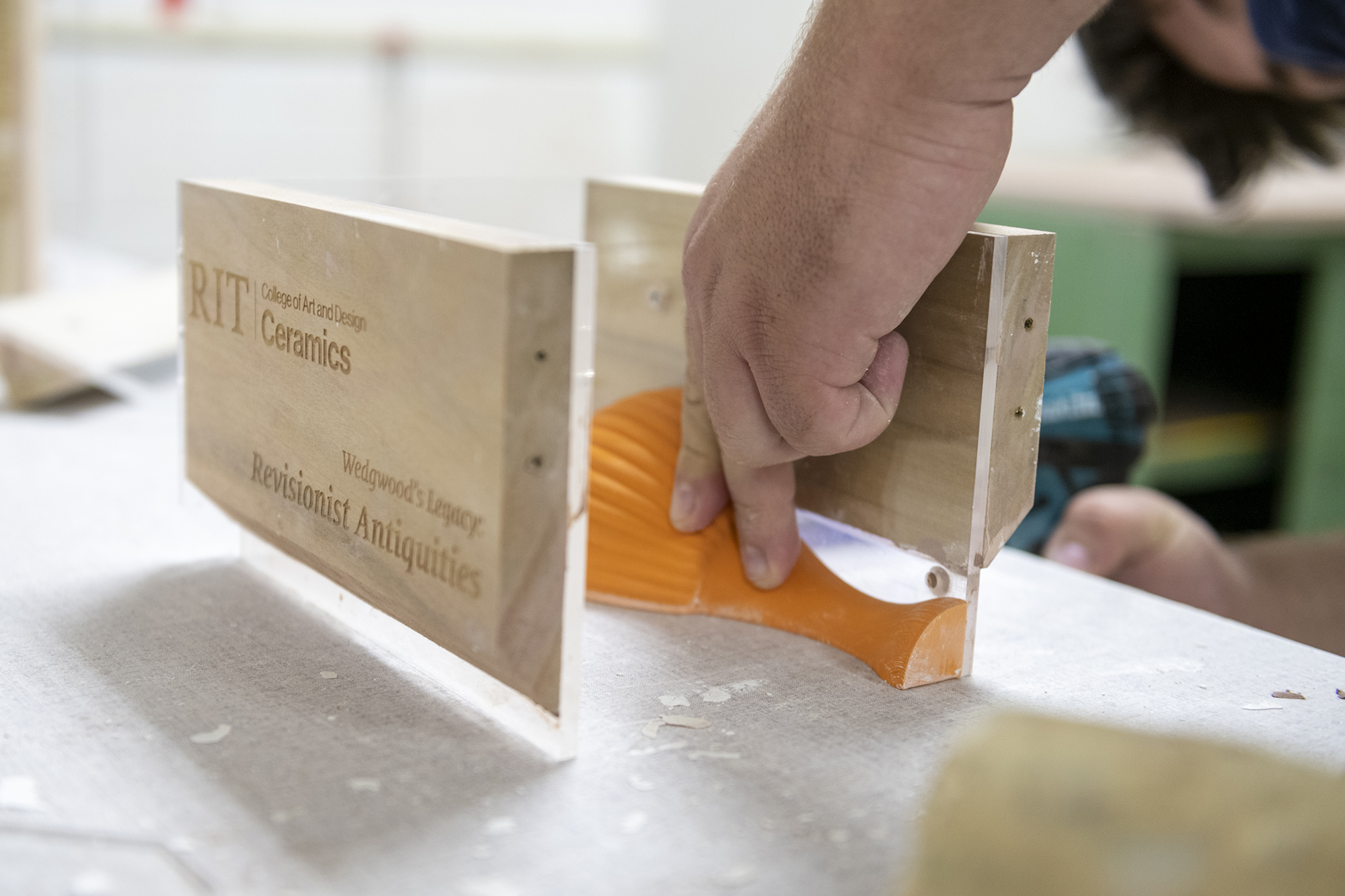 Elizabeth Lamark
His methods provided the middle class unprecedented access to Etruscan vessels that were traditionally only available to the wealthiest people in Europe. 
Wedgwood's mission was buoyed by a relationship with British diplomat Sir William Hamilton, whose vast collection of Etruscan vessels was documented in a catalog. The Complete Collection of Antiquities from the Cabinet of Sir William Hamilton is a comprehensive chronicling of each vessel — blueprints, renderings and facades drawn in great detail.
"It collectively showcased the breadth of Greek and Etruscan pottery," Pincus said. 
The book led to replicas of the classic Greek pottery becoming more widely accessible through Wedgwood's manufacturing company, Etruria. 
"In many ways, Wedgwood should be viewed as the world's first 3D printer," Pincus said. "His creative use of technology, materials and processes, paired with his unequivocal craftsmanship, allowed him to resurrect objects from antiquity."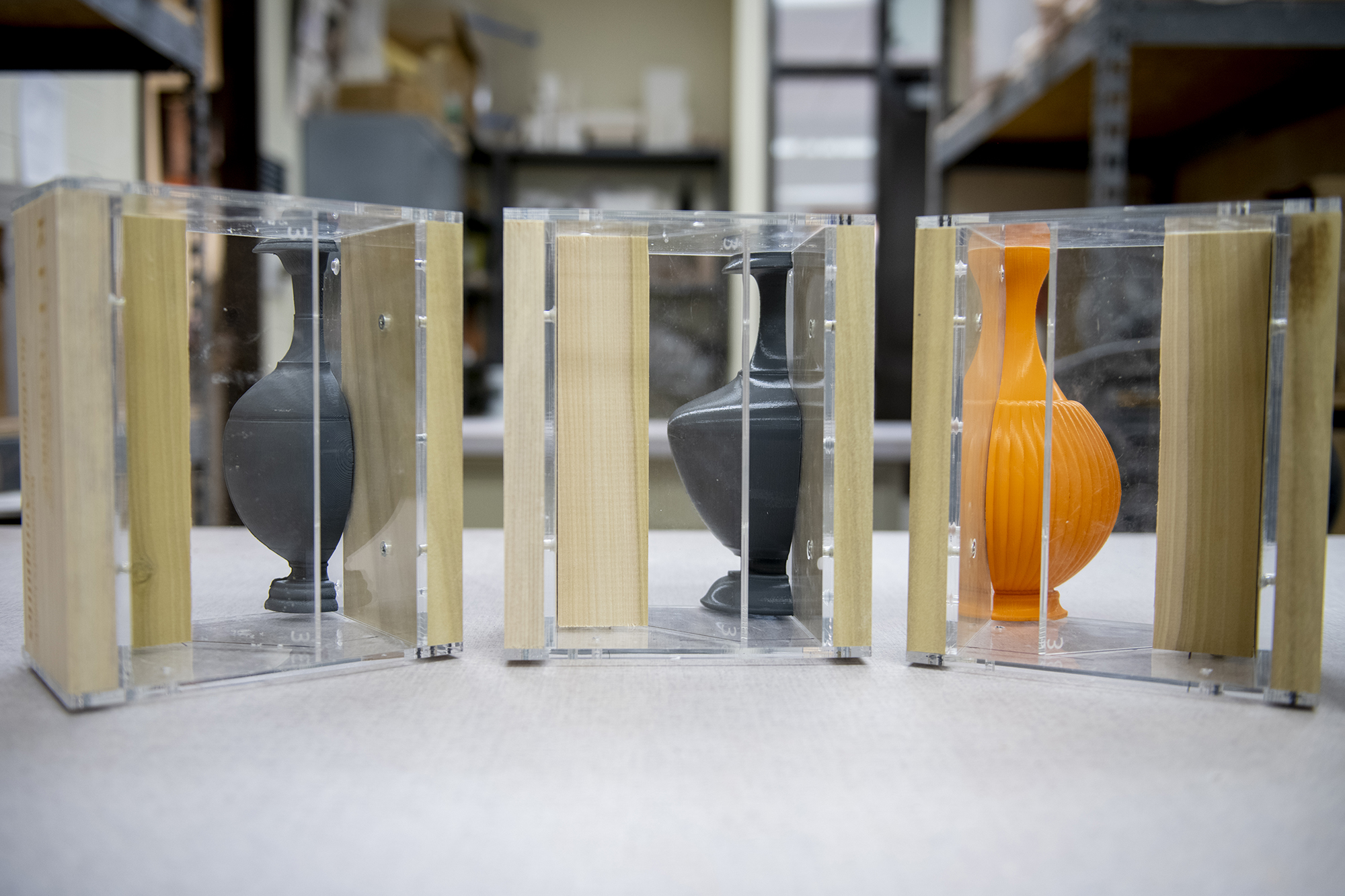 Elizabeth Lamark
Like Wedgwood's mass production methods once upon a time, the RIT students leveraged the latest technology to craft historic Etruscan vessels. 
They each selected a pot from The Complete Collection of Antiquities, drew a computer-aided design (CAD) profile of it and cut a quarter of the design to be 3D printed in RIT's Fab Lab. They then assembled a working mold system by securing the design inside pieces of acrylic precisely laser cut in the Fab Lab. 
A. Sue Weisler
Once the templates were created, students poured plaster into their mold systems four separate times and fastened each quarter together to create a replica of their selected fourth-century vessel. That replica was then used as a plaster mold to quickly mass produce more vessels to be used as glaze tests and experiments.
Students in the class represented majors in the College of Art and Design, Golisano College of Computing and Information Sciences, College of Liberal Arts, College of Science, National Technical Institute for the Deaf, Saunders College of Business and School of Individualized Study. The College of Art and Design majors are 3D Digital Design, Industrial Design and Studio Arts.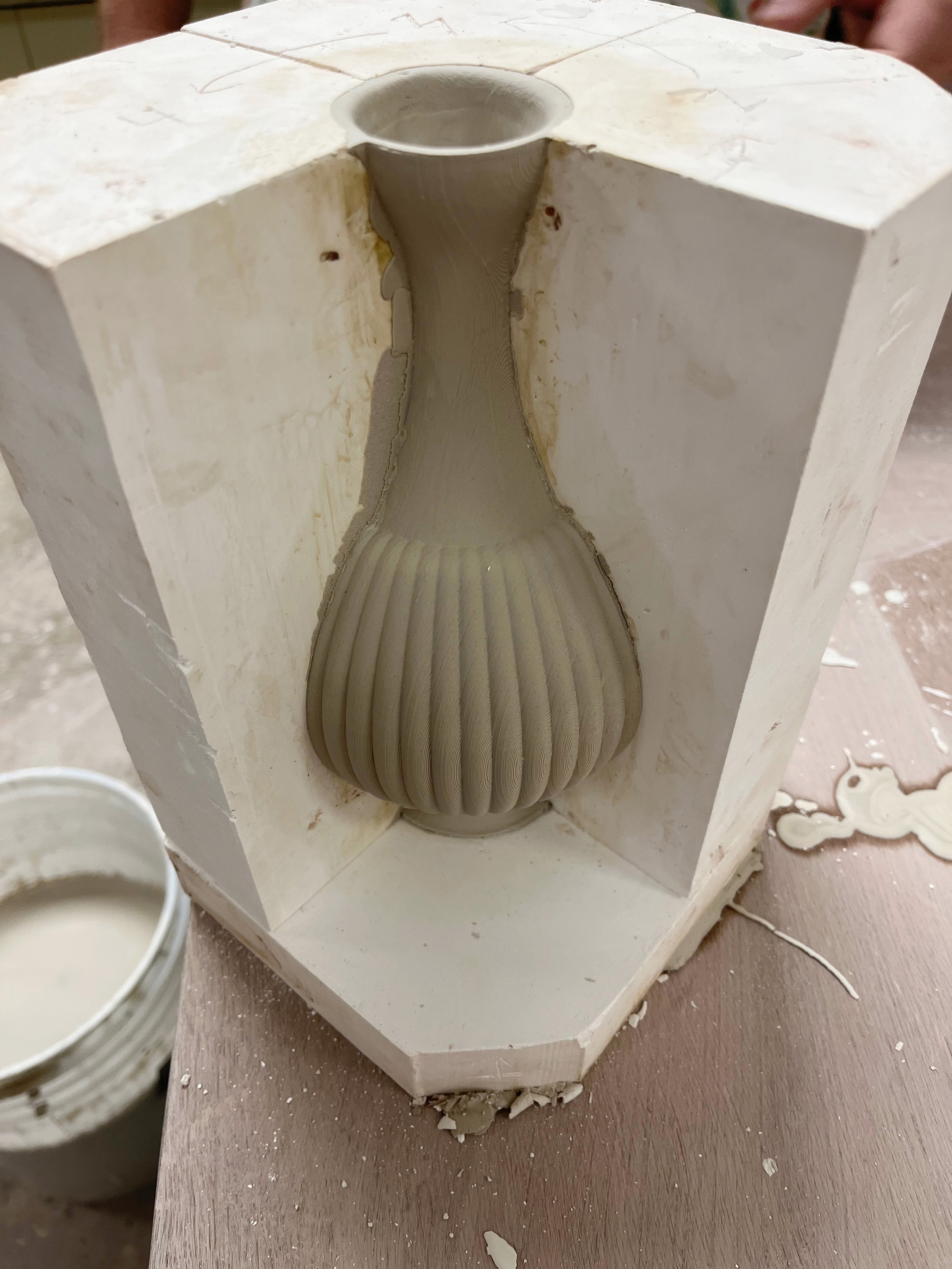 They were guided through the process by Pincus and fellow experts in the College of Art and Design. Fab Lab Manager Dan Gabber '17 (Industrial Design), '19 MFA (Ceramics) led a demo on building virtual vessels and coordinated the 3D printing. Fabiano Sarra '13 (Furniture Design), '19 MFA (Furniture Design), instructional support specialist for industrial design, assisted the students with mold assembly. 
Bouthiette designed an alabastron, antiquity's version of a perfume or oil bottle that has a long body with a round base and lip at the top.
"I never knew that I would be working with 3D Printing or CAD during a ceramics class," Bouthiette said. "It has been such an exciting experience as it blends new technology with old techniques and practices within pottery. I love the idea of bringing an object back to life through all of these different materials and processes."
Video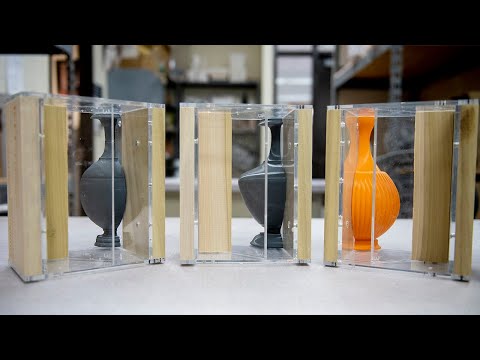 Topics