Ceramics student finds artistic voice in crafting history-inspired vessels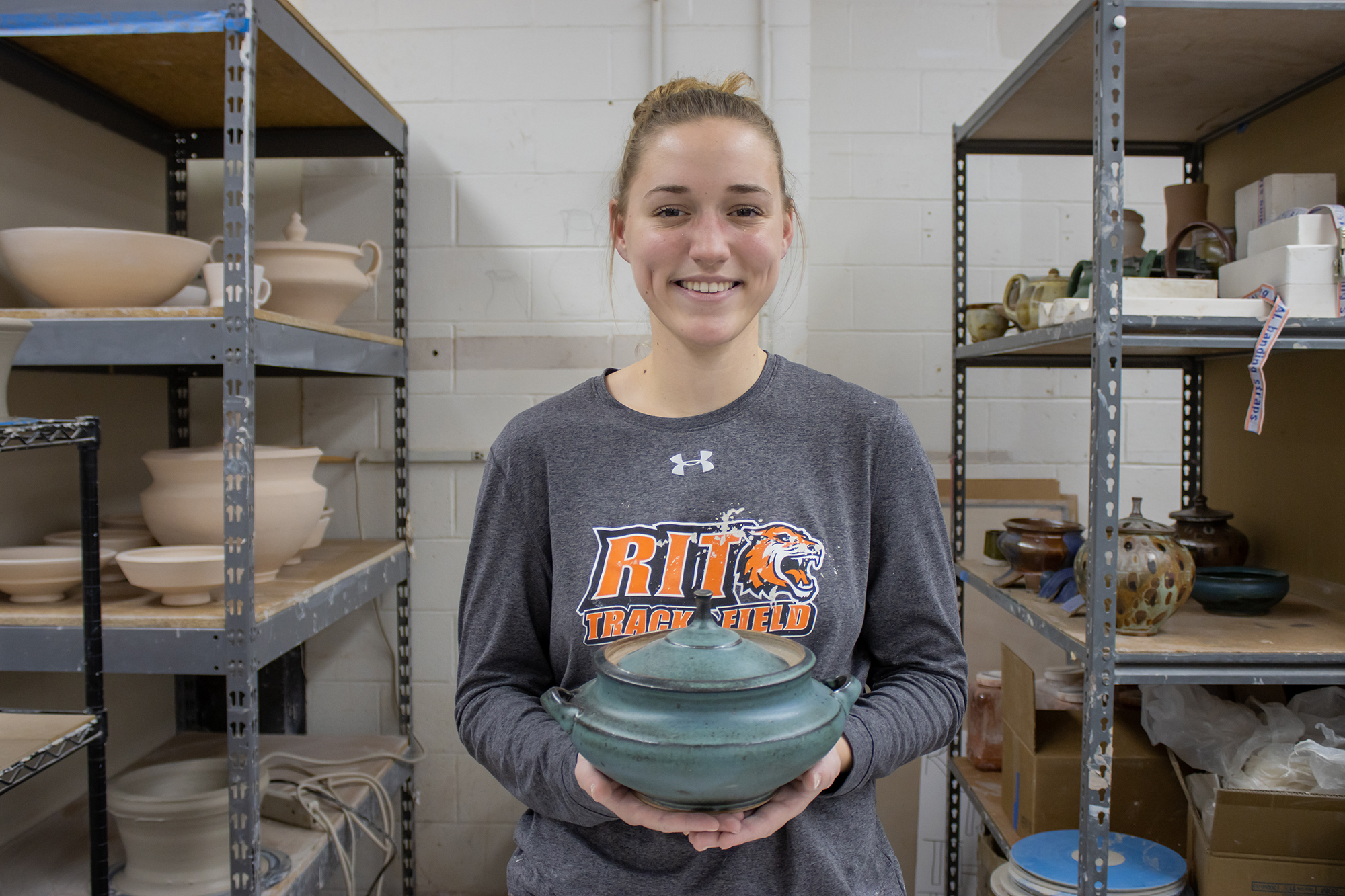 Sophie Proe '24
As she searched for her artistic voice, Marian Draper '22 embraced the journey. 
A graduating senior in RIT's ceramics option in the studio arts BFA program, Draper's pottery took many forms before, just last fall, finding a style that is authentically her.
"I have a hard time talking about my work because it is so personal," said Draper, from Rome, N.Y. "I embed a little piece of myself onto each piece. I'm putting all this time and care and craftsmanship into each individual object, so I feel like it's a small part of me going out into the world."
Draper's exploration in the program led to pinpointing a connection between her interests and preferred methods of making. The result of that discovery is a bevy of history-inspired utilitarian vessels that blur the line between functional and sculptural ceramics.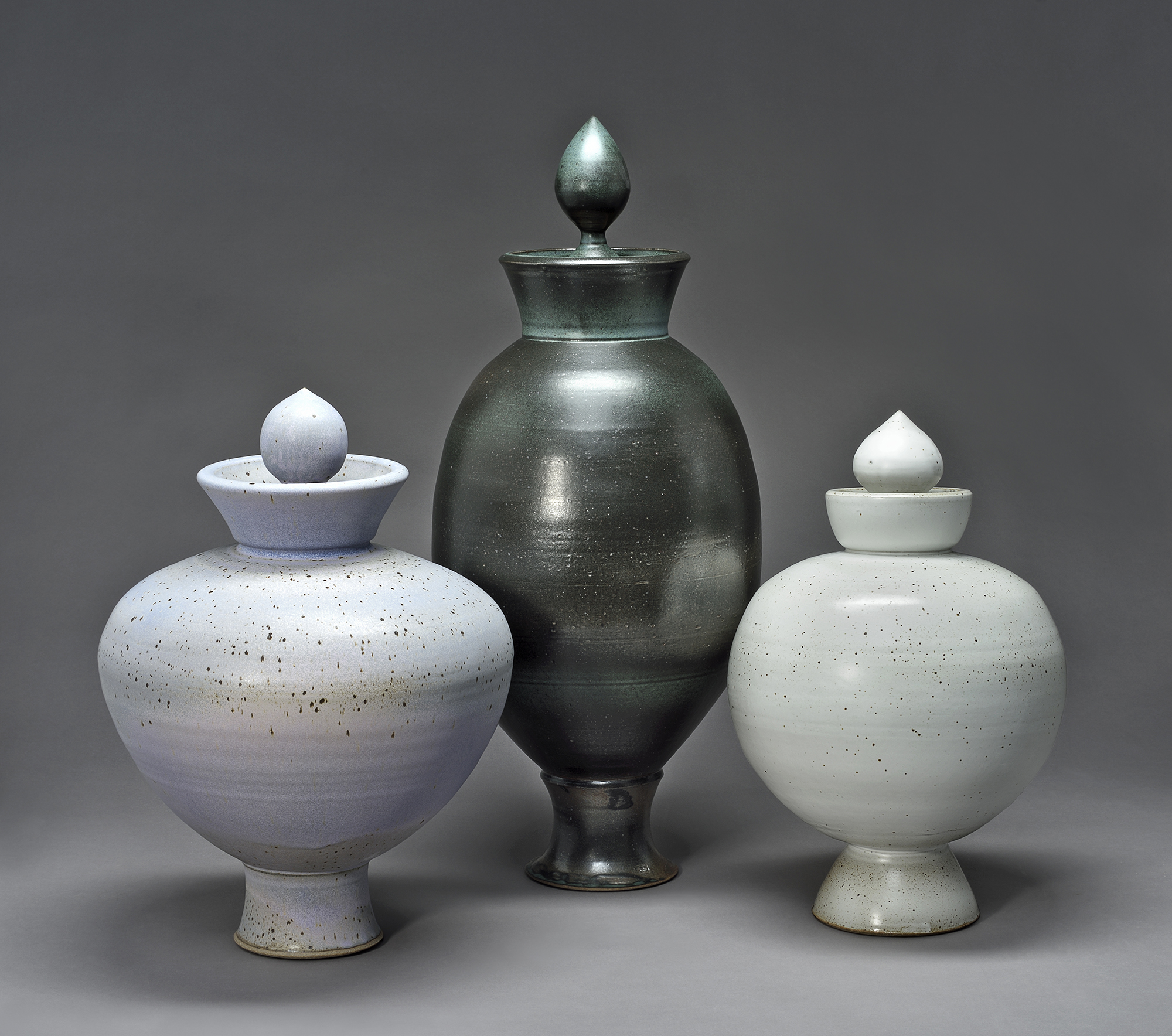 Geoff Tesch
Her practice draws heavy inspiration from historical objects, distilling them down to their most basic geometric forms, to be reconfigured into a modern and minimalistic interpretation. 
"The biggest thing for me is respecting and honoring traditional making processes, forms and shapes," Draper said. "I'm almost making small monuments of these historical objects that have withstood time."
Draper was smitten by ceramics from the moment she first used a potter's wheel in high school. Her hands have been glued to a clay-spattered wheel since. 
At RIT, meticulously shaping and forming her visions on a wheel became a gateway to artistic growth. Form is the "star of the show" with Draper's work — a satisfying byproduct of countless hours throwing large vessels.
"I love the wheel because it's very constant, it's challenging, and yet also very rewarding," Draper said. "I like centering the clay and being able to manipulate it in a circular, symmetrical way. It allows me to think differently than hand building or sculpture. I'm using a tool to create objects I see in my head, and that's just the method I can do it best with."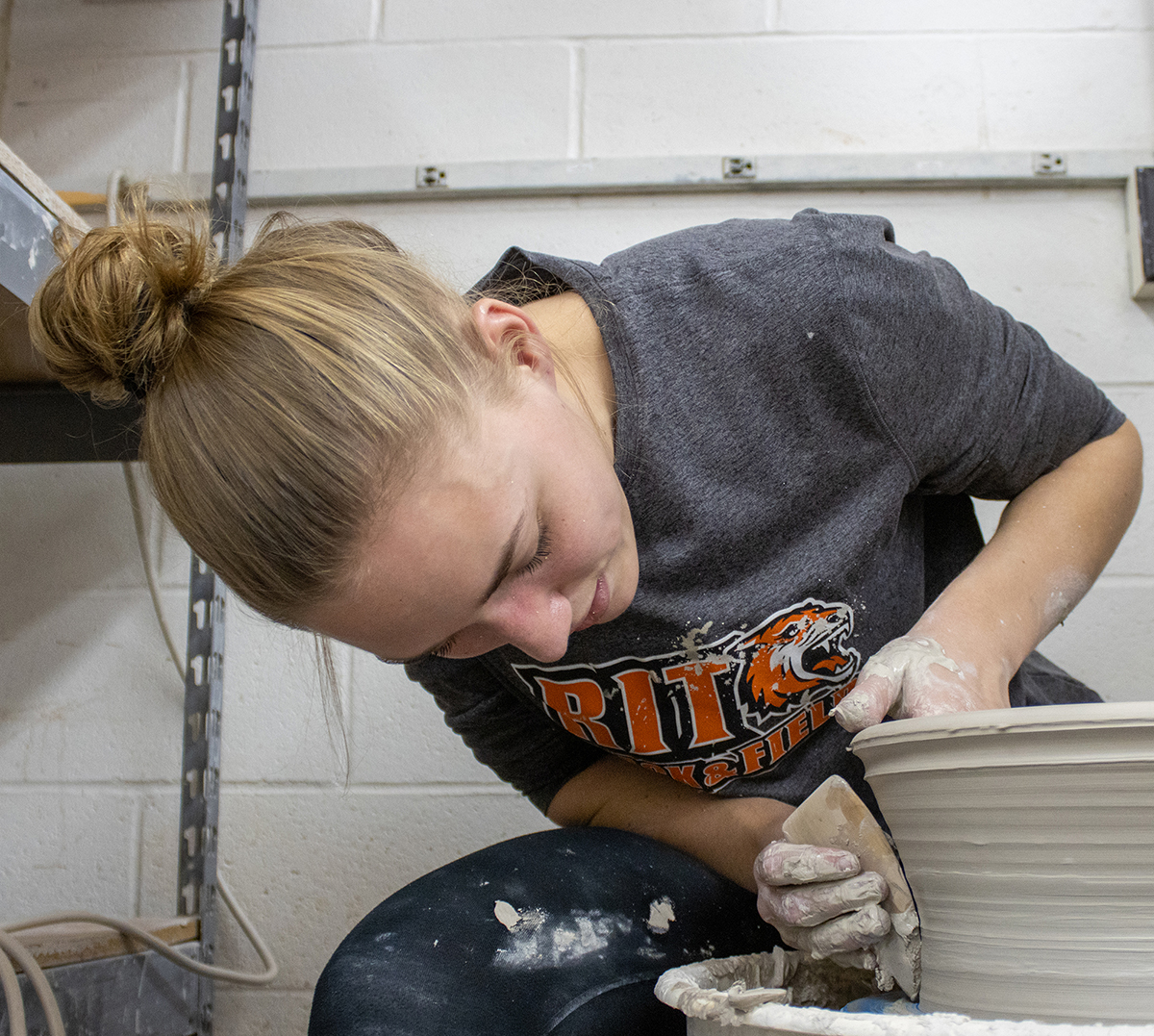 Sophie Proe '24
After graduation, Draper aims to complete an artist residency and an MFA degree in ceramics. She has an appetite to start a professional studio practice and teach college-level ceramics.
RIT was the "perfect fit," Draper said, for beginning that pursuit, both from academic and lifestyle perspectives. 
Draper was a standout distance runner on RIT's cross country and track and field teams. Not only did she conquer the crowded schedule of a three-season student-athlete — "I'm always planning 10 steps ahead," Draper said — she used it to her advantage. 
"I think there is a balance between running and my studio work, and one feeds the other," Draper said. "I am happiest when I'm running, and that happiness feeds my studio work. It's a good outlet for me."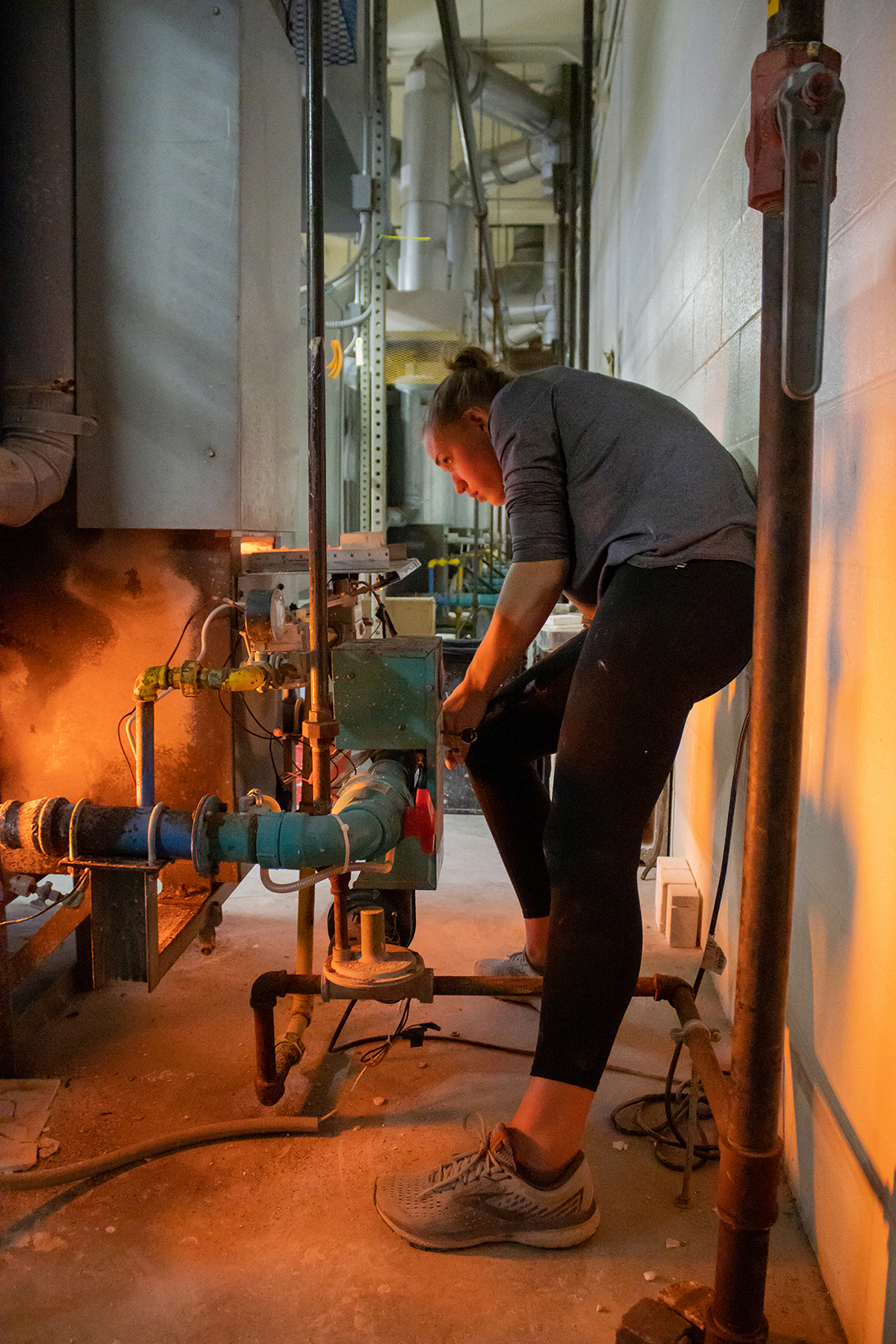 Sophie Proe '24
Draper said RIT's ceramics facilities — specifically a personal workspace, access to a range of materials, a glaze room, electric, gas and soda (atmospheric) kilns and the Fab Lab — fueled her exploration. Even more, she appreciated the positive, innovative studio environment fostered by Associate Professor Jane Shellenbarger and Assistant Professor Peter Pincus, who encourage students to investigate modern technologies in their work. 
"The biggest thing was that I was in a program that was pushing me," Draper said.
The College of Art and Design's unique placement on a comprehensive campus with a meld of disciplines that promote unique collaborations also had an impact. Draper cherishes conversations with her mechanical engineer roommate where she could offer art-related solutions to engineering problems.
"It felt like family here," Draper said about RIT. "I felt I could fit in and flourish here. Being in an environment where I can continue to meet new standards and raise the bar for myself is why I stayed."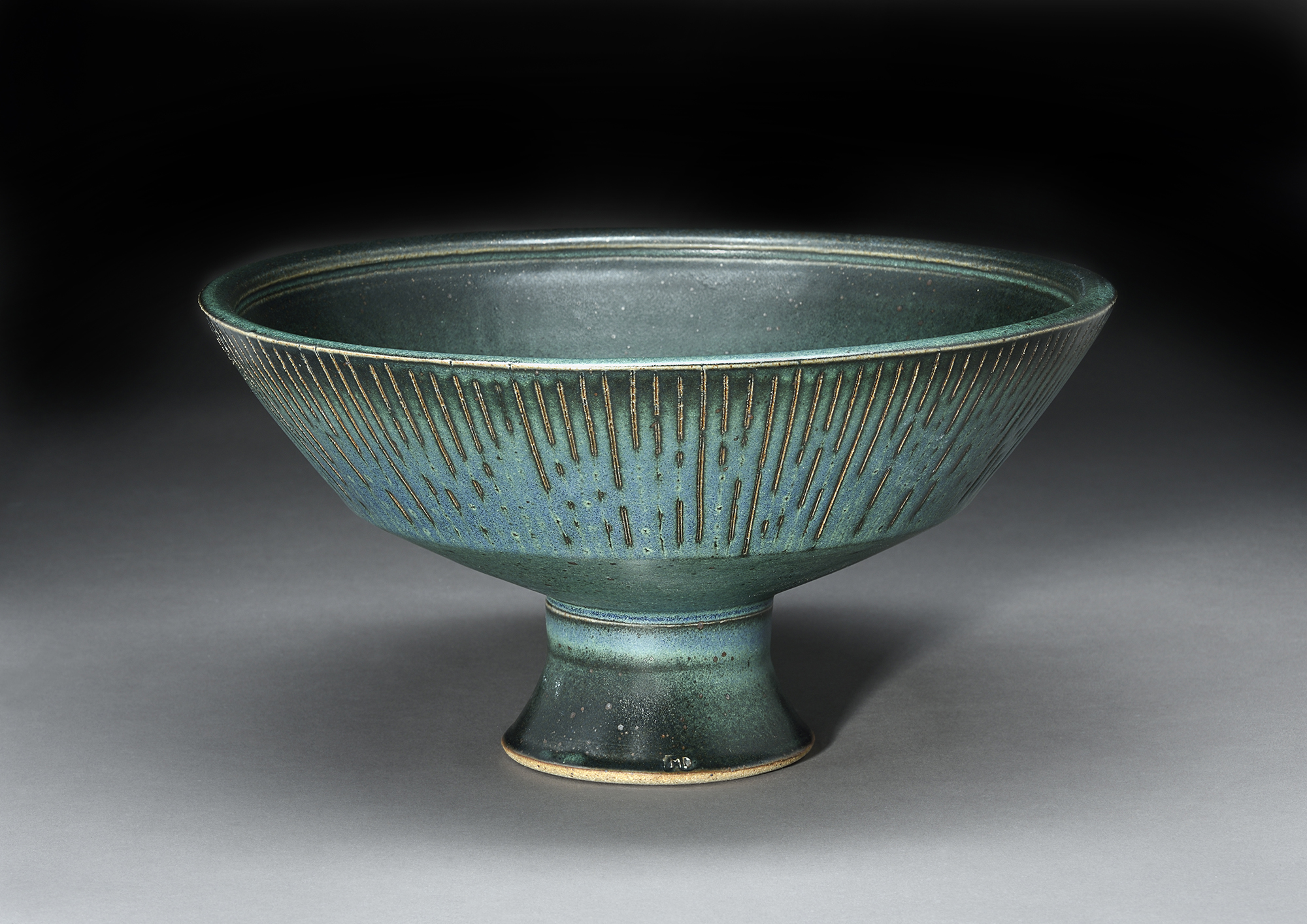 Geoff Tesch
Draper experienced further growth by completing a co-op at the Northern Clay Center in Minneapolis, Minn. She spent the summer of 2021 helping to run the center's ceramics camps for youth and taking workshops led by successful artists.
It is among the many experiences from the last four years that left an indelible mark. 
"I've taken little nuggets from different areas of my time at RIT and pushed them together to create this voice that I think represents me the best," Draper said.