March 28, 2017
by Lauren Peace
Chemist turns hobby into full-time business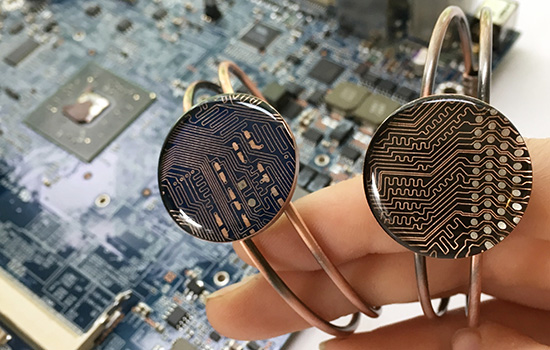 Amanda Preske has three things that are almost as hard to come by individually as they are when put together: an expertise in chemistry, a knack for jewelry making, and a confidence and poise that have allowed her to excel in both.
Just over a decade ago, Preske '09 (chemistry) was in the midst of her college search process when she made the decision to attend RIT because of its abundant offerings in both science and art.
"I would take multiple art classes a semester, typically at night, in drawing, metalsmithing, collage, anything that was available," Preske said. "I ended up graduating with close to 80 extra credits."
Despite having earned a Ph.D. in chemistry from the University of Rochester in 2016, Preske has put her career as a researcher on hold to commit herself full time to her Rochester-based jewelry business, Circuit Breaker Labs, through which she crafts and sells pieces made from recycled circuit board and resin.
Preske, who began making jewelry at just 9 years old, said that she has always enjoyed working creatively with her hands. She started selling her work at craft shows at the age of 14, but it wasn't until later, when her brother was working on a broken computer, that she found her unique preference in materials.
"I was looking through a bookstore, and I came across a book about using resin," said Preske. "I was awestruck by the versatility of the material and what you could do with it. When I got my hands on the old circuit board from my brother's computer, I was infatuated with the intricate details and patterns that covered its surface. I thought that the combination would make for really interesting jewelry and ornaments."
Preske said that the feedback she got in response to the circuit board jewelry played a huge role in her decision to work further with the material, and she knew that she had found a niche platform on which to grow her business.
"If I hadn't received the positive response that I did, I probably wouldn't have realized its potential," she said.
Now, Preske works out of the upstairs of her apartment where she designs and constructs the pieces that she sells. What used to be a work space while pursuing her doctorate has been transformed into the "lab" that now sees some of her most creative designs. The pieces that she makes can be purchased online, at craft shows and at Shop One2, which is located at RIT's Global Village.
"I never thought that I would end up doing this as a full-time job," said Preske. "I like that I'm my own boss. If I don't work, I don't progress, and I can't hold anybody accountable but myself. It's incredibly motivating, especially because I'm doing something that I love."
To learn more
To learn more about the business, go to the Circuit Breaker Labs website.
A. Sue Weisler
Topics