College of Art and Design sponsors Rochester Independent Comics Expo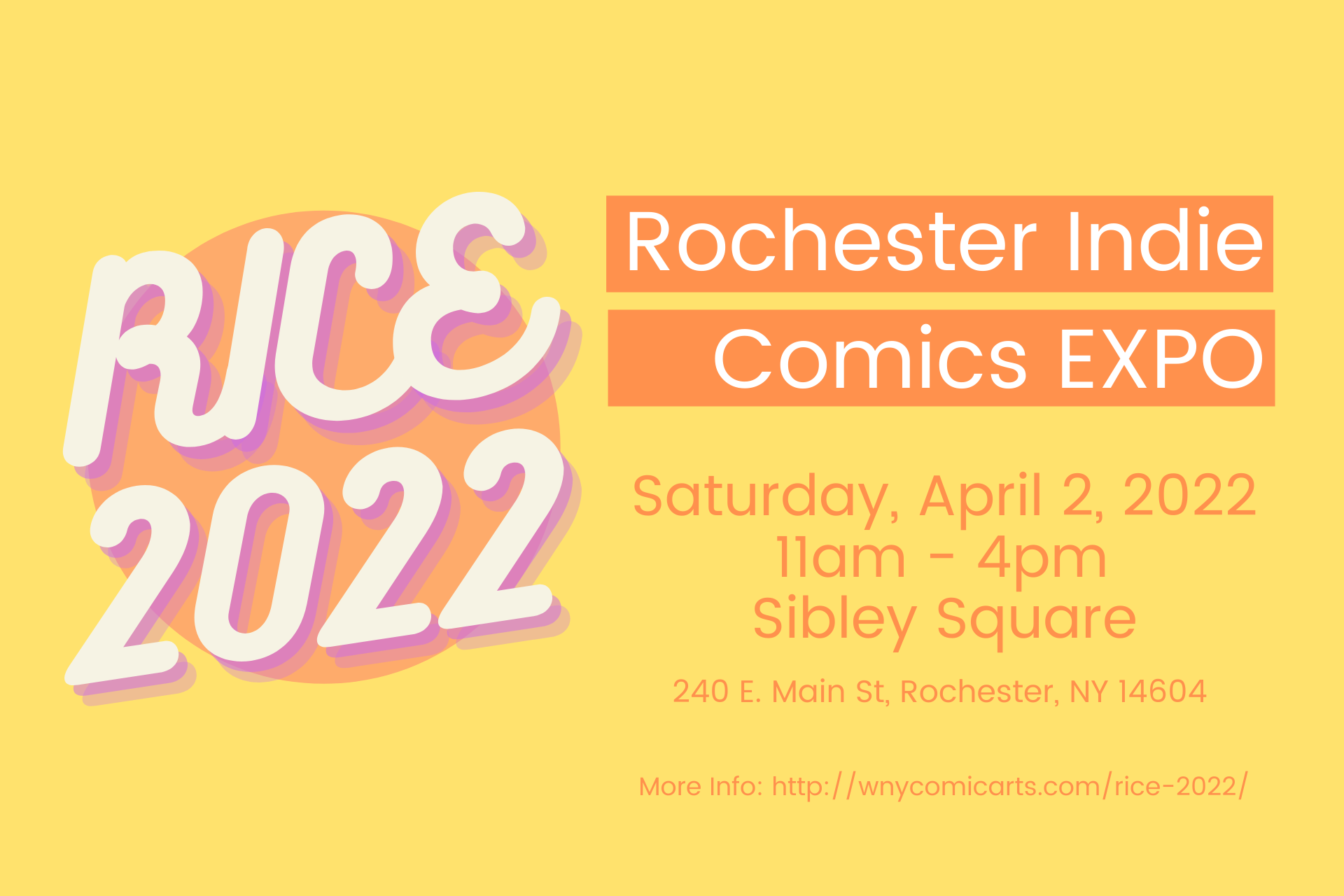 A showcase of more than 30 independent comic artists in the Northeast and a survey of the Rochester independent video game scene highlight the third annual Rochester Independent Comics Expo (RICE).
RICE, organized and run by Western New York Comic Arts, is scheduled for 11 a.m. to 4 p.m. Saturday, April 2, in Sibley Square, a bustling mixed-use building at 260 East Main St. Rochester, N.Y. 14604. A kickoff event, the "Rochester Comics Artist Showcase & Discussion," is also set for 7-9 p.m. Friday, April 1, at The Strong Museum of Play.
Expo and kickoff event attendees can meet exhibiting comic artists, purchase their original artwork and explore Rochester's comics culture. RIT's College of Art and Design is a sponsor for RICE 2022. The events are free, open to the public and appropriate for all ages. 
This year, RICE is co-organized by Frances Andreu, digital initiatives librarian at RIT, artist and educator Tom Lake and Daniel Worden, comics historian and associate professor in RIT's School of Art, with the support of volunteers from a number of cultural and educational institutions in Rochester. 
For the kickoff event at The Strong Museum of Play, a panel of renowned comic artists will present their work and engage in a discussion about comics art in Rochester today. The special guests, including RIT faculty and alumni, are: 
Dave Chisholm (adjunct faculty, College of Art and Design) — a cartoonist, musician, educator and author of the Eisner-nominated graphic novel Chasin' the Bird and a new work, Enter the Blue, which has already been reviewed by the New York Times. 
Clayton Cowles — an Eisner- and Ringo-nominated letterer widely renowned for his work on the comics series Adventureman, Bitch Planet, Bitter Root, Die, Pretty Deadly, Redlands, The Wicked + The Divine and many more.
Jackie E. Davis — creator of the massively popular webcomic Underpants & Overbites and the author of Vulnerability is My Superpower. 
Shawn Dunwoody — a multimedia artist, designer and visual consultant who is also the creator of the Legion of Legends, a group of superheroes based on Rochester historical figures, including Susan B. Anthony and Frederick Douglass
Caitlin Yarsky '08 (illustration) — an illustrator who started her career in game design at Workinman Interactive, she is the artist of the Image Comics series Bliss and Coyotes, and the Dark Horse Comics series Black Hammer Reborn.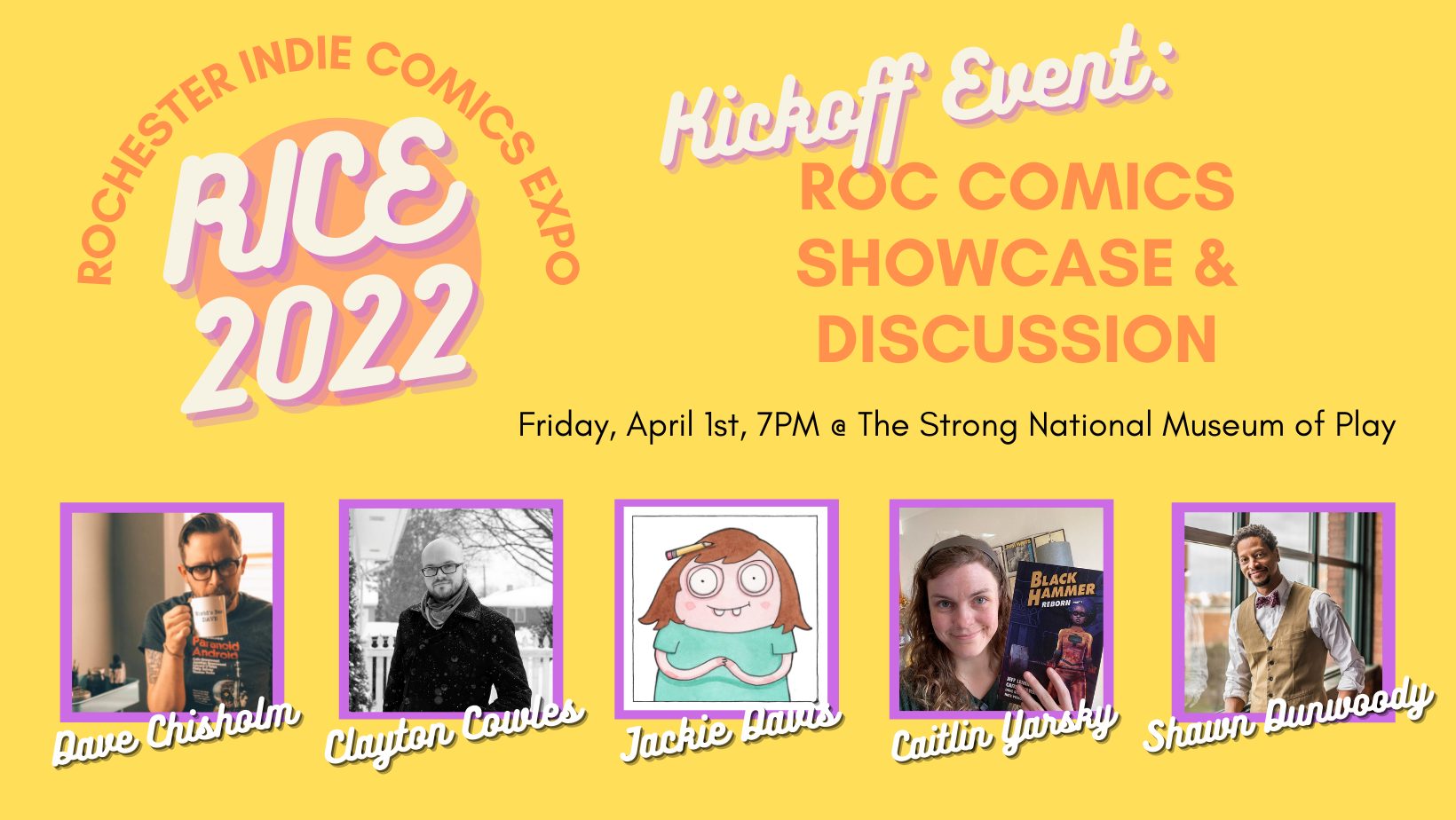 Access to the kickoff is free, but guests can arrive early and enjoy half-priced museum admission starting at 4 p.m.
The expo is located adjacent to the Mercantile on Main, Sibley Square's new urban eatery offering a variety of dining options. Guests are also just a short walk away from RIT City Art Space within Sibley Square. An exhibition of thesis work by MFA candidates in RIT's Schools of Art and American Crafts will be on display that weekend. 
Directions and parking information for The Strong Museum of Play can be found on the museum's website. 
For Sibley Square, garage parking is available at St. Joe's Garage (72 N. Clinton Ave. Rochester, N.Y. 14604), and validation is available with any purchase at Mercantile on Main.