College of Engineering Technology combines print and packaging departments to elevate strategic, career focus
Merging Packaging Science and Graphic Media Science and Technology departments will meet growing interdisciplinary needs of industry
The Packaging Science and the Graphic Media Science and Technology (GMST) departments at Rochester Institute of Technology will merge, as part of the continuing strategic growth of RIT's College of Engineering Technology.
This change comes about to further address the interdisciplinary trends and growth taking place in both the evolving print and packaging industries. It reflects the college and RIT's focus on aligning programs to better provide a highly skilled workforce for each area.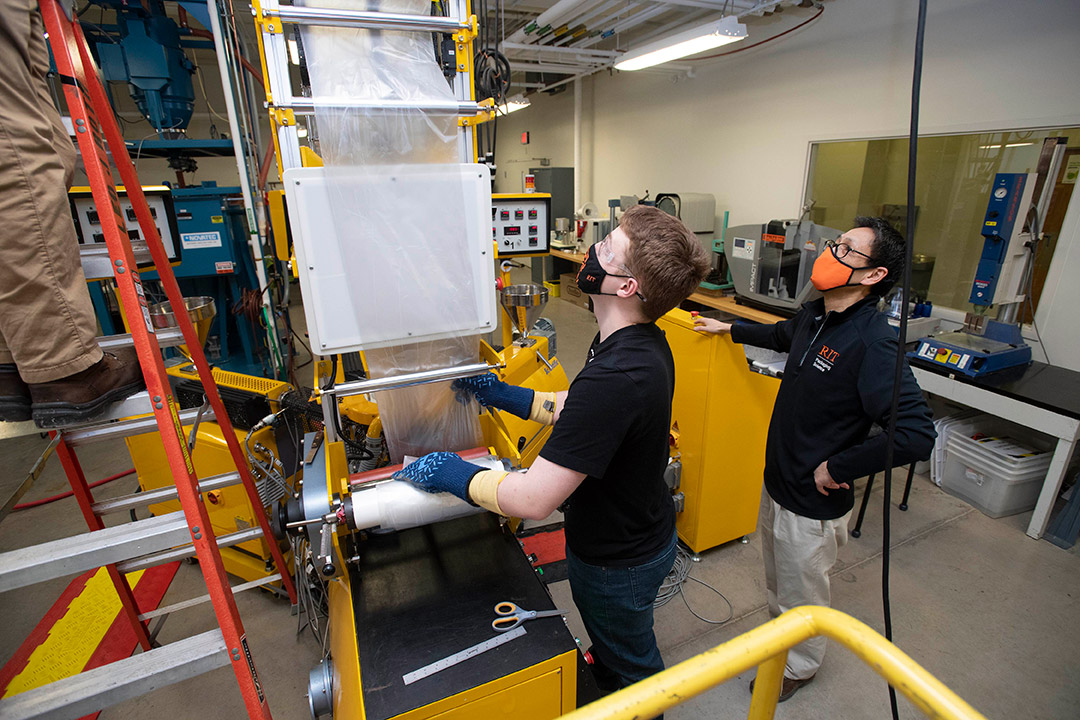 Elizabeth Lamark
The new name will be the Department of Packaging and Graphic Media Science, effective July 1. Students currently in the original programs will not be affected by the name change and will complete degree programs in both the undergraduate and graduate programs and majors within the new department. Packaging represents a growth market in the graphic communications industry, and the interdisciplinary nature of both packaging and print can lead to careers and research initiatives, including those in the printed electronics industry.
"Changes in both printing and packaging are happening rapidly, and this is our response to this growth," said S. Manian Ramkumar, dean of RIT's College of Engineering Technology. "Both industries require the integration of design, materials, technology, management, and sustainability—and our college will provide these skills and relevant experiences in these areas for our students."
Dan Johnson, currently department chair of packaging science, will serve as the interim chair of the new department for one year, with a possible extension as needed. A national search to identify a new department chair will begin in early August. Bruce Myers, department head of GMST, will transition into a teaching/research role. 
In 2019, the former School of Media Sciences moved from RIT's College of Art and Design to the College of Engineering Technology to strategically align academic programs. Most recently, entrepreneur James Hammer made a substantial gift to the university to create the Hammer Family Packaging and Graphic Media Center. Multiple market segments are integrating print and packaging technologies. Digital convergence of these industries has resulted in the need for increased research and development of new materials, processes, and sustainability initiatives in both commercial printing and packaging. The gift will fund a comprehensive, dedicated space for advancing research and learning in these emerging packaging and print applications.
Ramkumar leads a college with nearly 2,000 undergraduate and graduate students in three additional departments: civil engineering technology, environmental management and safety; electrical, computer and telecommunications engineering technology; and manufacturing and mechanical engineering technology. Additionally, the university's Army and Air Force ROTC programs reside in the college.
Topics