Company develops solar generators for hurricane victims
InverSOL will soon open its first factory in Puerto Rico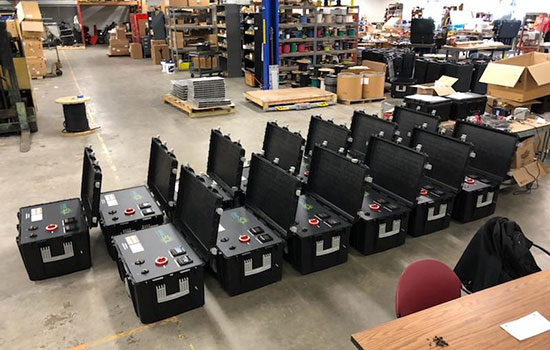 Entrepreneur David Rodriguez is bringing an alternative energy solution to the nearly 3.4 million residents of Puerto Rico still living in the aftermath of Hurricane Maria.
Rodriguez is the founder of inverSOL, a client company of Rochester Institute of Technology's Venture Creations business incubator, and the developer of a new, lower-cost, no maintenance solar generator system designed to power basic home appliances. The company was formed in March, and this summer inverSOL will open a manufacturing and retail facility on the island of Puerto Rico.
"After Hurricane Maria hit in 2017, I was stunned by the mix of different solutions that people came up with to power what was left of their homes," said Rodriguez, a 1992 graduate of RIT's MBA program in Saunders College of Business. "Some people just dealt with it and lived without power. I've done that and it's pretty awful. The hurricane was really a life-changing experience for everyone on the island."
Rodriquez said that many residents used gas generators to power their homes, which is not only expensive, but can be dangerous.
According to Rodriguez, solar generators are an emerging market, particularly in the United States, and are generally available as small units that are designed to power small items such as cell phones and camping lights. InverSOL units are focused on providing power to refrigerators, LED lights, charging stations, laptops, fans, televisions and radios. Rodriguez, who has a home, an office and several family members on the island, reported that there are still thousands of people completely without power—and hurricane season is upon them once again.
"We've put a lot of thought into the design of the product, and the No. 1 priority is safety," he said. "My direction to the inverSOL team is that no matter what, we must think about our kids or grandparents using the generators, and no one can ever be harmed. The absolute worst thing that can happen with inverSOL units is that if someone plugs in too many things, it powers down and a circuit breaker just needs to be reset."
InverSOL's solar generator relies on technology that enables the unit to require no oil and runs silently, is weatherproof and is portable. He said many others on the market are poorly constructed or can only be shipped to the island unassembled. InverSOL units that are sold fully assembled on the island are priced between $2,000 and $5,000—a fraction of what it costs to install a whole-house solar solution, which range from $25,000 to $50,000. The company has also arranged to provide financing for the units through community banks on the island. In addition to this, inverSOL is employing island residents in their manufacturing, sales and service departments.        
Rodriguez said the last thing he needed to do was start another company. He is the founder of inverSOL's parent company, Council Rock, a telecommunications engineering firm providing the gas and electric utilities market products and services in support of smart grid applications. Most of inverSOL engineers and support staff are RIT graduates and also work for Council Rock, which graduated from Venture Creations in 2016 and received funding from the RIT Venture Fund in 2017.
"Our plate is pretty full right now and I told myself that when I found red flags related to the inverSOL project, I would back off. But as soon as I started talking to people about my idea, the opposite happened. There were no red flags and people wanted to be a part of it."
Rodriguez is also grateful to his staff who have been working around the clock for several months.
"I've never felt stronger about a business opportunity than I have with this one," he said. "This is real. Businesses face issues related to demand. We don't have that problem; there is demand. Our goal is to boost our supply chain and build enough inventory to meet that demand."
Topics