May 9, 2022
by Luke Auburn
Dadgar works to make medicine personal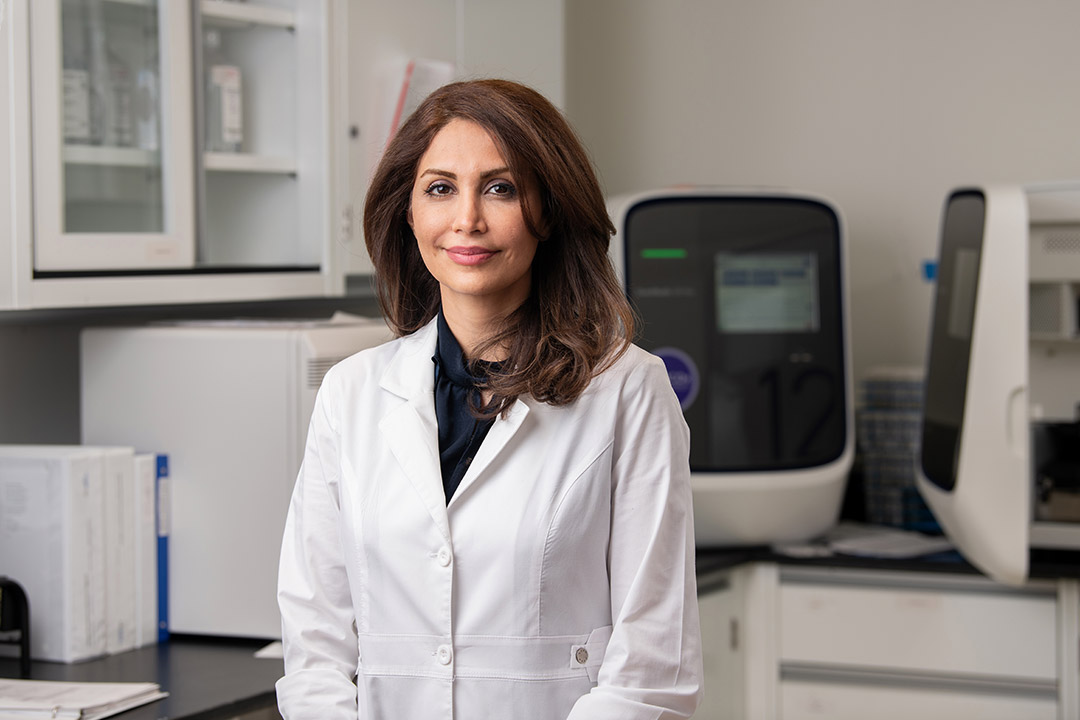 Sherry Dadgar '08 MS (bioinformatics) wants the future of medicine to empower patients. Dadgar, a clinical assistant professor of medicine at George Washington University, launched her company, Personalized Medicine Care Diagnostics (PMCDx), in 2020 with a goal of delivering advanced clinical genomic diagnostic testing to patients and their physicians.
A clinical geneticist by training, Dadgar saw issues with the dollar-driven way the health care industry develops test panels for disorders. She envisioned providing low-cost molecular diagnostic laboratory testing so that physicians can provide care based on their patients' personal genetics and genomics characteristics.
"The intention is to improve precision medicine and make data from our underlying genetic signature accessible to individuals when the information can be actionable," said Dadgar. "Genetic testing may not seem cost effective in the short term to health insurance companies, but in the long term both patients and payers will benefit from tailored therapies."
Dadgar said pharmacogenomics testing could minimize a medication's side effects and maximize its effectiveness, and the applications could range from prescribing complex oncology medications to identifying the right over-the-counter pain medication. Studying genomes can also help identify risks for genetic disorders and provide family management insight. She said genetic testing could even facilitate lifestyle modifications such as personalizing daily caffeine use.
She believes RIT's bioinformatics master's program—which combines biotechnology, computer programming, and computational mathematics—played a big role in preparing her to lead PMCDx. She said the programming-heavy curriculum was a challenge coming from a biological sciences background, but it helped her to create a bridge between two disciplines.
"There's always a challenge in the crosstalk between geneticists and people from IT backgrounds, so having both skills helped me not only obtain and perform at my previous job as a lab director, but also leading my own company."
After graduating, Dadgar served as a lead bioinformaticist at the Department of Health Policy and Epidemiology at Harvard University. She then pursued her Ph.D. in molecular medicine at George Washington University and later moved on to a clinical genetics fellowship program at the National Human Genome Research Institute. She joined George Washington faculty in 2016.
She said she felt fortunate to enroll in a cutting-edge master's program because there is a big demand for people with the skillset it produces.
Topics