Decrease in COVID brings hope for more normal commencement
President Munson talks about Imagine RIT, athletic scholarships, and RIT Dubai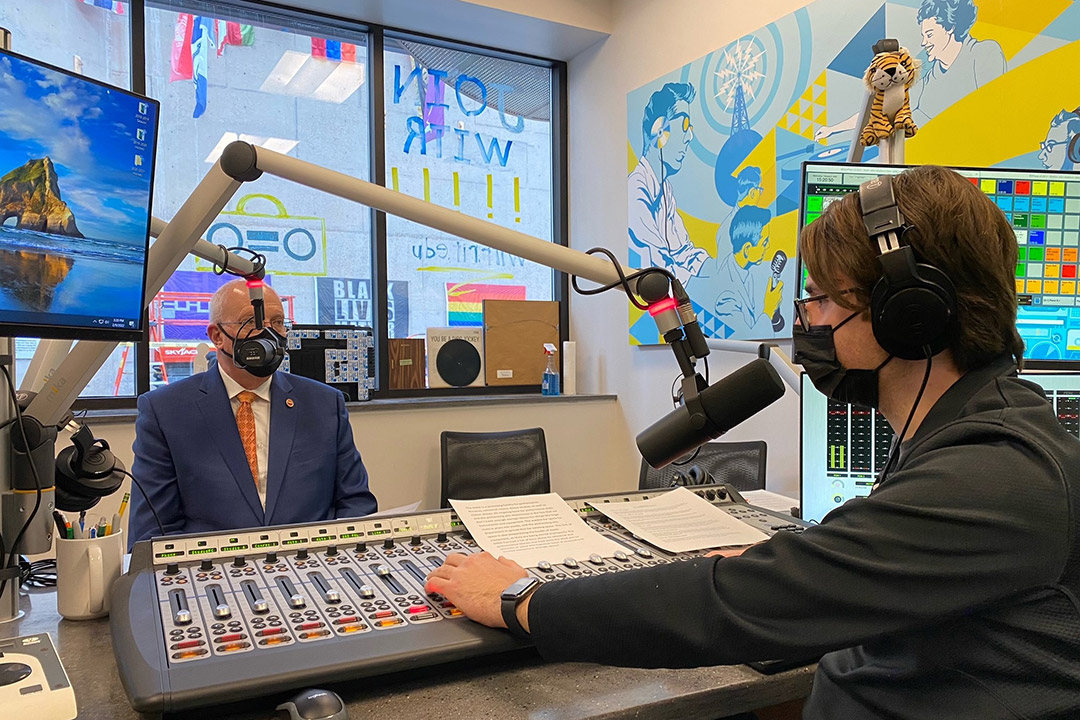 Although COVID-19 will likely be with us for the foreseeable future, RIT President David Munson says he hopes this year's commencement ceremonies will include parents and families of graduates welcomed to campus because of the declining trend of positive cases.
"We're hoping to go back to pretty close to normal. We still might require masks indoors and still may require people to be vaccinated to go indoors, but we are hoping not to have these huge numbers of ceremonies in parallel stretch out over multiple days," Munson said during his latest "Ask Munson" question-and-answer interview Wednesday on WITR (89.7) radio. The show, hosted by Mike Vasile, is scheduled to be aired again 10 a.m. Saturday.
Munson said the administration has had plenty of experience planning major events months in advance, despite the uncertainty the pandemic brings.
"We had a tough call to make in early December. Were we going to start the semester on time? Were we going to start the semester in person?" he said. "We felt Omicron, based on all reports then, would not be nearly as severe on average. We knew it would be super contagious so we figured a lot of people in our community would get it, but that we would not be putting people into the hospital. Thankfully, we were right. We're very pleased we started on time and in person. We didn't disrupt the students' schedules... people will graduate on time, people can head out to their co-ops and summer jobs on time, and our faculty can get on with their research agenda."
Munson said 378 students have been diagnosed with COVID this semester since classes began Jan. 10. But the numbers continue to decline.
"We were seeing 20 students a day on average early, now it's about five. The same with our employees, it's come way down. We pay attention to how serious is the illness and are we putting people in our community in the hospital. We've had only one report of a student, faculty, or staff member in the hospital with COVID since this semester began."
Munson thanked students who were staying in RIT housing at 175 Jefferson Road before temporarily being relocated to downtown hotels and the APEX on John Street as their rooms were used for quarantine housing for students who tested positive for COVID at its peak.
"I don't want to minimize the inconvenience for our students," he said. "That was a big sacrifice on behalf of their fellow students. The number of rooms we need for quarantine is way down. So thank you to those students."
Regarding masking, no changes to current policies are planned at this time, although there have been recent conversations about what circumstances would enable masks not to be necessary.
"We are going continue wearing masks for at least a while," he said. "We'll wait and see what the Centers for Disease Control says and whether New York state has anything to say about higher ed. We're listening to our County Health Director, Dr. Mike Mendoza, and we're going to listen to the American College Health Association. Right now, they're all saying keep the masks on, get the booster. On the other hand, we know better days are ahead and we don't want to have unnecessary restrictions. I'm just as eager as everyone else to get the masks off when we think it's safe to do so."
Other topics Munson discussed:
Imagine RIT: This year's Imagine RIT: Creativity and Innovation Festival, on April 23, will be held in-person for the first time since 2019. "As of right now, we would still require masks indoors. And right now we're thinking of requiring vaccinations for people coming on campus. But none of that is finalized. The most important thing is we're going to try to do this in person and getting back to have a large group of people on campus and really showing off all these projects that our students have been working so hard on. It's a great event for RIT and we have really missed that in-person component."
RIT Dubai: Munson talked about the grand opening of the new campus for RIT Dubai, which he attended in November with the Crown Prince.
"Not only is the campus and the architecture impressive, so are the people and the programs," Munson said. "They have terrific students and wonderful faculty. And the president of RIT Dubai, Yousef Al Assaf, is a visionary. They are undertaking some programs that we may actually learn from."
Munson said the new campus is perfectly positioned in Dubai's Silicon Oasis, a community of about 80,000 people, with many international companies and start-up companies, with many opportunities for faculty exchanges, co-ops, and study abroad experiences for students.
"Silicon Oasis is working to increase high-tech industry in Dubai, especially related to integrated circuits and chip manufacturing," Munson said. "They have built us an entire campus on a piece of their property."
Munson called the renderings for the new Dubai campus gorgeous, but "when you see the real thing, it's even better. It's quite a spectacular achievement. We want to create more opportunities for our Rochester-based students to spend time there. That's certainly our goal."
NCAA scholarships: The NCAA last month voted to allow RIT, among other universities, to award scholarships to Division I athletes, something competing universities have been able to offer. "I think it's huge," Munson said of the ruling. "I'm one who believes if we undertake an activity at RIT, we want to be at the top. Athletics is no exception." He said it was "blatantly unfair" that other schools could recruit RIT players and offer them full scholarships. He said RIT fought for this ruling for 10 years. "We worked really hard and, at the end of the day, we won this. I think we will have better teams, and think we will have more ticket sales."
The Student Hall for Exploration and Development (The SHED): Work continues on The SHED, which will have five large classrooms with occupancy of more than 100 students. Smaller classrooms will be on the upper floors of the renovated Wallace Center.
The bigger classrooms will follow modern-day pedagogy, not just having an instructor standing in front of a class. "Classes tend to be way more interactive," Munson said. "These large rooms will have flat floors, a lot of technology, displays all around the room, movable furniture on wheels and students will sit in pods. During the lectures, the students can work in small teams. The lecturer might be standing in the center of the room offering a mini lecture and the classes will be a lot more active. We just guarantee it will be amazing. Nothing short of that."
Performing arts: Plans are in the works to provide more opportunities for the expected 2,500 students on campus involved in theater, music, and dance. That includes space in new buildings, including the new Performing Arts Center, which will begin construction this spring.
"The students involved in our Performing Arts Scholarship program are bringing a huge amount of talent into the university," Munson said. "With all this raw talent available and intense interest among the student body, we'll be hiring more faculty and creating the spaces as fast as we can."
Answering a question submitted by a student on the need for more storage space for musical instruments, Munson said new rehearsal space is planned for The SHED, so that would free up existing areas that could be repurposed for storage.
"We are well aware of the issue," he said. "I'm confident we'll resolve the storage problem. We will have to decide what gets stored where."
The next "Ask Munson" session on WITR will be held at 3 p.m. on April 20.