March 12, 2021
by Rochelle Allan
Double master's degree graduate sets sights on entrepreneurship
JayShaud Potter develops smart pillow innovation to help the deaf community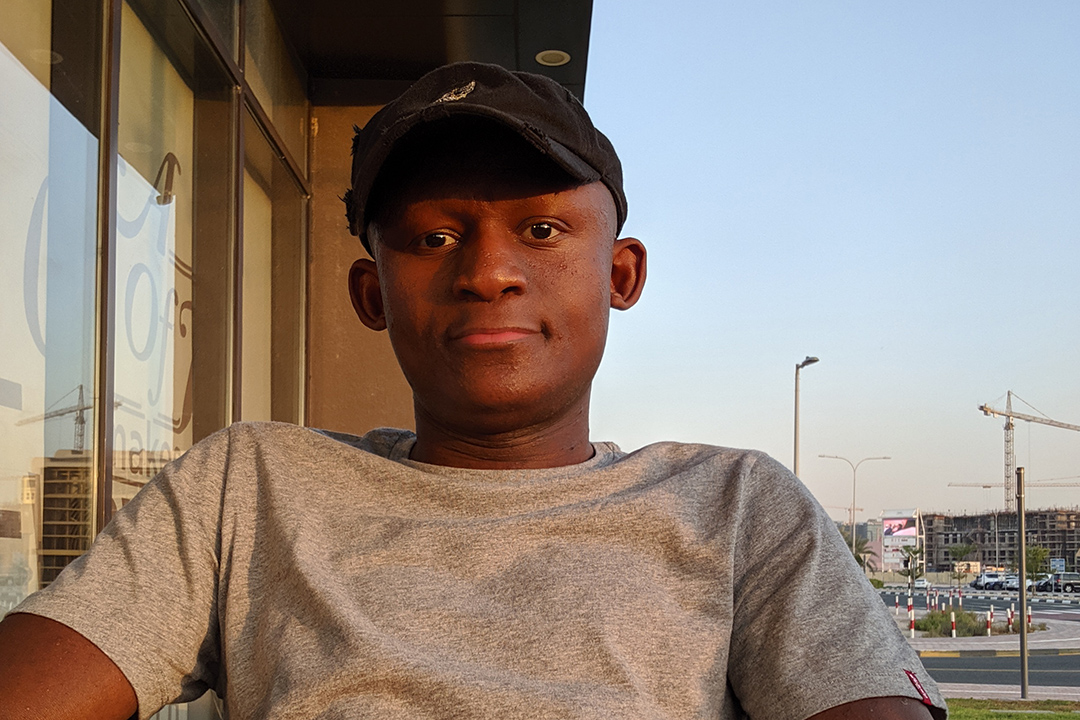 JayShaud Potter has taken advantage of studying at two university campuses, earning multiple degrees. The NTID-supported student from Michigan earned his undergraduate degree in applied arts and sciences at the Henrietta campus, then traveled to RIT Dubai to earn a master's degree in city sciences. He returned to Rochester and recently completed his second master's degree -- an MBA. His next adventure is the world of entrepreneurship, where he is developing a smart pillow to help the deaf community.
What was it like to travel to Dubai and learn at one of RIT's international campuses?
I took my very first international flight while traveling to Dubai, which was both overwhelming and exciting right from the start. Dubai, predominantly, is an Islamic state and I did not know much about Islamic culture. I had the opportunity to learn so much during my time there. Islamic culture is very different from American culture, therefore, I made a conscious effort to make sure I knew how to go about my everyday routine, being respectful to Dubai culture. I was there for about a year and I am truly grateful for the opportunity to experience a new culture and learn so much about life and people. This experience has made me a lot more open-minded. I am no longer apprehensive about trying new things and I always make sure I'm doing the right and acceptable thing, keeping in mind the culture of the place I am in. I have also made some amazing friends in Dubai, who keep in touch with me every day. It was a beautiful, unforgettable experience. I am immensely grateful to everyone at RIT Dubai for my experience.
How has your experience been as a deaf student immersed in a different culture?
When I first arrived in Dubai, I found it overwhelming and challenging as I noticed that many people did not understand a lot about the deaf community. As I did not have access to services that could help me, I had to become a little more independent in finding solutions. Fortunately, I was able to make use of a voice-to-text translation service on my phone that was able to help with my communication, allowing me to be more efficient. My phone effectively saved my life in this situation as communicating in this fashion helped immensely. The classes I took related to advanced technology where I was able to learn about smart cities. I was determined to apply my learnings to help the deaf community.
Why did you develop the smart pillow to help the deaf community?
A deaf individual struggles with good accessibility services on a daily basis, especially in the comfort of their own homes. Many deaf people are worried about their safety — in the cases of a break-in, or not being able to hear their crying baby or a fire alarm, as examples. The list is endless. I wanted to help ease that burden. I came up with Bugle, a smart pillow. Bugle is for individuals who aren't able to hear audio alerts clearly while sleeping and need reliable technology in order to wake up.
How does the Bugle smart pillow work?
Bugle provides visual and tangible alarms, reducing the risk of sleeping through an alert and potentially saving a life. This smart pillow, which can be set using a phone app that I developed, also receives alerts from various emergency sources and sends these alerts to the pillow. A color setting on the pillow corresponds to the kind of alert that has been sent. When there is an alert, it signals the smart pillow and this pillow wakes up the individual.
I have interviewed many deaf people. One deaf person said, "I wish I could adjust the vibration on my alarm. The current level of vibration nearly gives me a heart attack when I wake up." And, another comment from a heavy sleeper: "Sometimes I am afraid I might miss a class or an exam because I won't wake up on time." I interviewed an individual from Texas who did not realize that a hurricane was expected. Thankfully, he was safe, but he did not hear any alerts of a hurricane approaching and he was not able to prepare himself for it.
That's when I realized that Bugle has the potential to benefit not only the deaf community, but heavy sleepers, as well.
What's next for Bugle?
Right now, I have my initial design ready and I am currently working on making it safe for use.
Topics