May 7, 2021
by Michelle Cometa
First class of RIT Undergraduate Research Scholars will be recognized at 2021 graduation
New award suggested by College of Science student Lauren Trumpore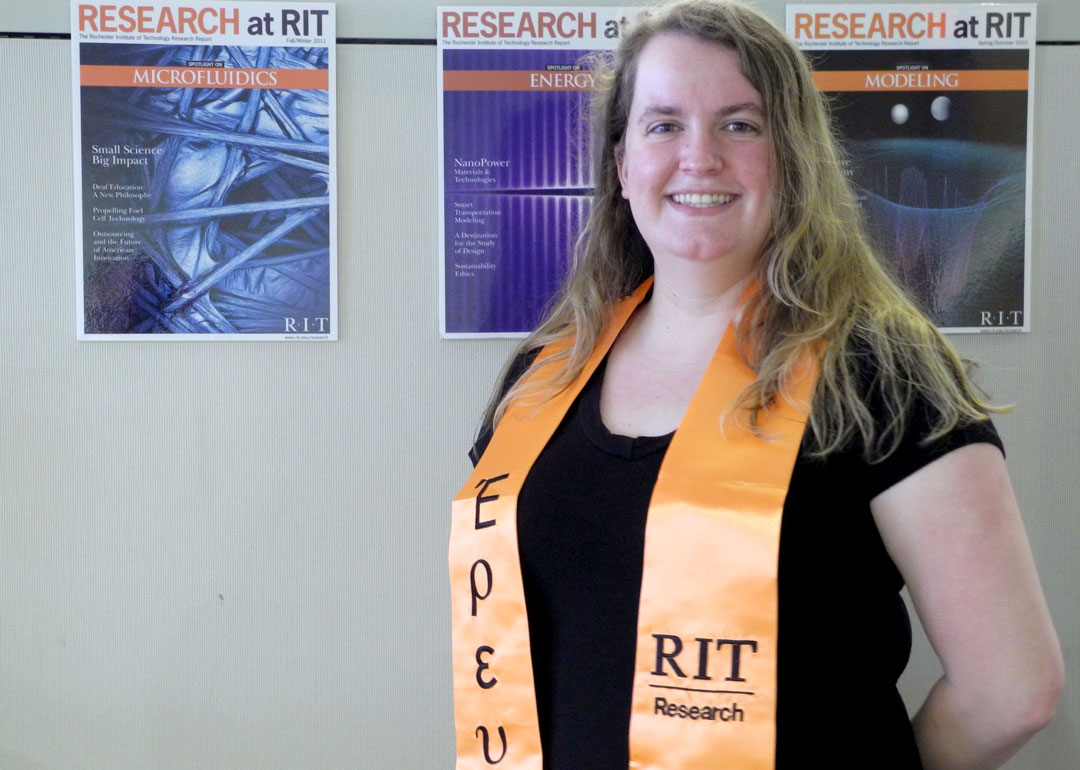 Forty members of the inaugural class of Undergraduate Research Scholar Awardees will be honored at this year's graduation ceremonies. The recognition highlights their accomplishments in a variety of complex and demanding research areas during their time at RIT. It also shows RIT's commitment to meeting the growing demand by undergraduates for research experiences to complement coursework.
"We have an extremely high density of undergraduates who are engaged in independent, scholarly research," said Ryne Raffaelle, RIT's vice president for research and associate provost.  "Hands-on education through research continues to be a hallmark of an RIT undergraduate education. What we are happy to see this year is the breadth of fields represented and the depth of the work of this first class and anticipate even more in the years ahead."
Students receiving this recognition must have participated in research under a faculty supervisor for at least two semesters, maintained a grade point average of 3.2 or higher and demonstrated public dissemination of their work, such as co-authoring papers for peer-reviewed journals. Letters of recommendation from a research mentor, a description of research done and an essay about the benefits to the students' undergraduate experience are also required.
Traditionally, research at the level the undergraduates are producing was the mainstay of graduate students. At RIT, it is not unusual for undergraduates to work alongside these more experienced peers and their faculty mentors exploring areas such as biofilm formation or non-invasive glucose monitoring to innovations in museums or science pedagogy.
Recipients of this year's recognition represent most of RIT's colleges, including students from the university's international campuses in Croatia and Dubai. They will be arrayed in RIT's newest distinguishing attire during graduation ceremonies—a bright orange sash with Greek letters that are often used as scientific symbols spelling research.
The idea came about when Raffaelle was approached by Lauren Trumpore, a fourth-year biotechnology and molecular bioscience major, asking that he consider recognizing undergraduates' work. She was a member of the Molecular Biology Education Research Group, a lab associated with the College of Science's Center for Advancing STEM Teaching, Learning and Evaluation (CASTLE).
"I did pedagogical research, the study of education. I've worked with local high school biology teachers, interviewing them and their students to see how they learn and understand biology," she explained.
She likened the recognition of undergraduate research similar to achievements in athletics, Greek societies and RIT's Honors Program.
"Research gave me experience that I otherwise would not have gotten," said Trumpore. "I did this so other people can get the recognition. They know already what they've done, but they can have others look at them at graduation, and know they did something that impacted RIT."
After graduation in May, Trumpore will return to her hometown, Warren, N.J., to work as a lab technician before entering graduate school.
The inaugural class of RIT Undergraduate Research Scholars are:
College of Engineering Technology
Matthew Hofmeister
Isabel Stoeckley
College of Health Sciences and Technology
Maria Morcos
Ashley Mussallem
Diksha Thakkar
Ashley Tucker
College of Liberal Arts
Stephen Dahlstrom
Koda Drake
College of Science
Kristen Atkinson
Mackenzie Carr
Jared Gregor
Leander Held
Niaya Jackson
Quinn Kolt
Jason LaRuez
Alyssa Schoenfeldt
Lauren Trumpore
Benjamin Vaughn
Emalee Wrightstone
Jordan Raisman
Kate Gleason College of Engineering
Benedicte Adair
Greg Bond
Connor Devitt
Andrew DeVries
Matthias Hausman
Jiacheng He
Andy Keats
Duc Le
Han Le
Hayley Miller
Sofia Quinones
Mickaela Samuel
Golisano College of Computing and Information Sciences
Saunders College of Business
RIT Croatia
RIT Dubai
Manan Argawal
John Joy
Safika Kabir
Huzaifa Khambaty
Topics