In Focus: Biomedical engineering students help advance digital microscope technology
New work in improving digital technology could also influence growth of an international company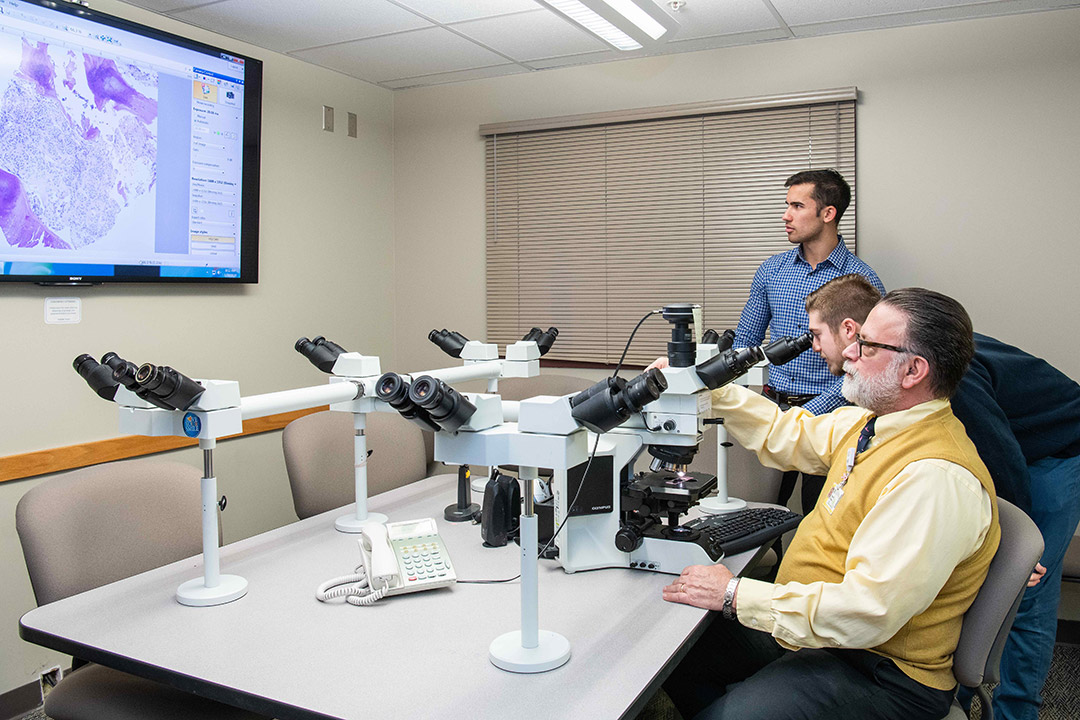 Biomedical engineering students Brandon Buscaglia and Marcus D'Aguiar are helping physicians see the invisible. The undergraduates developed a motorized stage and tracking prototype that works in conjunction with digital microscopes. The students' ideas are being incorporated into a company's tech offerings today, providing the potential to make an impact in health care applications tomorrow.
Their work developing the imaging system is a needed adjunct to current digital microscopes. Intended to be a cost-effective alternative to similar technology priced upwards of half a million dollars or more, the prototype would sit atop a microscope connecting both the stage, where specimen slides are placed, and a computer.
Slides can be controlled by a pathologist and system software would allow for remote connections to other sites and physicians.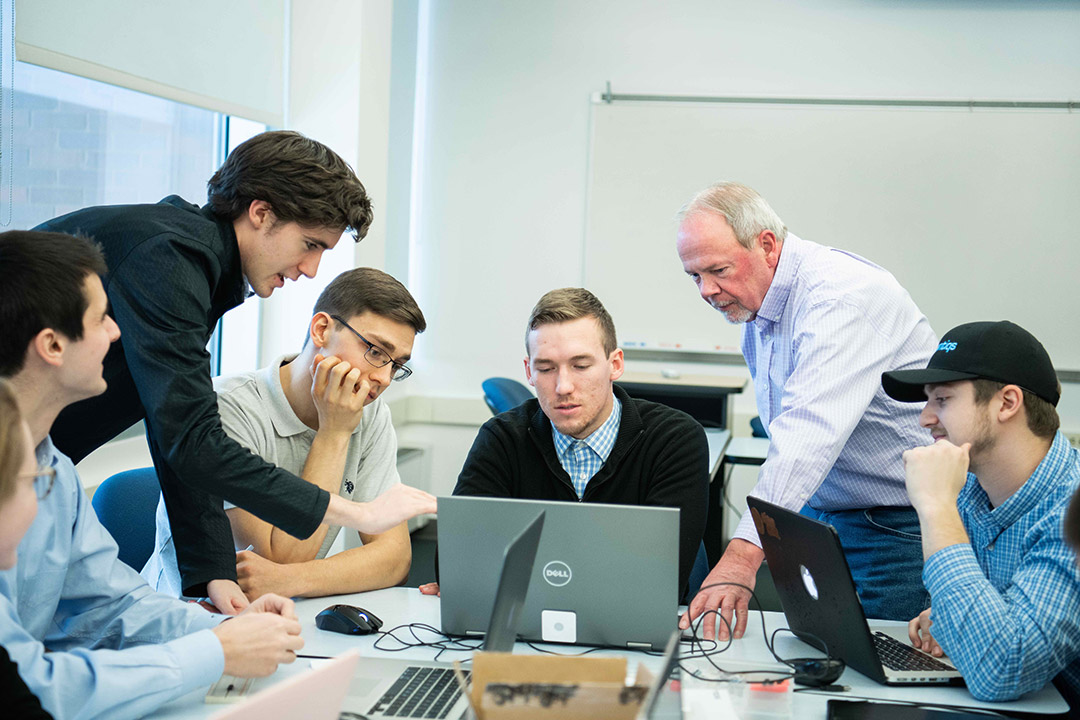 Gabrielle Plucknette-DeVito
"The goal of the technology is to transform the analog microscope into more of a digital environment, or in other words, to put the computer inside the microscope," said Buscaglia, a fifth-year student in RIT's Kate Gleason College of Engineering.
Buscaglia and D'Aguiar's contributions in digital microscopy came about through a combination of engineering coursework and co-op experiences in a medical research laboratory. These experiences, coupled with a chance meeting with an international medical equipment company, have become career opportunities for both students. The project and its mix of individuals involved also highlights a growing entrepreneurial ecosystem at RIT.
Co-op Connections
Buscaglia and D'Aguiar learned first-hand about pathology workflow—the precision work of analyzing diseases through examination of tissue specimens—during their co-op two years ago with Dr. David Hicks, a surgical pathologist at the University of Rochester Medical Center (URMC).
They helped Hicks build databases of specimen information to better categorize, classify and detail disease types and progression. The co-op turned into part-time work and both students are still working in Hicks' lab.
"The field of pathology is still analog and very manual, and I make different assessments about the grade of a tumor based on the size of the nucleus, the contours," Hicks said. "I measure things like estrogen receptors, the HER 2 receptor, all based on my experience, my judgement. These guys have been the boots on the ground for translational breast cancer research in our unit and they really have helped facilitate a number of projects."
Today's clinical laboratories are sophisticated, but there are still limitations related to the digitization of medical data. New technologies can positively impact disease diagnosis and workflow efficiency, said Hicks, who is recognized nationally for his comprehensive work in image and data analysis of diagnostic biomarkers. Much of Hicks' work takes place in the pathology laboratory, but for some diagnostics, he must go to another building to access a digital platform where he can enhance slides or produce image copies to share with colleagues.
"If someone had a tool that could help me make more quantitative measurements in real time, and if I can do it while I was working at the microscope, this would enhance the information that I can collect from the slides and share with clinicians to take care of patients," Hicks said.
The need for interconnected devices, equipment and advanced imaging capabilities is evolving, and the technology is becoming more sophisticated.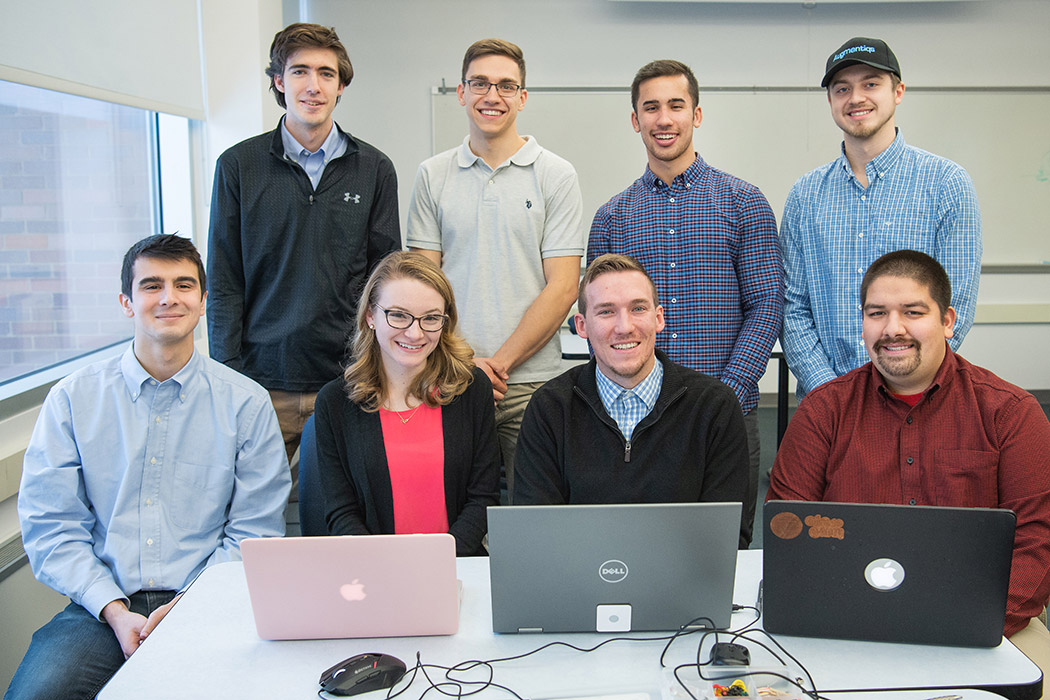 Gabrielle Plucknette-DeVito
While doing the co-op, the students attended a presentation by Gabriel Siegel, the chief executive officer of Augmentiqs, an Israeli-based start-up company building digital microscope technology with augmented reality and artificial intelligence applications to improve diagnosis and telepathology.
The students approached Siegel and asked if they could get involved directly with the company.
"I was first introduced to Brandon and Marcus at URMC, where I was meeting with Dr. Hicks to hear his opinion on our technology for digital pathology. Following the demonstration, Brandon and Marcus said the technology has real potential and asked if they could be involved directly with the company. Their initiative, positive energies and past work/school experience perfectly matched the needs of the company, and I gave them a positive reply on the spot," said Siegel, who was in Rochester at the time, participating in Luminate, an optics, photonics and imaging accelerator funded by New York state as part of regional economic development initiatives.
"We're kind of that perfect bridge as biomedical engineers," said Buscaglia, who is from Lancaster, N.Y. "We can provide both the clinical aspect and the technological understanding to properly develop and implement devices."
Siegel agreed. "As a startup, everyone in the company must wear multiple hats. Brandon and Marcus fit into this framework perfectly, being involved in just about every aspect of company operations, including business development, onsite demos to potential clients, mechanical design, software development, market research and more."
Buscaglia and D'Aguiar, along with local Rochester software engineer Jon Bray, currently represent the U.S. division of Augmentiqs, researching, developing and commercializing new digital pathology technologies and applications.
When it came time last fall for the students to select a senior design project—a requirement for every engineering student—they pitched developing an accessory for Augmentiqs.
Augmentiqs is the project sponsor, and Buscaglia and D'Aguiar are part of an eight-member team consisting of electrical, mechanical, and industrial engineering undergraduates. They are developing a remote motorized stage device for a microscope that will coordinate slide tracking and stitch images together for much larger, more complex specimen mapping.
"That's where these capabilities are going," said D'Aguiar, a fifth-year biomedical engineering student from Tonawanda, N.Y. "Being able to track where the slide is and converge all the separate information you are getting from your different fields of view into one large library of information is something that we can use to make more personalized treatment decisions."
Co-op to project to entrepreneurship
Today, digital microscope technology is expensive, but the students, working with research and development resources at RIT and Augmentiqs, have a prototype system with similar capabilities of whole slide imaging for a fraction of the price and without changing the way pathologists currently work.
"It's not unheard of for pathologists to ask for a consult with other pathologists. In the past, specimens were sent through the mail. How long does that take? With telepathology, it can be done immediately. Physicians can be on a call to make an immediate decision—and these are life and death decisions for patients many times," said Donald Pophal '82 MS (imaging science). He is the faculty guide for the students' senior design project.
"There's a technology here that is going to help mankind, help health care in general, and it is going to reduce costs in the process. It can potentially improve outcomes based on the ability to consult with people. It's powerful. I see this project as quite significant."
Buscaglia and D'Aguiar are examples of how engineering and medicine can be successfully bridged. Both students hope to continue this work after graduation in May.
Topics