Furniture design graduate a perfect fit at Maine company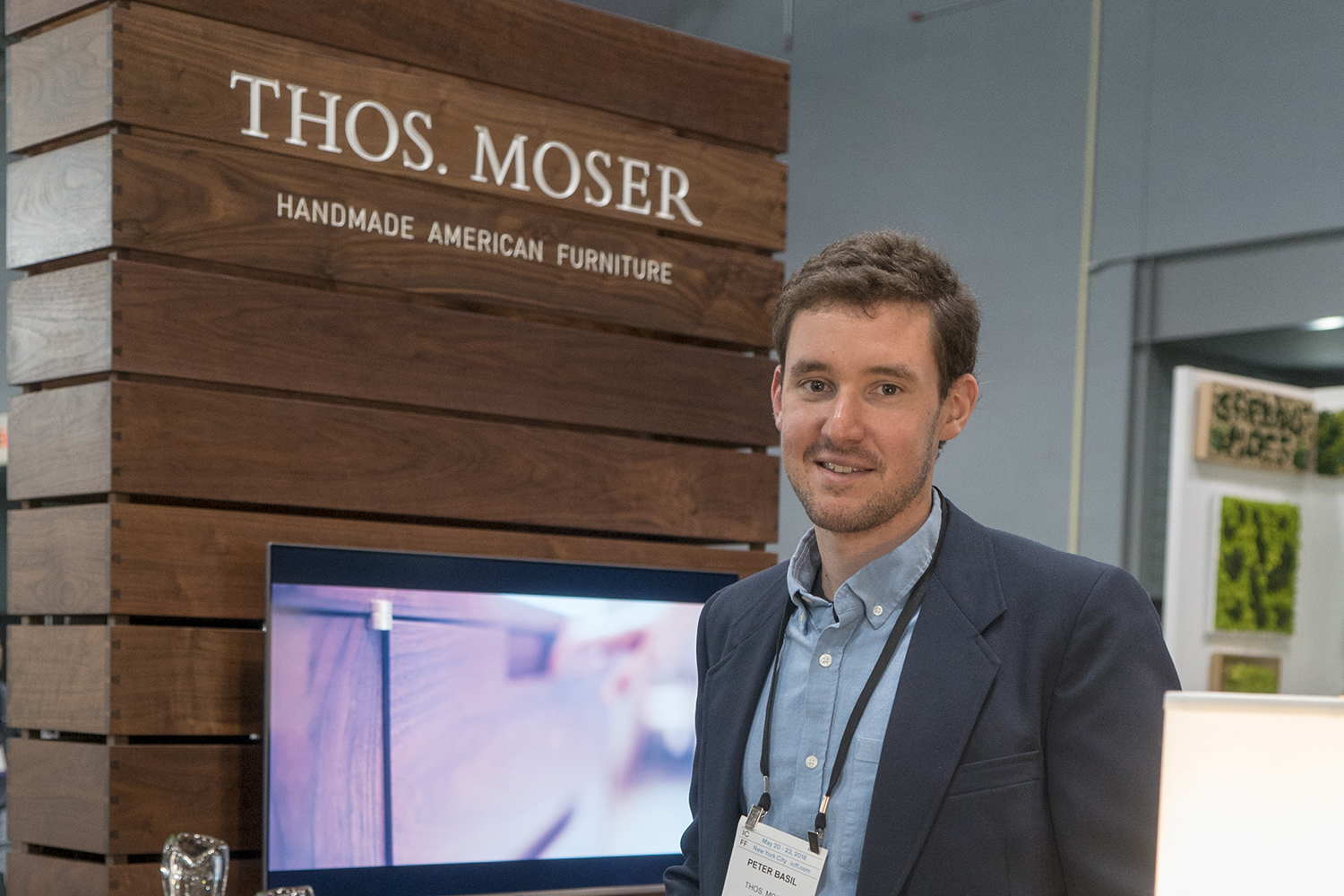 Thos. Moser, a handmade American furniture company, is known for its well-made products. The furniture is "wonderfully designed and perfectly made," according to a testimonial on its website. 
That level of expectation and reputation makes Peter Basil '12 (furniture design BFA) a perfect fit there. A product design engineer at the Maine-based company, Basil said Thos. Moser achieves the "same quality that I learned at RIT."
With Rochester Institute of Technology's furniture design curriculum emphasizing design in addition to woodworking, Basil crafted himself into a quality job candidate.
"The mix of design and craft was really attractive to me because some schools were much in the design world without any focus on material," Basil said. "I think it's harder to design well with material if you don't know how materials work and the traditional processes. I really picked up on that at RIT."
At Thos. Moser, Basil helps develop designs through digital drawings and computer numerical control (CNC) while also contributing to prototyping. He was introduced to computer-aided design (CAD) at RIT, where he expanded his skill set beyond blending wood with design.
"You're certainly more employable if you know how to use that type of technology," Basil said.
Combining his CAD abilities with following one of RIT furniture design's core principles of creating timeless, thoughtfully made work, Basil's education has been most useful throughout his career.
"I don't do a whole lot of woodworking," Basil said, "but I wouldn't be able to do what I do well if I didn't have that kind of background in woodworking and material."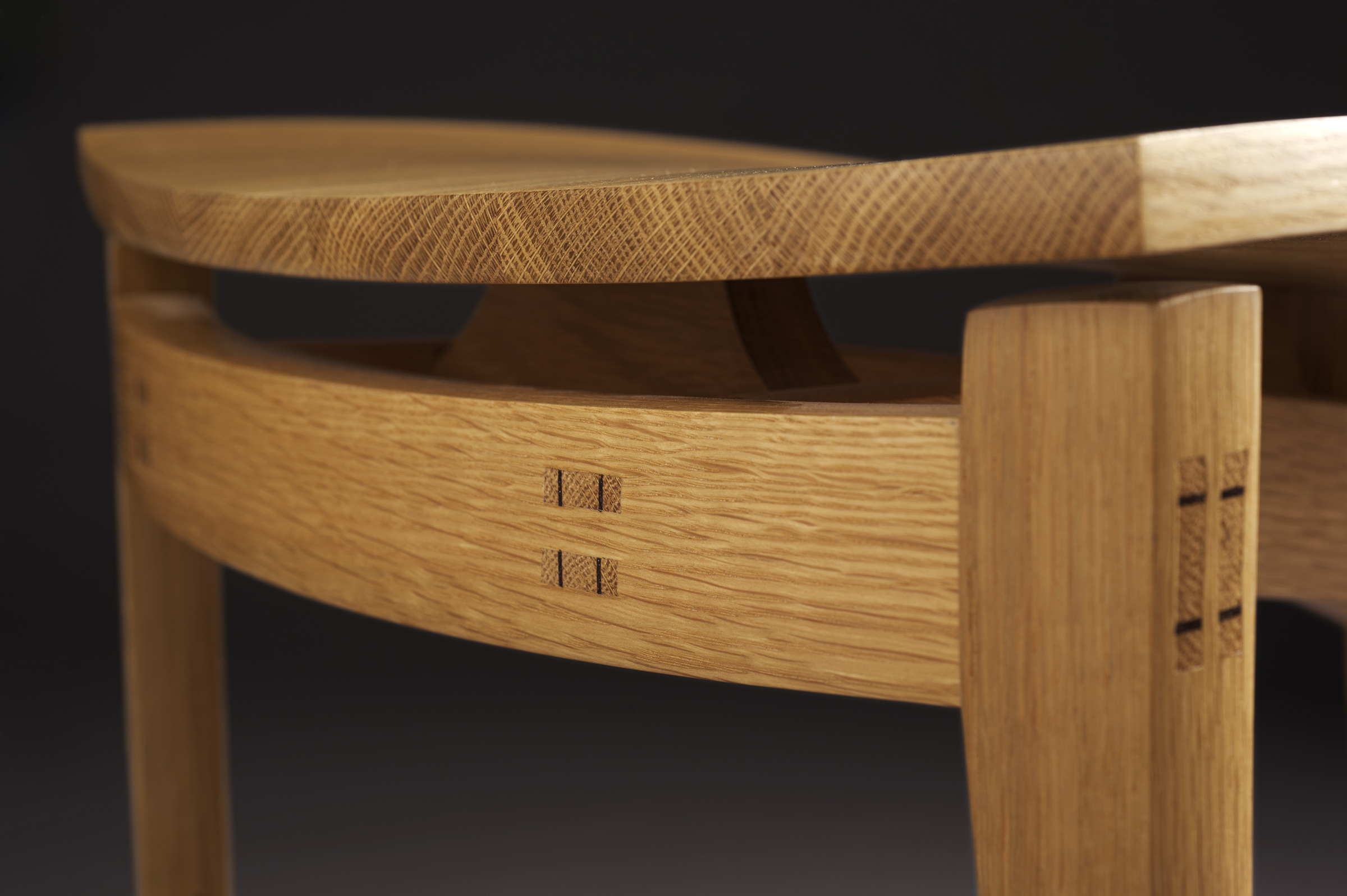 Basil's professional career started right after RIT, becoming a CNC programmer/operator at BDDW, a furniture company in Philadelphia, Pa. — not far from his hometown of Bucks County, Pa. He uprooted in 2014 as a friend from his RIT days "convinced" Basil to move to Maine and take the position at Thos. Moser.
The friend was Adam Rogers, Thos. Moser's former director of design and product development who was studying in RIT's furniture design MFA program when Basil was pursuing his degree. Rogers '12 is also a former RIT furniture design faculty member.
The bond Basil forged with Rogers and fellow classmates paid dividends then, and now, as a real camaraderie was constructed while working in the sprawling, first-rate studios RIT offers. 
"It was great. It was a great community in the crafts school," Basil said. "You stay up until midnight, 2 a.m. working in the shop, making stuff, and I made great friends for life."
Basil said he had invaluable mentors and resources in school, too. 
He credited former professor Rich Tannen, current professor Andy Buck and Will Tracey, a School for American Crafts and School of Art technician, with always being available to provide support and guidance. 
"Rich was really impactful in terms of his viewpoint on things and not trying to force his way of doing things on people and helping you work through the process to find your own vision," Basil said. "The thoughtfulness is what rubbed off on me."
That mentorship and building connections sent Basil down a successful road. And according to Basil, it's far from the only route furniture design students can take after graduation.
"It can lead to a lot of different paths," Basil said of his RIT education.
Topics