Gabrielle Gaustad receives NSF CAREER award
Grant enables research into implications of material scarcity on clean energy technologies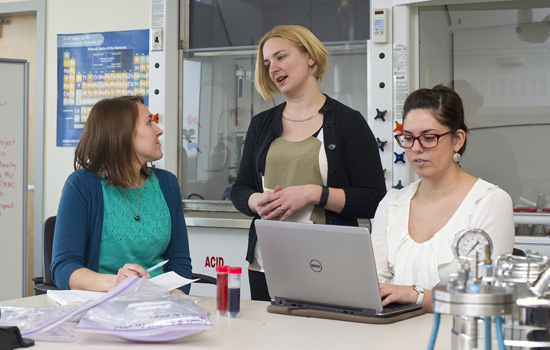 A. Sue Weisler
Gabrielle Gaustad, an assistant professor at Rochester Institute of Technology's Golisano Institute for Sustainability (GIS), has received the Faculty Early Career Development (CAREER) Program Award from the National Science Foundation to study the implications of material scarcity and criticality on future clean energy technologies.
The CAREER Program is an NSF-wide activity that supports junior faculty who exemplify the role of teacher-scholars through outstanding research, excellent education and the integration of education and research within the context of the mission of their organizations. Such activities, the foundation states, build a firm foundation for a lifetime of leadership in integrating education and research.
Gaustad will use the nearly $510,000 award over the next five years to support her research aiming to more fully comprehend supply-chain risks for new clean energy technologies when it comes to material scarcity and criticality.
While fossil fuel dependence and the increase in greenhouse gas emissions globally have resulted in alternatives for electricity production, energy storage and revolutionary transportation changes, research into the supply-chain risks of the scarce, critical, or strategic materials that make up these new technologies has received far less attention, according to Gaustad.
"The criticality of these materials is an important national issue right now—especially when it comes to the supply-chain risks," Gaustad said. "Rare earth metals could be a major area of concern. The United States and other developed nations are mining materials less and less, so supply chains are getting less diversified."
One specific challenge, according to Gaustad, is the prevalence of byproduct mining in these materials systems. A number of critical materials are mined and produced only as a byproduct of another material system—historically referred to as "daughter mining." Many of these byproduct material systems are relevant to the clean energy sector because of their use in such technologies as thin-film photovaltaics in solar power and as components for wind turbines and electric vehicles.
While Gaustad and her team will focus on three representative case study systems—copper-tellurium, iron-neodymium and aluminum-gallium—research will be applicable to other byproduct material systems as well.
"China happens to possess a large supply of some of these materials because of its geological characteristics," Gaustad said. "If China were to experience a national disaster or another catastrophic event, there would be a major supply-chain disruption."
Research objectives are to develop novel and dynamic criticality metrics that capture a much broader, lifecycle perspective of criticality for these materials than currently exists. Modeling techniques will be used to pinpoint supply-demand gap conditions of byproduct materials and the key leverage points in each case study system that control these conditions. Results will provide recommendations for mitigating scarcity and supply disruption.
Gaustad, whose background focuses strongly on materials science and recycling systems, noted that "our research may find that recycling could play a major role in improving the supply chain of these materials."
"We'll learn from our case studies the potential for a domestic supply chain of these critical materials, likely now ending up in landfills," Gaustad said. "The reality is that when one material is produced as a byproduct of another you really have to take a broader systems perspective. That's where our sustainability methods at GIS lend themselves so well to this research."
Gaustad said her research project also is designed to have far-reaching benefits in the classroom and beyond. The overarching goal of educational activities is to "feed a pipeline" from elementary to graduate school with underrepresented students who have an interest in the STEM disciplines, she said. She also plans to target specific age groups of female and African American, Latino American and Native American (AALANA) students.
In addition to public outreach events at Imagine RIT: Innovation and Creativity Festival and Rochester's Greentopia eco-festival, the research will provide funding for K-12 educational activities—including a research internship through the American Chemical Society's Project SEED program for economically disadvantaged high school students and the demonstration of research findings to middle school girls camps offered through the Women in Engineering Program at RIT (WE@RIT). Funding also will be provided to support an undergraduate scholar through the RIT McNairs Scholars Program as well as feed back into courses in GIS.
Two GIS Ph.D. students—Michele Bustamante from Hackettstown, N.J., and Berlyn Hubler, of Allport, Pa., are assisting Gaustad in the research. The material science and energy science disciplines at RIT also will be engaged—along with relevant industrial contacts—through presentations, journal publications and workshops.
Prior to coming to RIT, Gaustad earned a Ph.D. in materials science and engineering at Massachusetts Institute of Technology, along with a master's degree in computation for design and optimization. She earned her Bachelor of Science degree in ceramic engineering, with a minor in chemistry and fine arts, from the New York State College of Ceramics at Alfred University.