Gas prices got you down? Imagine RIT attendees can get up to speed on electric, hybrid 'e-bikes'
Interactive exhibit inside Sustainability Hall's Green Place features prototype model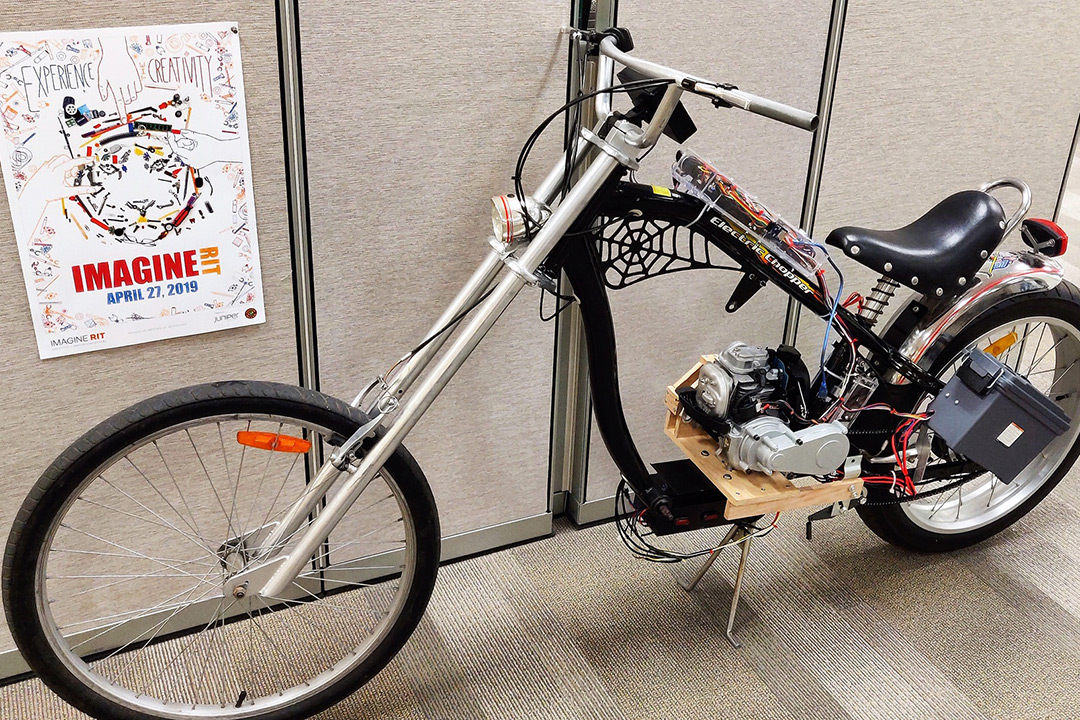 Imagine RIT visitors interested in learning about electric and hybrid-electric bikes get to participate in an interactive exhibit and discussion on the growing travel mode inside the Golisano Institute for Sustainability on April 27.
The GIS building's galleria will be transformed into the festival's Green Place and will include the "Electric Bike Extravaganza," an exhibit that grew out of a master's thesis project on hybrid e-bikes by Ahmed Zia Sheikh.
"I am building my own prototype hybrid e-bike as part of my thesis," said Sheikh, a graduating master's student in sustainable systems from Islamabad, Pakistan. "The bike has an electric motor that assists the internal combustion engine in propelling the rider forward and the hybrid control system takes into account the rider's driving style to provide maximum fuel economy."
According to Sheikh, riders may not fully realize the benefits of hybrid e-bikes, but are still helping the environment by not using solely gas-powered vehicles. "In addition to developing the technology for my bike, I'm also looking into different riders and their travel characteristics and how this relates to the performance of my bike," he said.
The GIS student also is seeking to gain valuable insights into festivalgoers' current traveling needs and characteristics through a future mobility survey that he plans to use for prospective plans.
"As new mobility options continue to enter the market, we increasingly need innovative ways to estimate how people will be using them in the future," he said.
While this Imagine RIT exhibit is based primarily on Sheikh's thesis project, it involved the collaborative efforts of every student in Associate Professor Roger Chen's sustainable mobility course, offered for the first time this year at GIS.
Chen himself is a noted expert in travel behavior modeling and transportation systems analysis. Sheikh noted that Chen—along with Thomas Trabold, associate professor and sustainability department head—have been extremely supportive of his work since its inception.
"This exhibit reflects that support," he concluded.
Go to rit.edu/Imagine to learn more and plan your day for the nationally acclaimed Imagine RIT: Creativity and Innovation Festival, now in its 12th year, which runs from 10 a.m. to 5 p.m. on Saturday, April 27, with nearly 400 exhibitions highlighting RIT students' innovation and creativity.
Topics