Glass alumna creates educational TikTok videos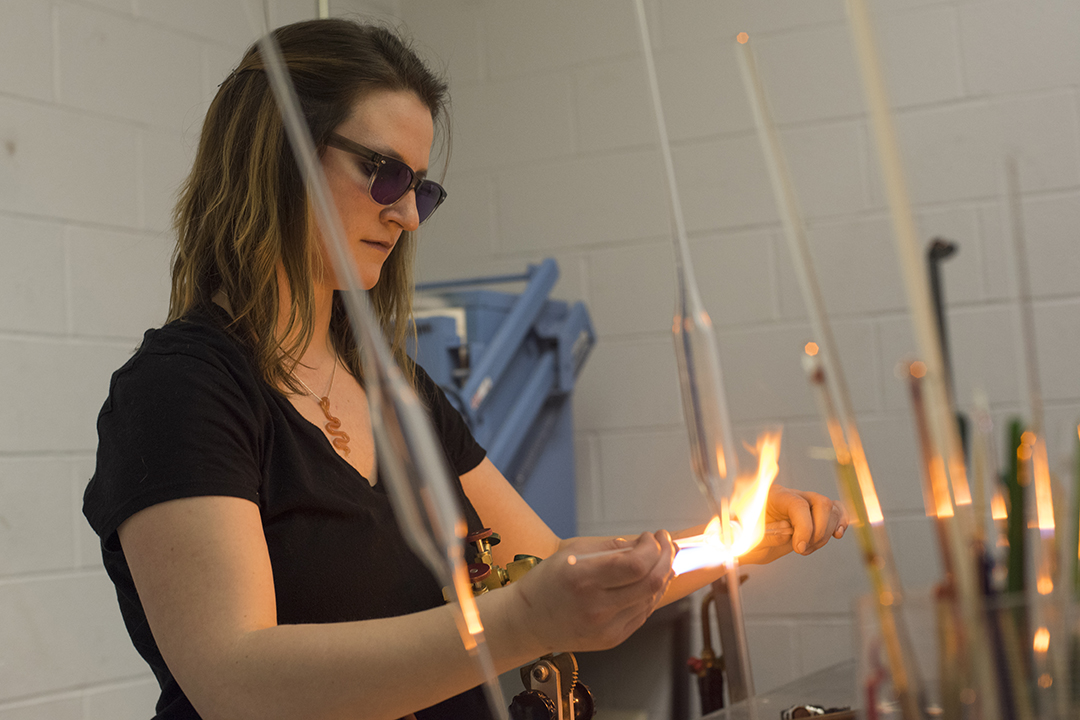 Madeline Rile Smith '20 MFA (Glass) views social media as a space where she can advocate for glass art.
"I see it as a great tool for spreading awareness about glass to people who have no idea what glassblowing or glass art is," she said. 
Smith's Instagram and Facebook feeds illustrate her artistry in her preferred medium of flameworking. And this fall, she expanded her social portfolio and took her glass ambassadorship to new levels. 
She was awarded a partnership-based grant from TikTok to produce educational content for the social network's Creative Learning Fund, an effort in response to COVID-19 to facilitate more online learning opportunities. Throughout September and October, Smith — @madhotglass on TikTok — has been creating dozens of videos to educate users about the science and art of different methods of glassworking. 
According to direct feedback, Smith's content is introducing many TikTok users, specifically the Gen Z demographic, to the artform. She's also received inquiries from younger users about entry points to get started in glass. 
"It's really exciting to show this new, younger audience what glass is," said Smith, a talented glass sculptor who's developed a following on Instagram as well. "When you see (the glass process) for the first time, it can be a little confusing — like, 'What's going on? What's this big, orange, glowing ball of glass doing?' There is a moment of intrigue and I love that people are starting to cultivate an interest in glass."
Smith's videos range in subject matter — from quick tutorials to content showcasing the material quality of glass. But each post is guided by the same principle: the purpose is to inform and inspire the next generation of glass artists. 
Undoubtedly, Smith has been effective in sharing her knowledge. Several videos have gone viral, with some garnering hundreds of thousands of views while one surpassed 1,000,000 views. 
Smith is finding her content is reaching a wide, relevant audience that otherwise wouldn't be exposed to glass education. 
"It's a little hard to believe," Smith said, "because you see a number on a screen and you're like, 'No way this many people are really looking at it.' But I love that it's getting out there to a new audience."
Smith's TikTok project aligns with her career aspirations of continuing as a practicing artist while becoming an educator in a university setting. After graduating in the spring, she remained at RIT this semester to expand on her thesis work and teach the flameworking portion of Lecturer Susie Peck's Glass Processes class.
Even when Smith's TikTok partnership ends after October, she said she plans to continue generating similar educational content for dissemination. 
"I want to change people's mind about what flameworking can be as an artform, and I love educating," said Smith, who has also instructed glassworking at schools and institutions such as the Crefeld School in Philadelphia, UrbanGlass in Brooklyn and Salem Community College in New Jersey.
Smith has been inspired by her own professors and mentors at RIT, Peck and Assistant Professor David Schnuckel. Their guidance, she said, reaffirmed her decision to pursue an MFA in glass at RIT.
"I couldn't imagine going to any other grad school than RIT," she said. "It's been such a nurturing, creative environment where I've been able to ask new questions about glass and explore interests that I've wanted to while being pushed creatively in every direction."
Smith added that her experience at RIT "opened my eyes to new ways of thinking about and making with glass."
"This program is amazing and really great things are happening," Smith said. "There is a high level of rigor, professionalism, craftsmanship and thinking about glass, not just as an object, but as a way of thinking and making that spreads throughout the whole department."
Beyond the world of TikTok and teaching at RIT, Smith is busy these days making and exhibiting what she loves: flameworked glass and performance art. 
One of her pieces — "Instrument for Connection and Compromise," a flameworked glass trumpet that is the centerpiece of an interactive experience — is featured in New Glass Review 41, Corning Museum of Glass' annual publication highlighting innovative works from around the world. Of the 100 artists selected for the exclusive survey, six were RIT Glass alumni.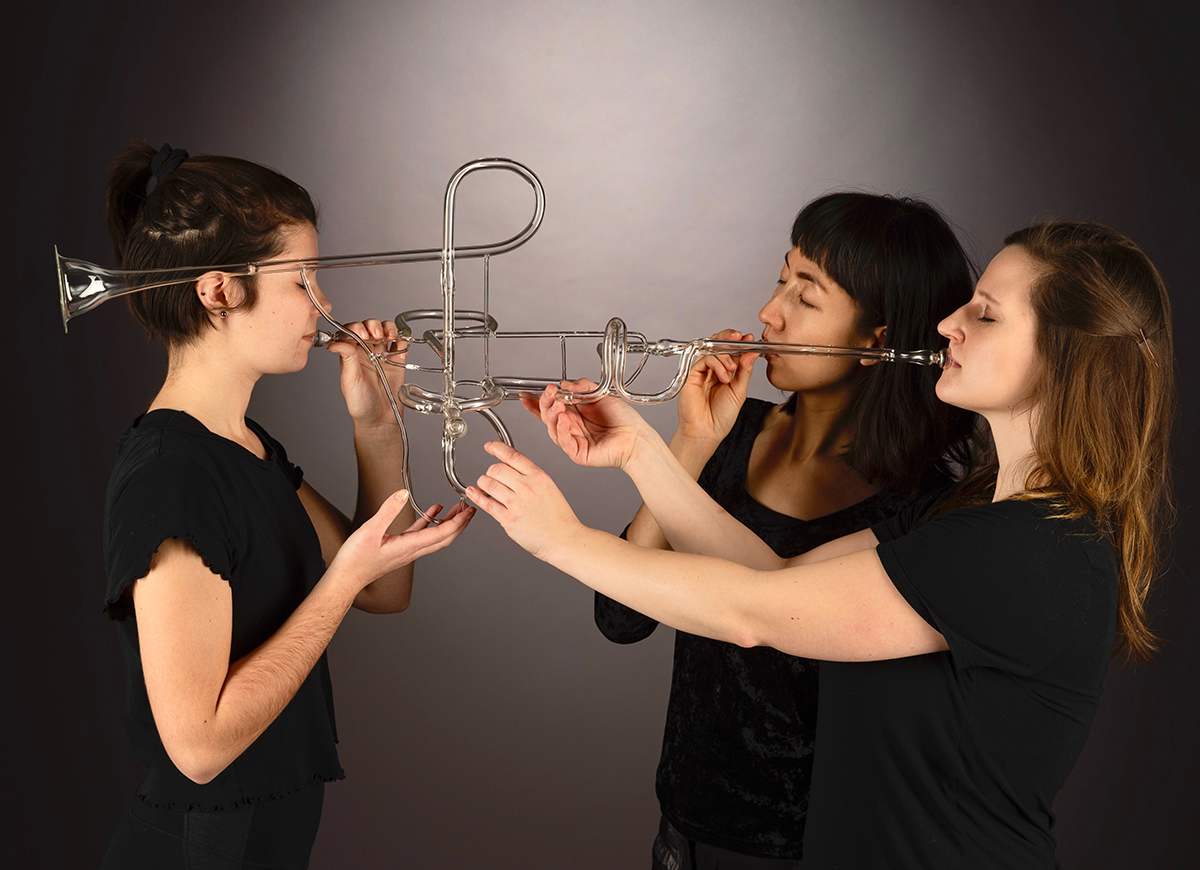 Smith's work is currently featured in the Washington Sculptors Group's Sculpture NOW 2020 exhibition, a showcase of sculpture of different media through Nov. 14. She also recently delivered 80 flameworking performances as part of "The Way Out" shows during the Fringe Festival in her native Philadelphia. 
The live, socially-distanced performances were organized by Smith's sister, Lauren Rile Smith, and her circus arts group Tangle Movement Arts. The immersive experiences saw a drive-through audience watch Smith's live sculpting as well as aerial acrobatics and dancers at different stations during a cruise through a cemetery.
"I think that flameworking is an underutilized medium in glassblowing," Smith said. "It's commonly associated with the production of tchotchkes and functional glass like pipes. But in my work, one of my missions is to use it in performative artworks for larger sculptures and interactive work."