July 2, 2019
by Aaron Garland
Glass alumnus reunites with RIT mentor at Henry Ford Museum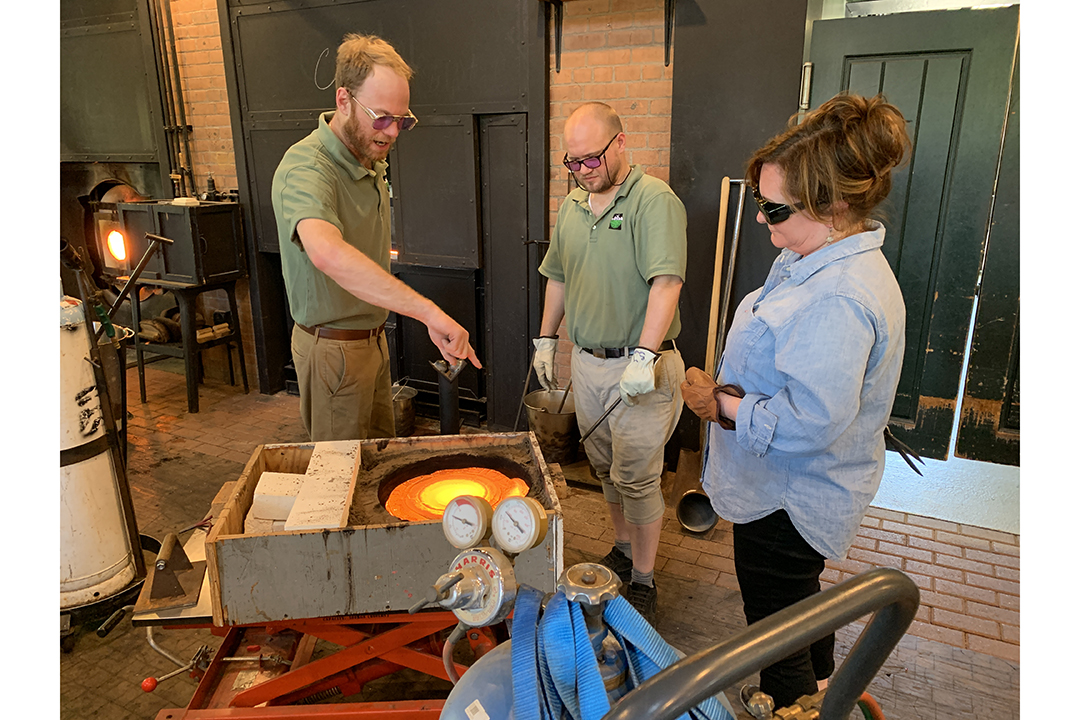 Andy Koupal remembers being blown away when he first interacted with the Rochester Institute of Technology glass program's facilities. 
"You had flameworking and a massive cold shop, a hot shop and ample space for people's studios," said Koupal '09 (glass). "It was a vibrant hub that I was drawn to."
Inside all of those spaces, Koupal learned from, among others, Robin Cass, professor in the glass program and now interim dean of RIT's College of Art and Design. Ten-plus years after Koupal was mentored by Cass at RIT, the two reunited in a glass hot shop — just in a different capacity than before.
Cass showcased her artistry as a guest of the Henry Ford Museum's artist-in-residency program from June 4-8, working beside Koupal and the rest of the museum's highly-skilled glass studio team. Cass and the Henry Ford artists explored various techniques, including large-scale glassblowing, flameworkingand sandcasting molten glass, to create components to be integrated into her future work. 
"The Henry Ford Museum is such a fascinating temple to the history of industry and manufacturing — and Detroit's industrial glory days, rough periods and current renewal make for an inspiring story of resilience," Cass said. "I brought particular artifacts (like old hubcaps, hood ornaments and obsolete light-bulb molds) to this residency and used them to shape the molten glass. These new sculptural elements will help me evoke the unique heritage of this place, and related themes like perseverance and revival, in my finished work."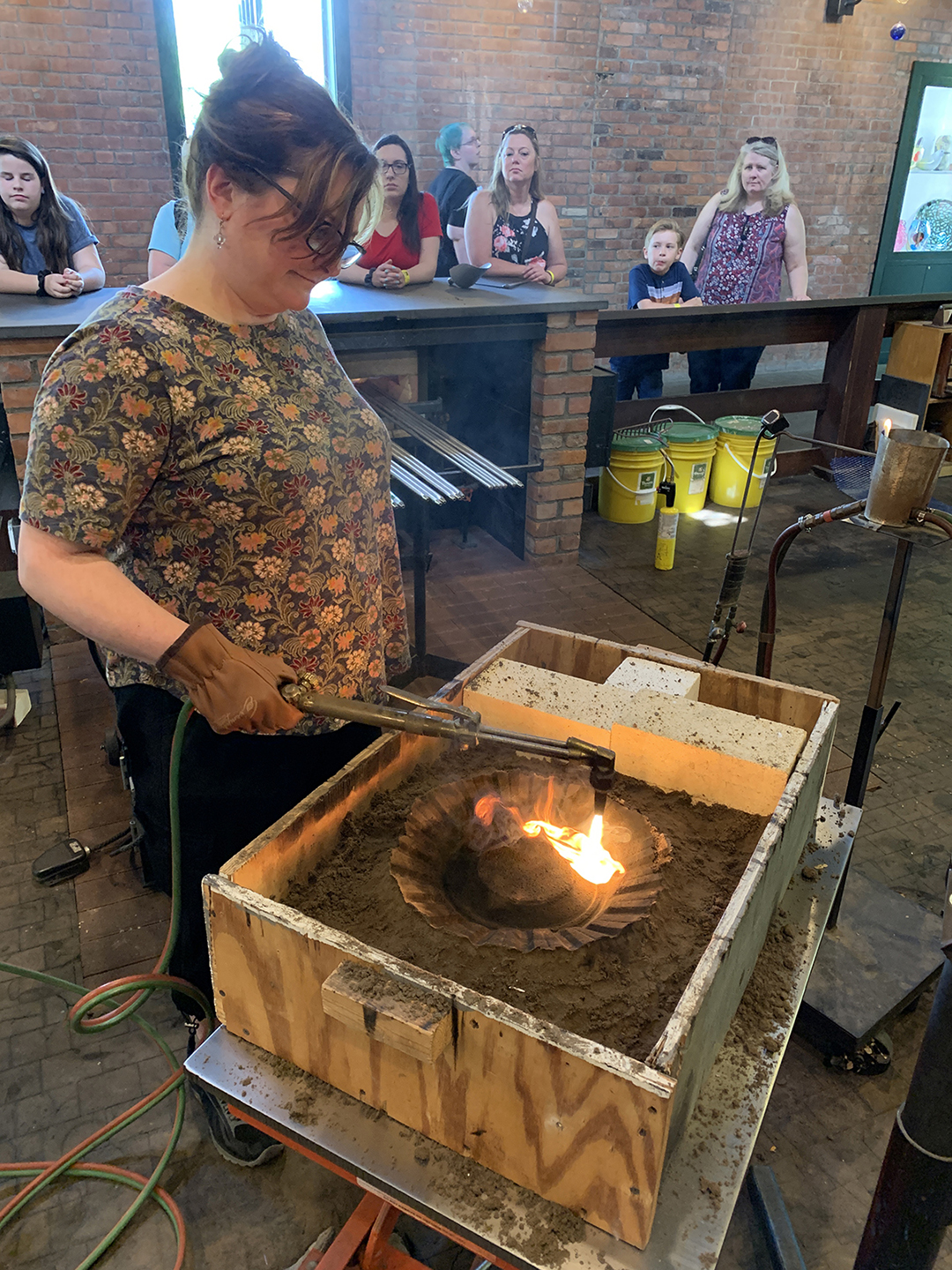 As the glass shop supervisor at the Henry Ford Museum in Dearborn, Mich., Koupal found it rewarding to work professionally with someone he considers a "big inspiration and a mentor" as he parlayed Cass's teachings into a career in glass.
"It's what you hope for as a student," said Koupal, from Detroit, Mich. "To be 10 years out of school, reconnecting with Robin, was just a great experience. It was great to bounce ideas off of her. It was awesome to get in the hot shop and work with her again and collaborate in that creative fashion."
In his role at the Henry Ford Museum, Koupal practices his art and blows glass during daylong, public demonstrations while overseeing the hot glass studio. 
Along with the Henry Ford Museum's Liberty Craftworks manager and curatorial team, Koupal is also heavily involved in facilitating the museum's artist-in-residency program, which invites renowned glass artists to take up temporary residence and utilize all of the available resources in the hot shop. It's enabled Koupal to grow as an artist. 
"Glassblowing is such an intimate type of setting where you're working with them but you're also talking with them," said Koupal, who's been at the Henry Ford Museum full-time since 2012. "Interacting with the artists, you're learning from them. Not only ideas and techniques, but about their experiences in the field. To do that with our team is a never-ending, rewarding experience."
Coming out of RIT, Koupal worked at privately owned glass shops in New York and Michigan before going to Windsor, Vt.-based production factory Simon Pearce for two years. Today, in addition to his work at the Henry Ford, Koupal is an adjunct glass faculty at the College for Creative Studies in Detroit. 
"I am so very proud of everything Andy has accomplished since graduating from RIT," Cass said. "This is the kind of experience you treasure as an educator — a chance to see a past student thriving out in the world as a successful professional. This is why we teach."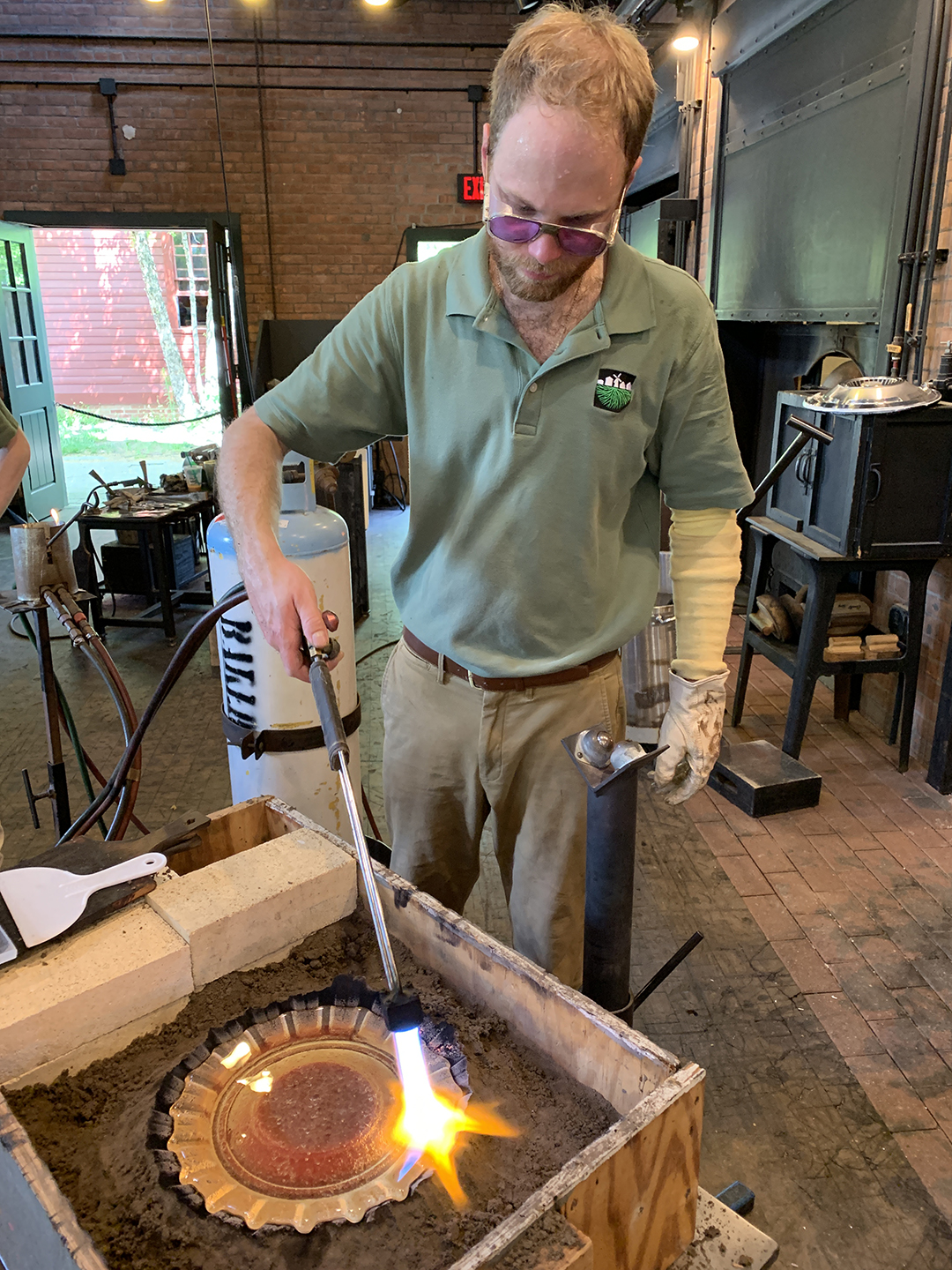 Koupal credits RIT's glass program with preparing him for a career as an artist, studio supervisor and instructor.
"At RIT I was always being questioned and challenged to think outside of your first thought or what you're comfortable with," Koupal said. "I embraced that as much as I could while I was there. The kind of forward-thinking that I was exposed to and just the example people were setting definitely gave me a leg up. I still try to incorporate some of those values into my practice today."
Koupal was immersed in a similar atmosphere at RIT. Between fellow students (undergraduate and graduate) and faculty, a tight-knit community of artists enriched Koupal's time in the glass program. Koupal said it was beneficial to collaborate with classmates who went on to success in the glass field — such as Rebecca Arday, Cassandra Straubing and David Schnuckel, now an assistant professor of glass at RIT.
"The community as a whole was wonderful," Koupal said. "A lot of talented people and ideas being shifted around and talked about. It couldn't have been a better experience."
And that experience keeps on giving today.
"It's been essential for the development of my career as an artist," Koupal said. "I still talk frequently with classmates I had about anything — ideas I'm having in glass, professionally with developing relationships or working to expand in my field. It's been amazing."
Topics