Honors students learn first-hand about war and peace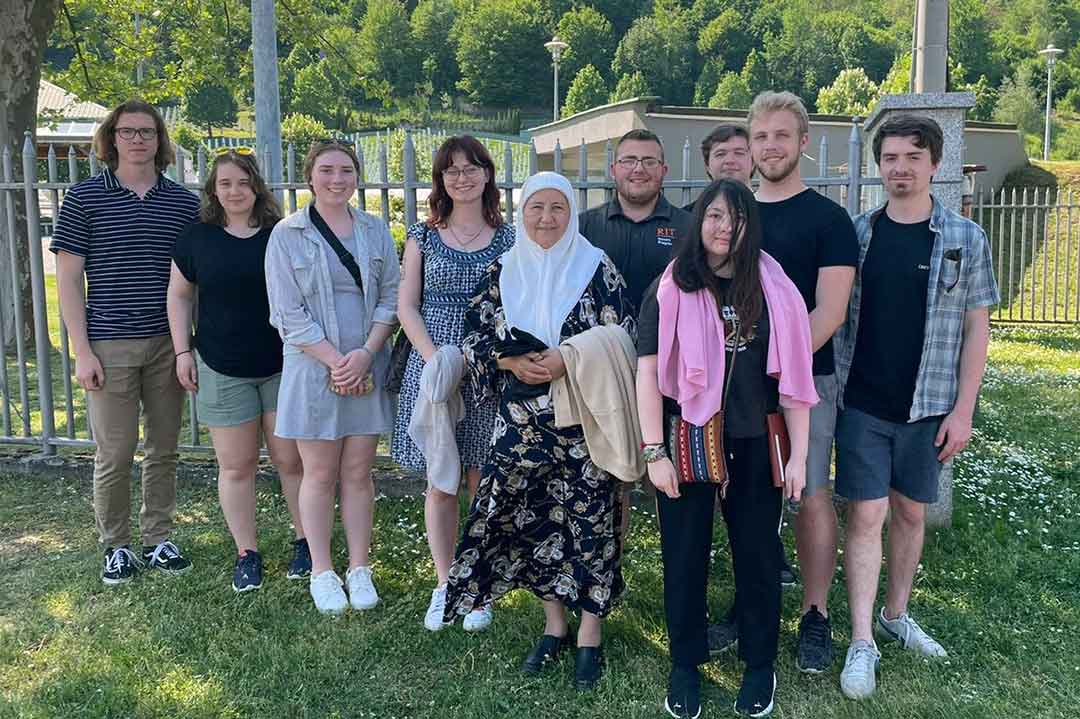 Ten Rochester Institute of Technology students in the Honors Program got to experience first-hand how ethnic tensions can lead to war, death, and destruction, as well as how peace building can restore civility among feuding neighbors.
The program, "Honors Abroad: War and Peace in the Balkans," is a new initiative driven by the Honors Program and RIT Education Abroad to offer an accessible international experience for Honors students across all colleges at RIT.
The students took a 12-week, online class prior to their 11-day visit to the two countries of Croatia and Bosnia and Herzegovina in May, to talk with survivors of the 1991-1999 war in the former Yugoslavia region of Europe.
"A lot of people we talked to were seeing some parallels of what's going on in Ukraine, and propaganda being spread," said Anna-Maria Blajer, entering her third-year as a diagnostic medical sonography major from New York City. "A lot of people were saying how glad they were that the international community is reaching out and helping the people of Ukraine. Everyone was thankful others were paying attention this time around."
Blajer said she took the course because she was interested in learning about community building and peace building.
"I thought it was a really great opportunity and talk to people actively working to build peace and resolve conflict," she said. "I feel just learning about it in the classroom is not quite enough as learning about something as complicated as the Balkan war."
The group traveled by bus while in Europe and visited numerous memorials and sites they had studied in Zagreb, Croatia, to Plitvice Lake National Park in Croatia, to Banja Luka, Sarajevo, and Mostar in Bosnia and Herzegovina, and ended their program in Dubrovnik, Croatia.
Blajer was surprised to see there was so much not yet rebuilt, even more than 30 years later.
"A lot of the buildings are still destroyed," she said. "We could still see the bullet holes in them. And there are still ethnic tensions between the governments, but it's much better than it was."
The course was taught by Marcia Hartwell, an expert in ethnic conflict, civil-military interventions and post-conflict transitions, and Louis Sell, a veteran foreign service officer who helped establish American University in Kosovo, now known as RIT Kosovo.
"Students mentioned that this trip was meaningful because of the opportunity to meet and speak with a range of individuals and organizations actively involved in current political events and peace-building activities, many of whom they had studied in class," Hartwell said.
Blajer was most touched talking to a woman who lost her husband and son in the war. That woman, a survivor of the Srebrenica Massacre, is now president of Mothers of Srebrenica.
"They're feeding their community and literally rebuilding it from the ground up and building new homes for the people who were affected," Blajer said. "A lot of empathy and care really stuck out to me, it's not something we really see often. That was really powerful and inspiring to see all the care they have for their communities."
Blajer said part of the reason she wants to enter the medical field is so she can help other people and communities.
"This was sort of a blueprint for the way I should act around people … with empathy," she said.
Even more RIT students will learn about global peace efforts and conflict. Hartwell recently received a Fulbright Scholar grant focused on research on PeaceTech and Teaching, which begins in September at RIT Kosovo.
Topics