Imagine RIT preview: Serious science in the sky
SPEX: Space Exploration team talks turbulence, CubeSats and telescopes with multiple exhibits at festival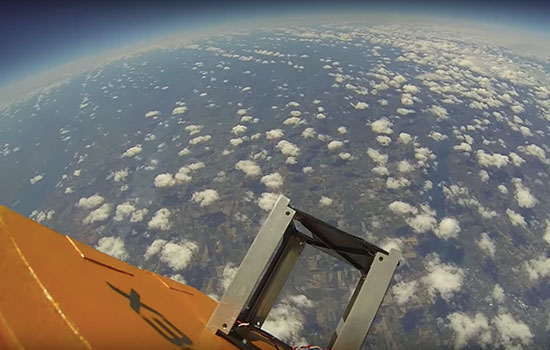 provided by SPEX
The sky is the limit with SPEX — RIT's Space Exploration program.
As a combination research and special interest organization, SPEX provides students who have a fascination for space with opportunities to experiment with, and build, some of the sophisticated technologies being used in the aerospace industry today, said Evan Putnam.
"We want to give people the experiences they need to eventually get jobs in the aerospace industry. Experience that is practical and can be easily transferred to companies," said Putnam. "We wanted to improve our ability to gaze at the stars."
Putnam is a second-year computer science student from Bath, Pa., in RIT's B. Thomas Golisano College of Computing and Information Sciences and serves as treasurer of SPEX. In the student-run organization, projects are selected by the team based on interest and include use of sophisticated technology from picosatellites to reflector telescopes. The group has been soaring since it began in 2014 and includes students from computer science, engineering, public policy and game design, to name only a few of the members' RIT degree programs.
One of its highest soaring projects is the High Altitude Balloon (HAB4). One of the group's original projects, HAB4 will launch again during the Imagine RIT: Innovation and Creativity Festival at 10 a.m. April 28 at the field north of the Gordon Field House.  It is expected to sail into the atmosphere upwards of 100,000 feet, nearly three times the altitude of a passenger jet.
Last year's balloon was almost lost, but it was eventually found not too far from Ithaca, N.Y., and its adventure was detailed on the SPEX website:
"Launch conditions were mild winds, borderline freezing temperatures and a mix of snow and rain. The balloon took off east, hitting approximately 155 mph for a maximum velocity. About 65,000 feet of altitude, about 10 miles north of Ithaca over Lake Cayuga, the last GPS transmission was received. The location of the HAB was unknown after this. The team expected the payload box to land in the general Cortland, N.Y., area. Three days later, a farmer in Marathon, N.Y., called the number written on the side of the payload. The HAB had landed in a cow pasture, fortunately, where it would be found and played with by a group of cows."
The 2018 version, HAB4, will fly over the Finger Lakes region of New York state as part of a mission to map vegetation density and orientation. It is serious science, said Drew Walters, team lead for HAB4. The balloon infrastructure is equipped with stronger sensors, computer vision technology and lithium-polymer batteries. The team calls the equipment WUAP, which stands for "Where U at, Plants?" A GoPro camera onboard to record HAB4's path over numerous fields is covered by hand warmers, duct-taped onboard to keep it safe and warm, Walters added.
"It is probably one of the most ambitious launches we've ever done," said the fifth-year student from Ithaca, N.Y., who also hosts SPEX's podcast series. He will graduate in May with an undergraduate degree in mechanical engineering technology and a graduate degree in manufacturing and mechanical systems integration, both programs in RIT's College of Applied Science and Technology.
SPEX student leaders are: James Parkus (student director), Amber Dubill (deputy director), Christopher Pape (technical coordinator), Evan Putnam (treasurer) and Thomas Hall (director of marketing). Faculty-researchers involved are: Dorin Patru, Kate Gleason College of Engineering; Jennifer Connelly and Mihail Barbosu, College of Science.
Several of SPEX's projects will be located in the Gordon Field House, the College of Science's Gosnell Hall Atrium and Kate Gleason College of Engineering. Exhibits will consist of SPEX projects and team members focusing on small satellites, telescope control, virtual reality for space exploration, solar sail navigation and other aspects of space.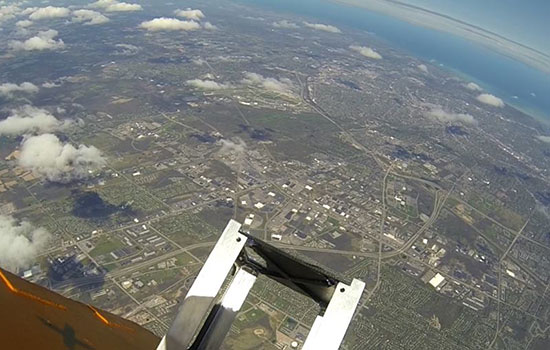 provided by SPEX
Topics