Imagine RIT Preview: Virtual Bugs
First-year RIT students help the Seneca Park Zoo Society create 3D models of insects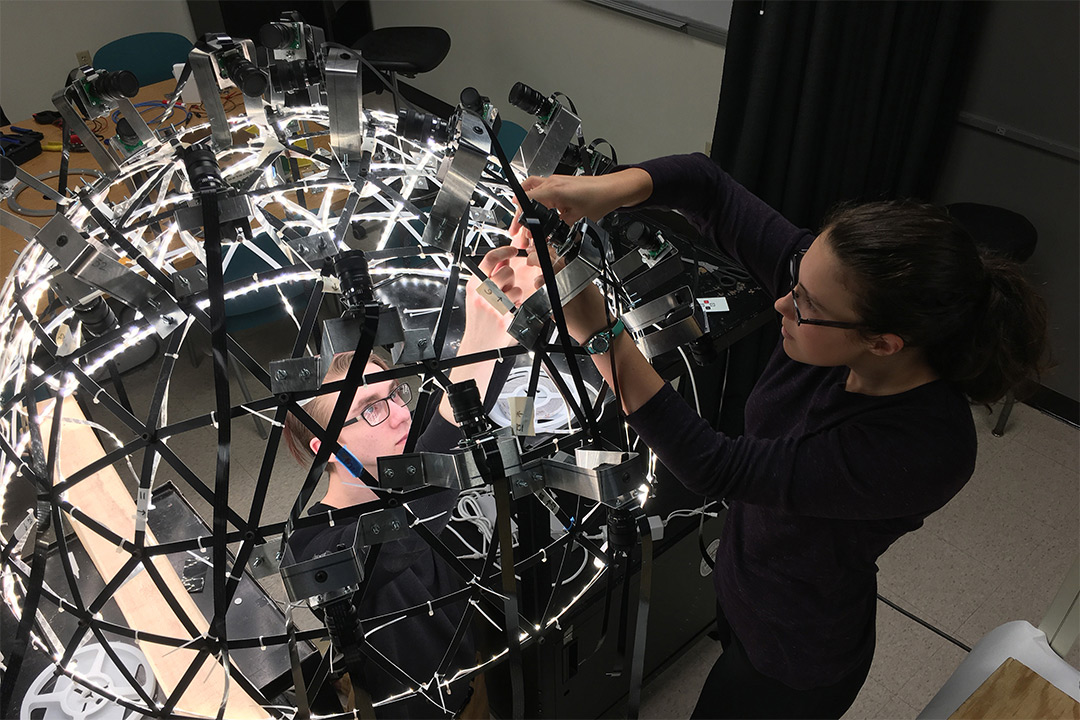 Joe Pow
When the Seneca Park Zoo Society needed a way to create detailed 3D computer models of rare insects from Madagascar, they turned to RIT's imaging science program for help. A multidisciplinary team of first-year students designed and built a new system to tackle the problem for their project-based Innovative Freshmen Experience class and will showcase the final product at the Imagine RIT: Creativity and Innovation Festival on Saturday, April 27.
The dome-shaped imaging system uses advanced multi-camera imaging techniques to create intricate 3D computer models. Visitors will be able to see the system in action and can get computer models of small personal items they bring—ranging from about a half-inch to 4 inches—when they stop by. The Virtual Bugs: Imaging Insects in 3D exhibit is located in the Recreation Zone at the Gordon Field House and Activities Center.
RIT and the Seneca Park Zoo Society collaborate on a variety of multidisciplinary projects on topics ranging from environmental science to new media and game design. This project was intended to be used by zoo researchers to create virtual reality simulations of the insects' natural habitat, allowing zoo visitors to have a one-of-a-kind immersive experience that will help them learn about these exotic creatures. But the students who worked on the project could see systems like the one they created having an even broader impact on wildlife research and conservation efforts.
"We created this project with the idea that the models could be potentially used to create a database of insects for scientists to reference," said Emma Wilson, a first-year imaging science student from Tonawanda, N.Y. "If a scientist is trying to visually identify an insect they haven't seen before, they could potentially use a database like this to match up the insect's qualities."
Wilson and five fellow first-year students have been collaborating on the project since the start of the fall semester: Andrea Avendano Martinez, a motion picture science student from Gurnee, Ill.; Josh Carstens, a motion picture science student from Alfred, N.Y.; Lily Gaffney, a film and animation student from Syracuse, N.Y.; Keegan Kresge, a computational mathematics student from Honesdale, Pa.; and Morgan Webb, a motion picture science student from Greenwood, Mo. The project was overseen by Joe Pow, associate director of the Chester F. Carlson Center for Imaging Science; Professor Carl Salvaggio; and Matt Casella, facilities and stockroom manager.