Innovative solutions take bite out of food waste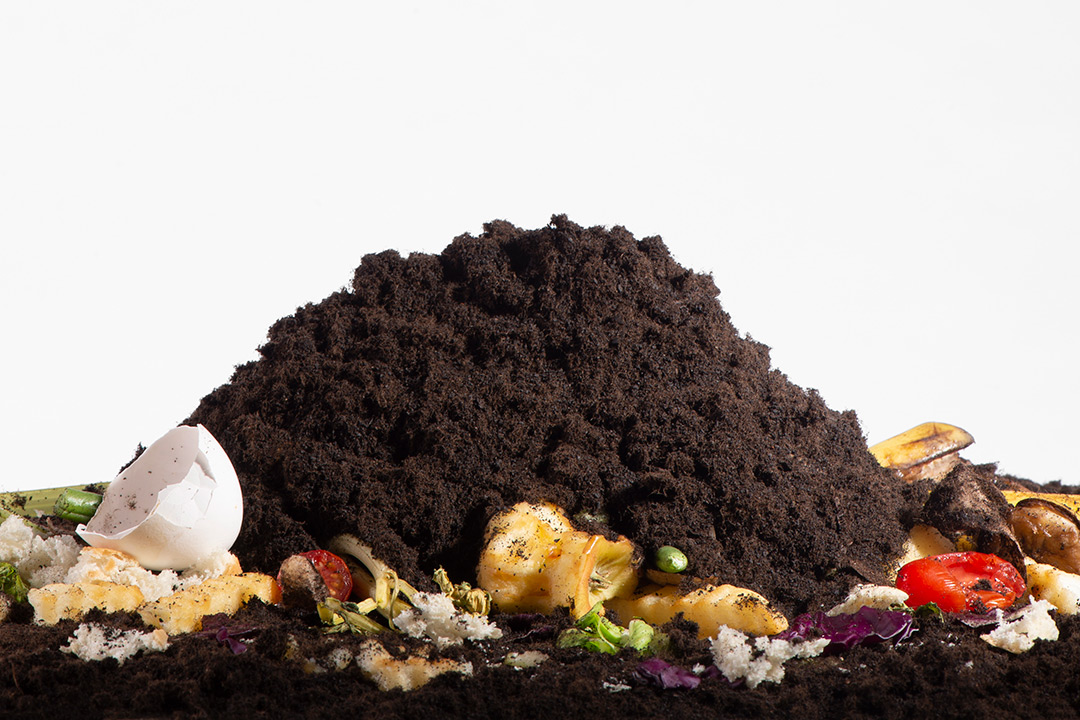 When it comes to identifying creative ways to mitigate food waste, researchers at RIT have been managing a full plate of innovative initiatives over the last decade.
Faced with a growing world population and a shrinking pool of natural resources, the world today faces an unprecedented challenge to provide a resilient food supply­—made even more complex by vast inefficiencies and resulting food waste generated across the food supply chain. It's estimated that as much as 40 percent of edible food in the United States ends up
in landfills.
RIT—through the Golisano Institute for Sustainability (GIS) and the New York State Pollution Prevention Institute (NYSP2I) —has led a wide variety of initiatives with the food-and-beverage production sector across the Finger Lakes region and the state since the turn of the decade.
Direct business and technical expertise, workforce training, and engineering assess­ments have reduced operational costs and environmental impacts at leading food companies such as Wegmans Food Markets, North American Breweries, and elsewhere.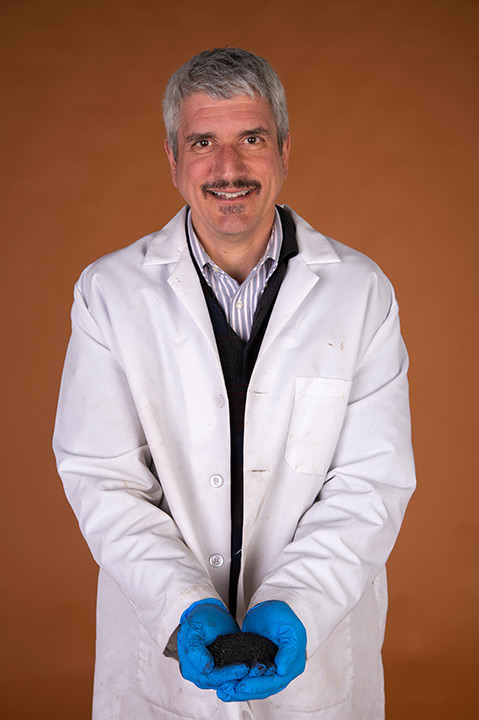 Elizabeth Lamark
"Companies seem to be coming to the understanding that materials that were once considered waste can now be a resource converted to secondary products," said Thomas Trabold, associate professor and sustainability department head at GIS.
Food production cluster
Since 2010, Trabold and his colleagues at GIS and NYSP2I have been exploring the needs of food and beverage industries in the areas of food waste reduction, water efficiency, and energy-saving technologies and working with companies to assist them in customizing technologies to achieve the greatest return on investment.
RIT's roots in combating food waste date back to before it was widely seen as a problem.
In 2011, RIT received a $1.5 million "Jobs Accelerator" grant from multiple government agencies to advance the regional competitiveness of the Finger Lakes food cluster. The program—known as the Finger Lakes Food Processing Cluster Initiative—unified and strengthened the "farm-to-fork" cluster in the nine-county Finger Lakes region.
The initiative helped spur job creation and created a career pathway for scores of workers through three key areas:
The Finger Lakes Food Processing Cluster Advancement Program, which provided assistance to regional food processing businesses, including identifying and implementing technical improvements and sustainable manufacturing process technologies to reduce operating costs and minimize environmental impacts.
The Finger Lakes Food Processing Cluster Training Program, established to identify and ultimately bridge the gap between the existing workforce skillset and qualifications required by food and agriculture businesses in the region.
The Finger Lakes Food Processing Cluster Small Business Assistance Program, which provided assistance
to small food businesses located in distressed communities.
Since its completion, the program has resulted in the creation of nearly 75 jobs; 26 companies receiving process efficiency and technical assistance significantly reducing their waste/energy/water costs and operating cost savings by $754,000 per year; and the training of more than 600 employees or prospective workers at organizations throughout the Western
New York and Finger Lakes region.
NYSP2I received additional funding in 2015-16 through Gov. Andrew M. Cuomo's office to assist the New York State Department of Environmental Conservation in its ongoing efforts to divert food waste from landfills for beneficial uses at food banks and clean energy generation.
Food waste utilization testbed
More recently, RIT received $50,000 in a New York state funding commitment in 2017 to acquire food waste conversion equipment that is assisting companies seeking to effectively reduce, eliminate, and/or "upcycle" food processing and retail wastes.
Upcycling—also known as creative reuse—is the process of transforming byproducts, waste materials, or useless or unwanted products into new materials or products of better quality or for better environmental value. 
In all, the state funding supported a $408,000 total investment to create a food waste upcycling testbed, located on RIT's main campus.
"This testbed is serving as a resource to help the food industry evaluate and implement new technologies," Trabold said. "It also is strengthening companies' economic position and worker skills through effectively utilizing waste that is now sent to landfills."
GIS is employing food waste treatment technology and equipment in the food waste utilization testbed—the goal of which is to share results with businesses—by using excess food from RIT's dining halls, he added.
According to Enid Cardinal, senior sustainability adviser to the president, RIT Dining Services has been working on food waste reduction strategies since 2012, when Recover Rochester, a student club, was formed.
"When Gracie's switched all of its carry-out options to reusable takeout containers in 2013, RIT was one of the first universities to make that switch," she said. "Dining Services has also been partnering with my office to divert organics from the landfill in a number of its venues since 2014."
On the research front, Trabold also is leading a team studying how best to optimize fermentation growth parameters in the production of filamentous fungal mycelium, used by therapeutic New York state mushroom producer Leep Foods, a company based in Rochester.
The yearlong project is studying the potential of GIS's commercial project partner using excess whey—a common waste product in the yogurt industry—in stirred tank reactors as a production resource for the commercial mushroom industry.
RIT researchers and students also are conducting an economic assessment of whey and its scalability as a food waste upcycling and re-use alternative to wastewater treatment for the New York state dairy industry.
The research is made possible by a nearly $50,000 grant from FuzeHub, a not-for-profit organization that provides small- to medium-sized manufacturing companies in the state with guided access to technical and business resources.
NSF grant funding key research
Callie Babbitt, an associate professor at GIS, recently surpassed the midway point of a nearly $1 million award from the National Science Foundation (NSF) researching sustainable solutions for minimizing and managing the growing and complex challenges of food waste generated across the food supply chain.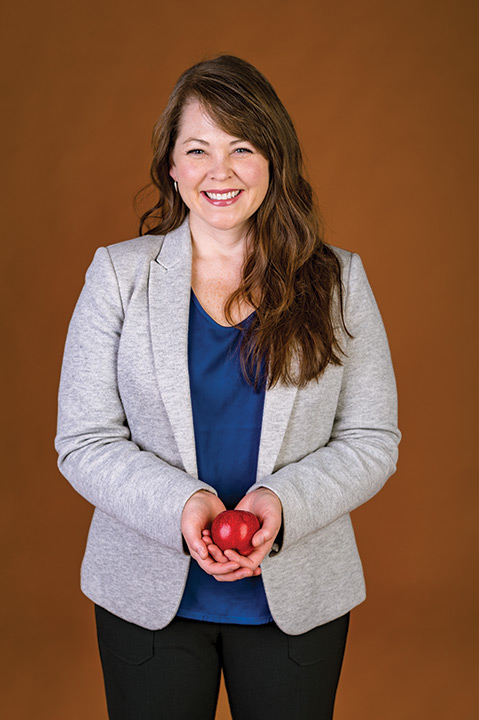 Elizabeth Lamark
The four-year project involves an interdisciplinary research collaboration with faculty from six RIT colleges.
Babbitt's research team is studying how innovative technologies, waste management systems, and policies can reduce the volume and environmental impacts of food waste—while at the same time creating economic growth and maximizing efficient use of energy and water resources.
"There are huge losses that become apparent when we look at the entire supply chain—from excess crops, wastes from food processing, imperfect or 'ugly' foods discarded by grocery stores and restaurants, not to mention food that is purchased but then spoils, goes past its expiration date, or isn't ultimately wanted by consumers," Babbitt said.
"The social, economic, and environ­mental impacts from food waste really add up," she added.
"An average American household may spend up to $1,500 every year on food that goes straight to a landfill. We're missing opportunities to feed hungry families, wasting the vast water and energy resources that went into producing the food, and creating new environmental impacts, like greenhouse gas emissions from food waste disposal."
Curbing an appetite for landfill waste
New York State Department of Environmental Conservation (DEC) Commissioner Basil Seggos last June announced $4 million in grant funding for generators of excess wholesome food and food scraps to expand their capacity to donate food or divert it to organic recycling facilities.
New York's large food scraps generators, including supermarkets, restaurants, colleges, and hospitals, generate more than 250,000 tons of wasted food and food scraps each year—some of which is edible food.
The funding is provided by the state's Environmental Protection Fund and is administered by Empire State Development. ESD contracted with the New York State Pollution Prevention Institute (NYSP2I) to operate the funding program.
NYSP2I is working closely with the DEC on a number of initiatives to reduce the generation of food scraps and
recycle food scraps that remain, and this funding will help generators
expand their sustainability efforts.
"These grants are assisting New York state businesses in reducing waste and capital costs by helping them make important investments in equipment or technologies that will divert food waste from landfill or incineration," said Charles Ruffing, NYSP2I's director.
NYSP2I has worked with New York food companies such as Wegmans Food Markets Inc., LiDestri Food & Drink, Outback Steakhouse, and Foodlink, and has developed tools to support food waste initiatives, including:
A web-based mapping tool that provides information on organic waste sources and utilizers across New York state.
Life-cycle assessment tools and methodologies to model and quantify the impacts that food products, services, and processes have on the environment. NYSP2I, for example, developed a model for a project with Wegmans to quantify the influence that food waste disposal processes and the waste transportation method, distance, and utilization have on the greenhouse gas impacts of food waste.
An interactive database-driven tool to assist food manufacturers in the selection of technologies for solid-liquid separation, waste concentration, and water recovery.
An online resource for companies to gain information about the benefits of preventing and diverting food waste and how to implement best practices as a business, nonprofit, or municipality.
Topics