Matt Huenerfauth named dean of Golisano College of Computing and Information Sciences
Esteemed computing accessibility expert begins as GCCIS dean July 1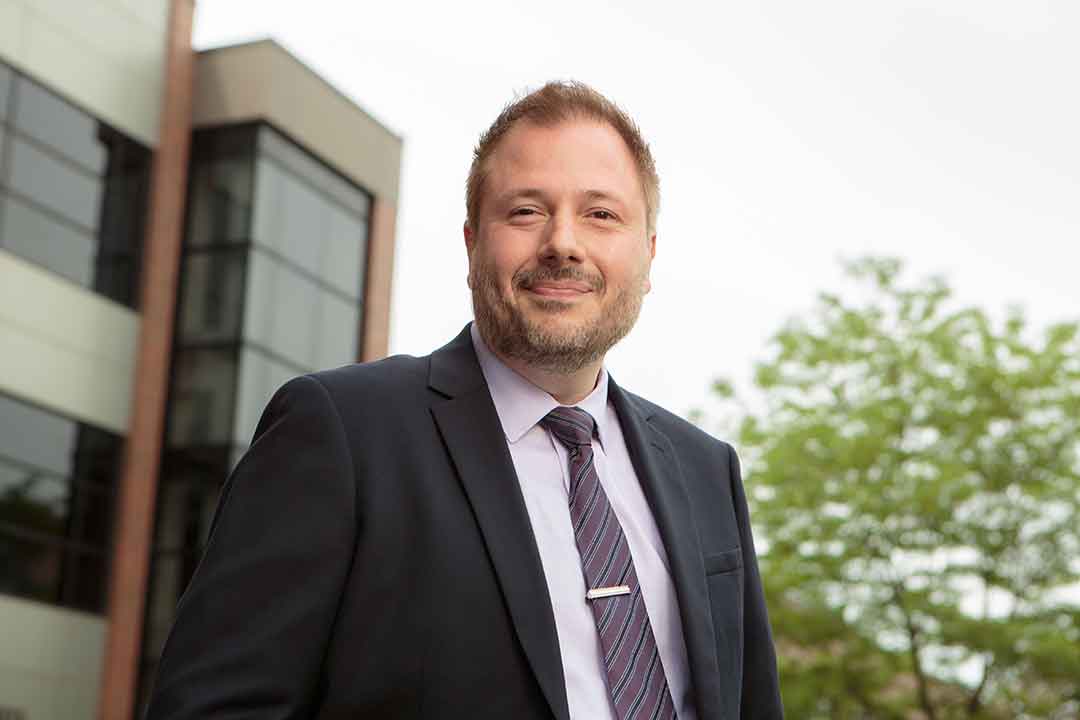 Matt Huenerfauth has been named dean of the Golisano College of Computing and Information Sciences at Rochester Institute of Technology.
Huenerfauth, who is an expert in computing accessibility and served as chair of RIT's School of Information (iSchool) for the past two years, was chosen after an international search. He assumes the role on July 1.
"Matt stood out among a very strong field of candidates because of his significant leadership experience—both at RIT and at other institutions—and his ideas about improving the college's student success and expanding the research portfolio," said Ellen Granberg, RIT provost and senior vice president for Academic Affairs. "He is someone who understands both how to establish a vision for the college and, in turn, how to execute that vision and bring it to fruition."
Huenerfauth joined RIT in 2014, after serving as associate dean for the Division of Math and Natural Sciences at City University of New York (CUNY) Queens College. At RIT, he created the Center for Accessibility and Inclusion Research (CAIR), where he and a team of student and faculty researchers investigate technologies to make technology accessible for all users, including people who are Deaf or Hard of Hearing, people who are blind or with low vision, and older adults.
Throughout his career, Huenerfauth has secured more than $5.25 million in research funding, including a National Science Foundation CAREER Award. His research investigates how artificial-intelligence technology can benefit people who are deaf or hard-of-hearing and people with low written-language literacy. He works with a team of more than 30 research faculty and students that operates bilingually in English and American Sign Language.
"As one of the largest colleges of computing and information sciences in the world, GCCIS is uniquely positioned to educate and inspire the next generation of leaders in the computing industry," said Huenerfauth. "I am grateful for the efforts of our faculty and staff across the college, and I look forward to supporting them in preparing our students for great careers and opportunities."
Huenerfauth has authored more than 120 peer-reviewed scientific articles, chapters, and papers. In 2017, the Association for Computing Machinery recognized him as an ACM Distinguished Member for his contributions to the field of computing. At the ACM SIGACCESS Conference on Computers and Accessibility, the top international scientific venue in the field, Huenerfauth has won the Best Paper Award five times—more than anyone in the conference's history. He has also served as editor-in-chief of the journal ACM Transactions on Accessible Computing (TACCESS).
In 2018, he was awarded RIT's Trustees Scholarship Award, the university's highest honor for faculty in recognition of research achievements.
"As someone drawn to computing by the powerful way technology can benefit people and remove barriers, I know how important it is to share with students how computing can address scientific, economic, and social challenges," said Huenerfauth. "While some students are drawn to computing through interest in technology, there are many talented students who never consider a career in computing because they don't see themselves as a 'computer person' or don't see people like themselves represented in the field. I am excited about the college's trajectory and our potential for further growth in student and faculty diversity."
Huenerfauth received his Ph.D. in computing and information sciences from the University of Pennsylvania in 2006. He lives with his husband in Brighton, N.Y.
Huenerfauth takes the helm from Anne Haake.
Topics