'Momentum' program expands, offering more RIT students leadership skills
$250,000 donation calls for more students to develop leadership skills and help solve community problems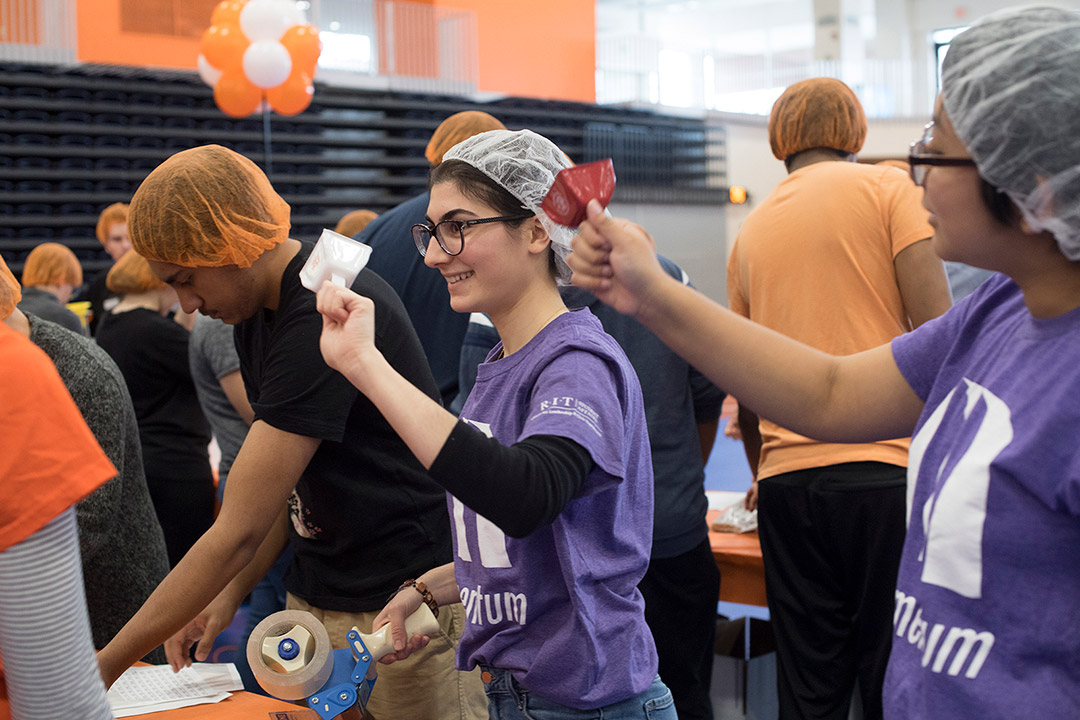 A. Sue Weisler
A program called "momentum" designed for students at Rochester Institute of Technology to develop their leadership skills while actively working to address community challenges has gained momentum, in part, due to a $250,000 donation to expand the program next semester.
"Momentum," which began two years ago by RIT's Center for Leadership and Civic Engagement, was designed to provide students with stepped opportunities to engage in leadership development. Each semester, about 20 predominantly first-year students enroll in the six-week program, which helps identify their strengths and lead an on-campus project to help aid with a major challenge facing the Rochester community.
Many of those students go on to "momentum II," a semester-long program offered in collaboration with RIT Sustainability that began last year, introducing students to local leaders and organizations to support active engagement in addressing the United Nation's Sustainable Development Goals. The students met every other week and developed critical thinking, advanced communication, strategic thinking, conflict resolution and systems thinking skills, coming up with multiple ways of looking at and solving problems.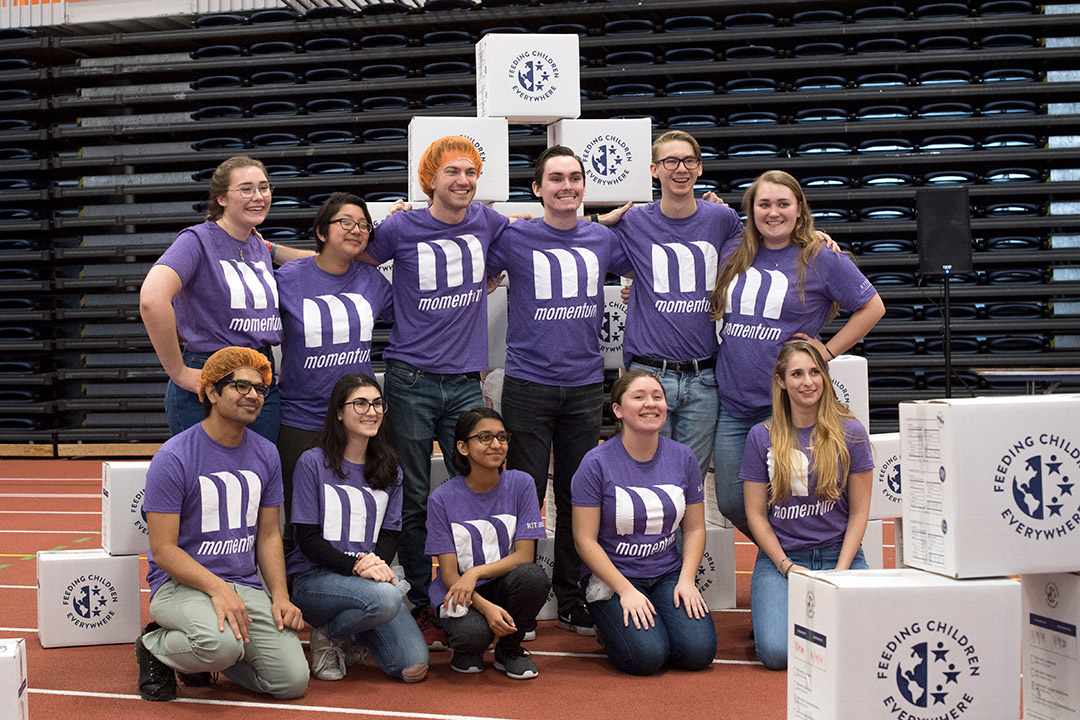 A. Sue Weisler
Ryan Brown, a second-year mechanical engineering major from Bethlehem, Pa., enjoyed kayaking on Canadice Lake, a pristine water source for the area, during one session.
"That helped me be more conscious of water usage," Brown said. "It's one thing when you talk about water sustainability, but it's different when you see it. The more you are involved, the more you will make changes to your behaviors and be more conscious about it."
At a dinner held at University Gallery for "momentum" participants in November, several posters were displayed showing the projects students worked on during the semester. They varied from promoting wind energy, climate control awareness, opening a learning center in Afghanistan to promote peace and humanity, and developing feminine hygiene products from banana fiber.
"Momentum III" begins next semester and is only open to students who completed "momentum II." Kerry Foxx, director of the Center for Leadership and Civic Engagement, expects about 10 students will form teams and work together with nonprofit organizations including RIT's FoodShare and RIT Sustainability.
The expansion is made possible with a $250,000 gift from Joe '85 (mechanical engineering) and Marybeth '85 (business administration) Markiewicz and will enable additional students to participate in the program.
"It gives us a foundation to develop and grow the program in ways we wouldn't have been otherwise able to, such as increasing the number of varsity athletes – who are already engaged in various types of community service – and by partnering with our intercollegiate athletic staff and coaches, we are hoping to add to their experience by adding leadership development and reflection to the great work they already do," Foxx said.
Lou Spiotti Jr., RIT's executive director of intercollegiate athletics, said he's always believed that strong team leadership is the defining quality that drives teams to greatness and championships. Having athletes participate in "momentum" helps that drive.
"Student-athletes crave any opportunity or experience which will help make them better leaders," Spiotti said. "They absolutely love it and want more and better."
Joe Markiewicz said he and his wife are proud RIT graduates and happy to pay it forward. "Our passion is to assist young adults to learn critical skill sets that will help them succeed in life," he said. "We are pleased to partner with RIT and support, strengthen and enhance these leadership development programs for the benefit of the students to help prepare them to be the leaders of tomorrow."
Brown signed up for "momentum II" this year as a way to get involved in the Rochester community.
"I'm trying to be an engineer to help people, make their lives easier and to help future generations," he said. "We should be setting up the world now so that it will be better later."
Brown said he appreciates learning about societal problems and different ways to attempt to solve them.
"For me, one of the biggest takeaways is hearing the different perspectives," he said. "'Momentum II' is combining these groups of students who care about important issues and they are people who care. Something I thought was cut and dry, someone else has another opinion. That's why it's so great. Those differences of opinion are what drives change in that space."
Omar Aponte, an engineering Ph.D. student from Santo Domingo, Dominican Republic, said taking "momentum II" last spring changed his life.
"I was seeking more formal training in the sustainability area, and I started to get more interested in environmental issues," he said. "We visited the Ganondagan State Historical Site, and it was impactful to hear how Native Americans took care of the land. Many of their practices we can use to rethink our way of doing things today. They did conscious farming in a way they were looking forward to the generations coming, not just what you need at the moment."
Aponte believes what he learned in "momentum II" helped him to be named last summer a member of the Dominican Republic's official delegation to the United Nation's Framework Convention on Climate Change in Bonn, Germany. He hopes to enroll in "momentum III" next semester.
"I'm definitely thinking about it," he said. "'Momentum' has helped me to expand my network both here at RIT and outside of RIT."
This gift is another contribution to Transforming RIT: The Campaign for Greatness, a $1 billion university fundraising effort.
Topics