More than 300 RIT students from travel advisory states start college in quarantine
Students from high-risk COVID-19 states nearing the end of mandatory 14-day quarantines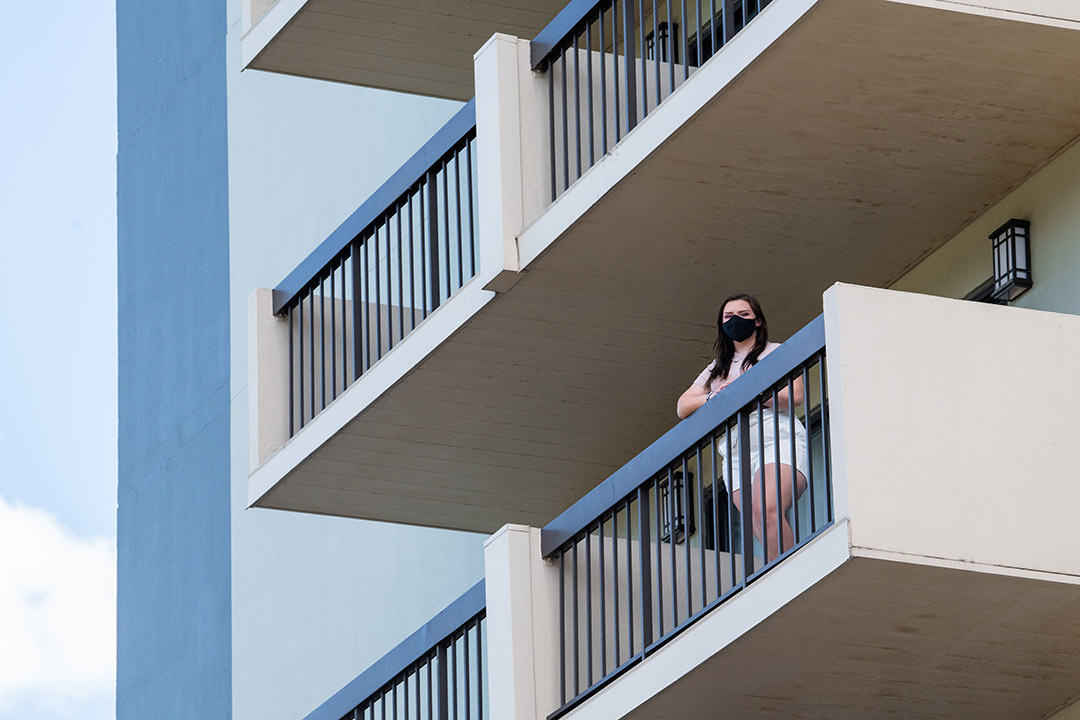 Bradley Harker looked forward to taking his first college classes at Rochester Institute of Technology last week. Now he looks forward to actually seeing RIT for the first time.
"I still don't know exactly what to expect from the year, but I'm very excited to see what lies ahead," he said.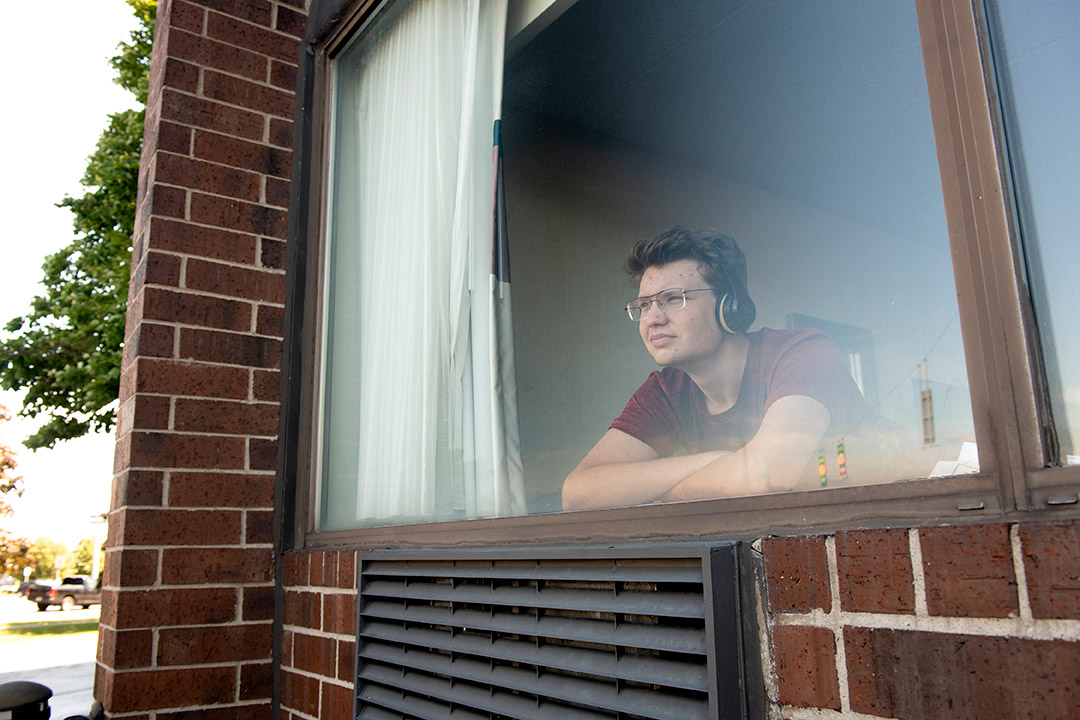 A. Sue Weisler
Harker, a first-year computing security major from Midlothian, Va., is one of more than 300 RIT students who is starting this semester in quarantine at area hotels for 14 days because they are from a state on the New York State travel advisory list. The mandatory quarantine was imposed by New York state officials to help combat the spread of the virus by isolating individuals from high-risk states for the two-week incubation period.
On Aug. 12, Harker and his parents left their home in Virginia at 5 a.m. and drove north. Eleven hours later, he was checked into his room at the DoubleTree hotel, a couple of miles from RIT. He'll be in his room until Wednesday, when his quarantine ends, although some students are allowed to go outside for 30 minutes a day as long as they wear a mask, stay on hotel property, and practice distancing. When cleared, RIT Housing staff will help him move to campus with help from a chartered bus company.
So what does a college student do in the same room for two weeks?
"They're really keeping us busy," Harker said. "I was on Zoom for 11 hours one day for orientation." Between sessions, he played online games such as Pictionary and "Guess that Song" with others in his orientation group.
He also watched a lot of Netflix and YouTube when not busy with school commitments.
"I brought a few books with me to read as well which will hopefully last until the end of quarantine," he said. "I enjoy programming in my free time, so this was the perfect opportunity to enjoy a quiet space to get a lot of work done on my personal projects and commissioned work. And there were long periods of conversing online with other students at RIT so I feel involved in all of the fun I'm missing out on."
He's met fellow students in his orientation group, and even made a new friend, an RIT student from Kentucky, who coincidentally is quarantining across the hall.
"We happened to be placed in the same orientation group and we were the only two in hotels," Harker said. "I recognized the look of his room, so I reached out to him and it turns out he is staying directly across the hall from me!"
Meanwhile, across town, Amelia Tesch is quarantined at the Strathallan hotel near downtown Rochester.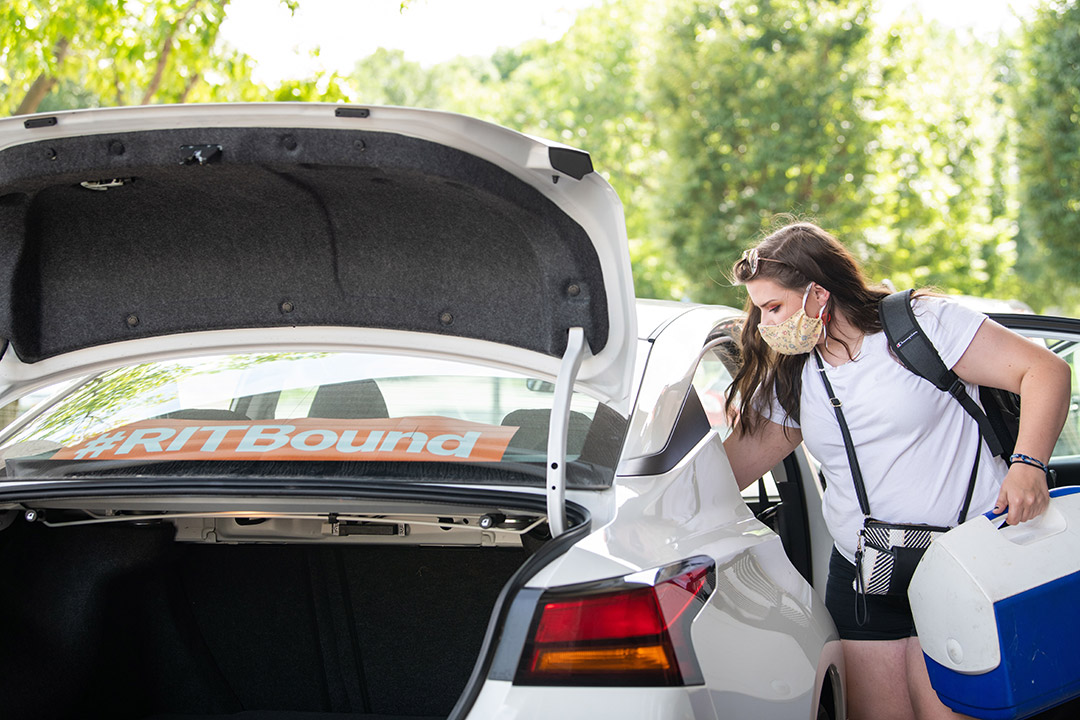 Gabrielle Plucknett-DeVito
Tesch, a first-year civil engineering technology major in the Honors program, spent 18 hours over three days driving to Rochester from her home in Omaha, Neb. Her father, Bryan, stayed with her for a couple of days before returning to Nebraska.
"It's the first time I've been anywhere on the east side of the country," she said. "I've been excited for a long time about starting school. I'm just a little nervous because it's very new for me and I'll be fully on my own."
Tesch is staying on the fourth floor. She was told not to leave her room, but she can get fresh air on a balcony, where she can look over two stately homes. There's no maid service, but a bottle of disinfectant spray was left in her room to use.
"I'm kind of sad we have to do it this way, but I like that RIT put in all these steps so that students can stay safe," she said.
In her free time, she's been watching movies on Netflix, embroidering, reading Harry Potter and playing "The Sims" on her laptop.
"I usually stayed up until after midnight, but I've been keeping busy with orientation and classes, so I've been going to sleep around 10 p.m.," she said.
Tesch orders her meals from the hotel's restaurant, and they are left outside her door. "I definitely have my favorites," she said. "The pulled pork was good."
Students paid $780 for their 14-day hotel stays, which includes three meals a day or a $420 debit card for those in hotels not providing meals for use at local restaurants of all varieties and grocery delivery. RIT is applying the unused room and board costs during this time period to support the expenses associated with this option.
Tesch is craving ice cream, so a visit to RIT's Ben & Jerry's store is among the first things she wants to do after moving into her room on campus on Wednesday.
But there have been a couple of glitches. Internet connections have been slow at some hotels, when hundreds of students from RIT and other colleges who also sent students for quarantine try to go online at the same time. RIT's ITS department has worked directly with each hotel to help them partner with their provider to ensure their internet will fully support students with their online classes and gaming.
After contacting DoubleTree, Harker was given an upgraded internet package, he said. His classes have been recorded, so if he misses any part of them, he can go back and rewatch.
Harker doesn't have much of a view of the outside world—he sees a parking lot and Jefferson Road from his window. The Burger King across the street isn't a temptation, though.
"They're feeding us pretty well here," Harker said. "The food isn't bad and gets delivered from the hotel."
But he is eager to get on campus.

"Mostly I just want to get to meet and interact with people face-to-face," he said. "Being forced to stay in a room for 14 days without physically seeing anyone will definitely put a strain on me. I also look forward to eating wherever I'd like with whomever I'd like. Great conversations usually happen during meals."
Harker is taking his quarantine in stride.
"The pandemic is something that is impacting everyone worldwide, some in a worse capacity than others, so I take it as something all of us can bond over and can bring us all closer together," he said.