More than 3,000 new Tigers arrive at RIT this week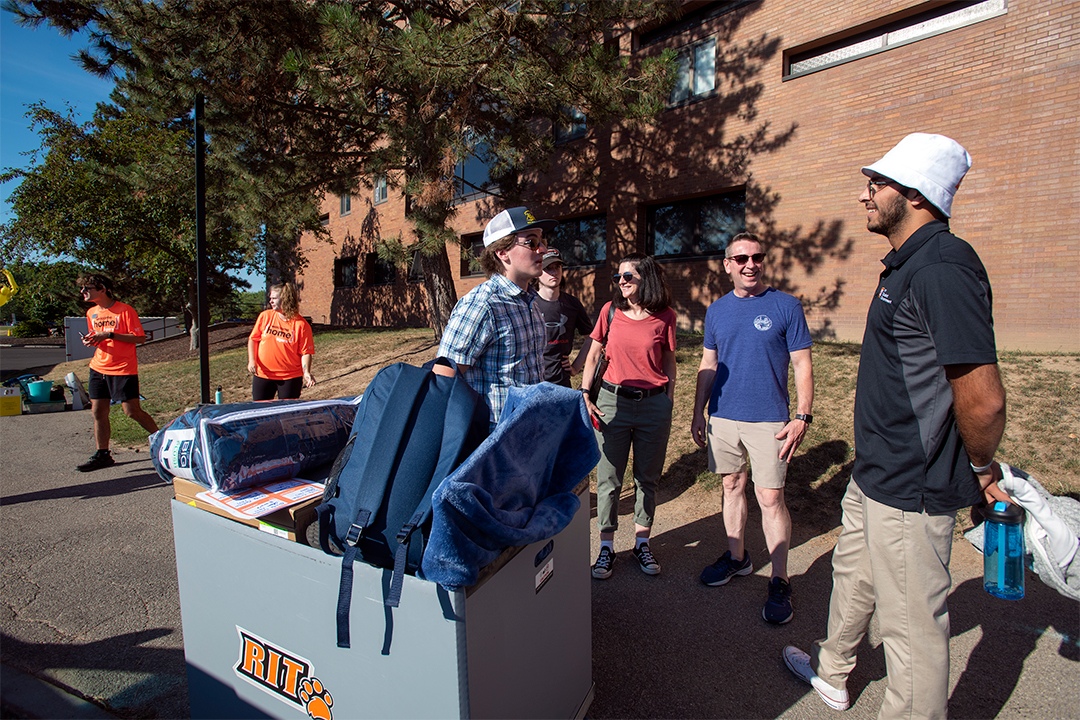 Incoming student Brady Callahan, who will be majoring in mechanical engineering, drove to RIT from his home in Foxboro, Mass., this weekend with his parents and brother to begin his college years at Rochester Institute of Technology.
As they pulled up to his residence hall this morning, they were greeted with cheering and waving orientation leaders, all wearing orange T-shirts and eagerly ready to show them where to park, get their key, how to unload their car, and answer any questions they may have.
They were met by Student Government President Aditya Khanna, who grew up in nearby Shrewsbury, Mass., and immediately realized they had friends in common at the school.
"I have a good friend who came to RIT last year and he really enjoyed it," Callahan said. "But it's not just about friends. I was looking for a good engineering school, and RIT is a really good school, too."
Callahan is one of more than 3,000 new students arriving on the RIT campus this week, making it the second largest class.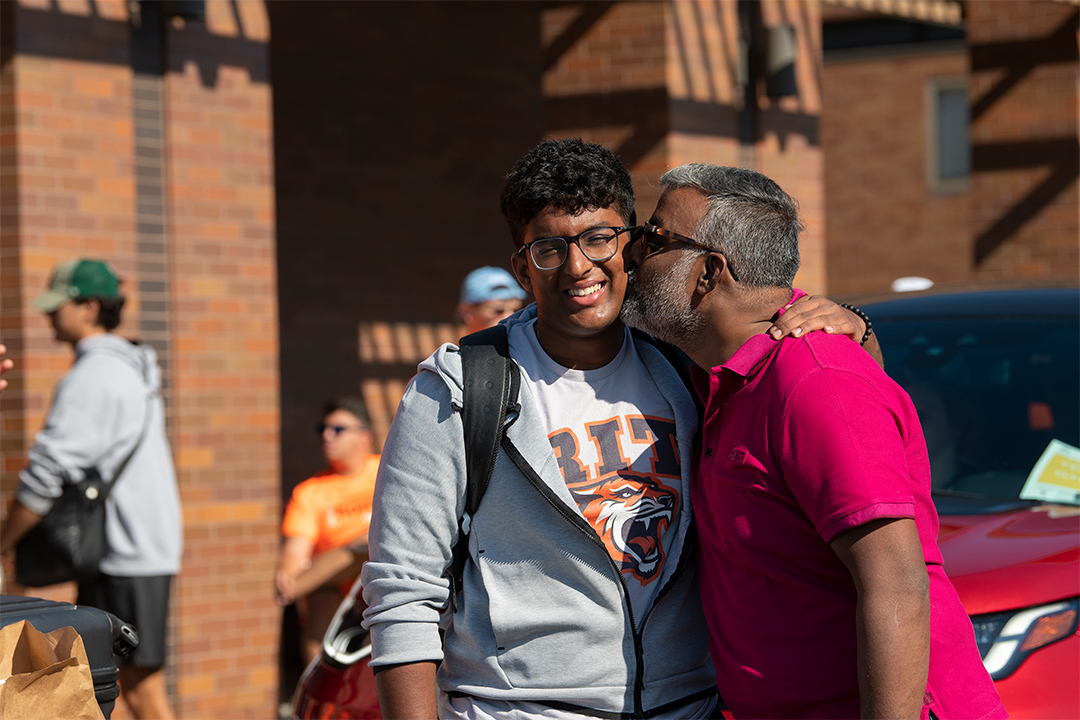 A. Sue Weisler
The new students come from 49 states (sorry, North Dakota) and 34 countries, from Antigua to Zimbabwe. And, 473 students received Performing Arts Scholarships.
Their welcome to RIT this week will be filled with fun, educational and social activities to help them navigate throughout campus and learn where to eat, do laundry, hang out with friends, study, and meet other students. They can play dodge ball, go rock climbing, see movies, participate in a blood drive, play flag football, bubble soccer, and go on a tunnel tour. They will also meet their academic advisors and tour the colleges.
Orientation week also helps new students build their community by connecting to people, places, and resources.
A resource fair is held for students and their families until 6 p.m. today in the Gordon Field House, where students may connect with offices from across campus in one space by mingling and asking questions they may have for resources ranging from RIT Dining to club sports and intramurals.
Students will also have the chance to participate in relaxing and educational activities hosted by RIT clubs, organizations, and campus departments. Activities range from musical acts to the popular Humans vs. Zombies competition.
Several gatherings and dinners are planned throughout the week for first-year students in ROTC; enrolled at RIT's National Technical Institute for the Deaf; involved in performing arts; identify as African American, Latin American, or Native American; identify as LGBTQ+; and interested in leadership and civic engagement.
For faculty and staff
Welcome our new students at the annual Tiger Walk, from 9:30 to 10 a.m. on Thursday along the east side of the Gordon Field House. Bring your noisemakers and pompoms!
Faculty and staff are also invited to attend RIT President David Munson's Address to the Community, from 9 to 10 a.m. Friday in Ingle Auditorium, in the Student Alumni Union. Also making remarks will be Atia Newman, chair of Faculty Senate; Emily Heyman, chair of Staff Council; Aditya Khanna, president of Student Government; and Keith Jenkins, vice president and associate provost for Diversity and Inclusion. The event will be livestreamed and followed with refreshments in Fireside Lounge.
On Thursday morning, students will gather for their class photo, typically spelling out the letters "R," "I," and "T". And from 9:30 to 10 a.m., they'll participate in the annual Tiger Walk, where RIT faculty, staff, and alumni will cheer them on as they head to the New Student Convocation in the Gordon Field House from 10 to 11:15 a.m. The events will be livestreamed.
The annual Goodbye, Goodbuy! sustainability program, which collects items from students who moved out in the spring and resells them to incoming students at thrift store prices, will be held in the Gene Polisseni Center today and Tuesday, from 10 a.m. to 4 p.m., and Friday from 10 a.m. to 3 p.m. It is open for all new students and their families, as well as returning students, faculty, staff, and alumni.
On Friday, many students will participate in RIT 365 Liftoff, with experiential, hands-on learning that will help them build the foundation for a sense of community and belonging at RIT. Students will also have the opportunity to participate in RIT's Healthy Start program, which helps them focus on their health and well-being with the help of RIT wellness programs and services.
Orientation activities conclude with fireworks at 9:30 p.m. Sunday.
Classes begin Monday, Aug. 22.
Topics