New app assesses cellular coverage and download speeds
RIT Cellular Metrics app can benefit both customers and carriers toward improving service levels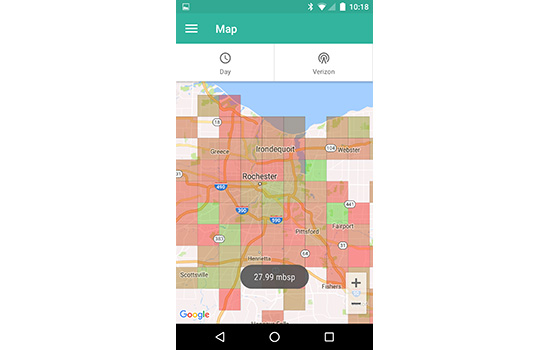 Researchers at Rochester Institute of Technology developed a new smartphone app that allows users to measure the actual download speeds of cellular providers and compare results in the specific geographic area. It also has security capabilities that can protect users' identities.
RIT Cellular Metrics, the new app, simultaneously maps coverage areas and details the performance levels of cellular carriers in the area. The app is free and available through the Google Play store for Android devices.
"We developed a custom app because we wanted to know exactly which carrier—AT&T, Verizon, Sprint or T-Mobile—had the fastest connection speed at a given location, not just which had faster speed or better coverage on a regional level," said Clark Hochgraf, associate professor of telecommunications engineering technology in RIT's College of Applied Science and Technology and a member of the research team. "What we found was quite surprising. The download speeds for two carriers can be very different at one location. And the download speed for the same carrier can vary greatly when you move as little as a few hundred feet away."
Cellular coverage and cellular internet download speeds vary by carrier services and from location to location. The app collects background measurements of the cellular network's speed twice a day. Collection frequency can be altered by the user and can also be done on demand. One of the key features of the app is it protects an individual's privacy and identity.
"Our app doesn't collect any personal information such as SIM card identity or numbers dialed, unlike other apps on the market," Hochgraf added. "We wanted people to be able to make their own measurements and see the coverage maps without having to worry about their privacy."
As more people download and use the app, the map will show more detail about coverage and connection speeds, including predicting how connection speeds could change throughout the day. This type of data could benefit carrier network operations to be more effective and provide better service to customers. The team is also developing a version of the app for emergency response teams to access network coverage information before going into areas affected by natural disasters or other dangerous situations.
Hochgraf is one of five faculty from CAST's Department of Electrical, Computer and Telecommunications Engineering Technology involved in the app development. Others are: Professor William Johnson, associate professors Yossi Nygate and Mark Indelicato and Assistant Professor Miguel Bazdresch.
Topics