New book by RIT's Nabil Nasr assembles world's thought leaders on remanufacturing
Groundbreaking work marks first-ever to address 'reman' in an integrated, scientific fashion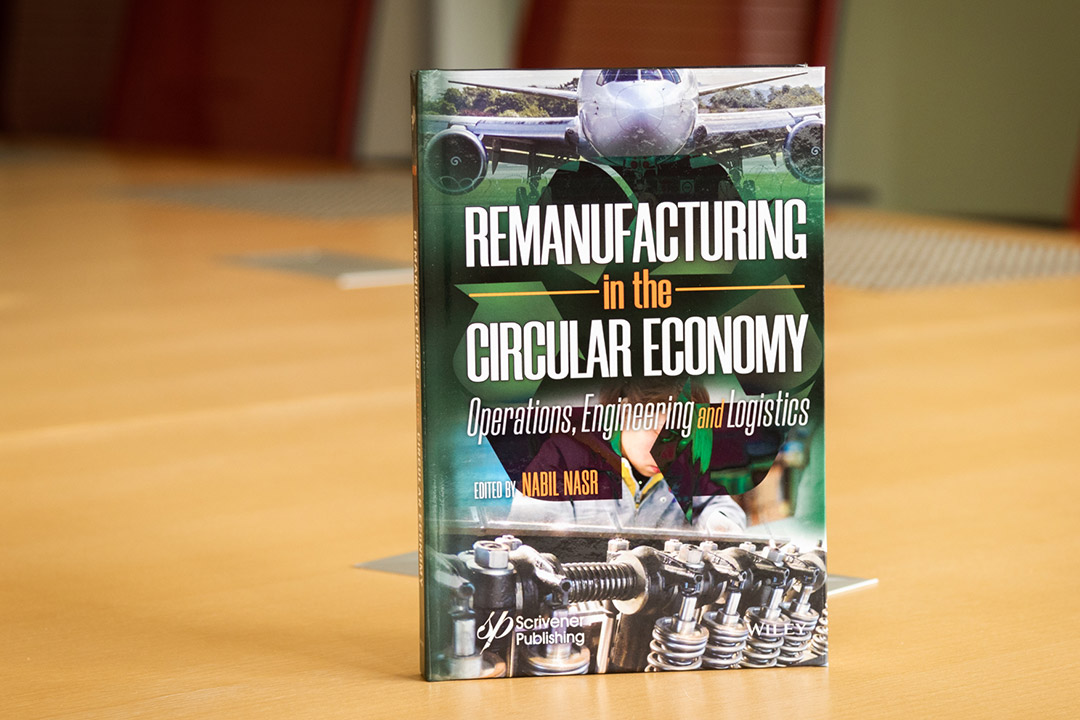 Alex Tong
A new book by Nabil Nasr, associate provost and director of Rochester Institute of Technology's Golisano Institute for Sustainability (GIS), brings together many of the world's thought leaders on the fundamentals of remanufacturing and its vital link to resource efficiency and the circular economy—including two additional authors from RIT.
While remanufacturing—an industrial process that restores used, worn and retired products to a like-new condition—offers numerous economic and environmental benefits, little has been written about the fundamentals of remanufacturing as it relates to operations, technologies and business models.
The groundbreaking book, Remanufacturing in the Circular Economy: Operations, Engineering and Logistics (Scrivener Publishing, 2020), "covers remanufacturing fundamentals in an integrated and scientific fashion while also addressing the role of remanufacturing in a circular economy system," said Nasr, widely considered an international leader in research and development efforts in disciplines related to sustainability, remanufacturing and the circular economy.
The circular economy refers to an industrial economy that is restorative by intention and eliminates waste through thoughtful design.
In addition to serving as the book's editor, Nasr wrote the preface along with the opening chapter titled, "Value-Retention Processes within the Circular Economy," with Jennifer Russell, a former Ph.D. student in sustainability of Nasr's at GIS.
The 234-page book also features a chapter on "Design for Remanufacturing," co-authored by Michael Thurston, technical director and research faculty at GIS and director of the New York State Center of Excellence in Advanced and Sustainable Manufacturing at RIT, and Brian Hilton, a senior staff engineer in the university's Center for Integrated Manufacturing Studies.
The book details the direct link between rising levels of consumption in developing and developed countries with natural resource usage and material consumption. The increasing need for natural resources has raised concerns regarding issues such as resource scarcity, undesirable environmental impacts due to material extraction, and social or political tensions.
Contributors cover how "end-of-life" options such as reusing or recycling, attempting to limit or reduce the amount of waste sent to a landfill and strategically decoupling the link between economic growth and resource usage have the potential to close material loops and further utilize wastes as resources. Such measures also reduce environmental impacts, conserve natural resources, reduce material prices and provide job opportunities in developing countries, according to the book's contributors.
Remanufacturing is presented as a unique option since it increases the number of product lifecycles before final disposal. Restoration is typically a highly engineered process performed in an industrial setting through which products are systematically disassembled, cleaned and inspected for wear and degradation.
Damaged or degraded components are either restored to their original specifications or replaced while feature upgrades can be incorporated and the product reassembled. In the remanufactured product's final stages, reliability and quality testing are performed to ensure that performance meets original product specifications.
The book is designed for a broad audience, Nasr said, from business professionals to engineers at different levels in a wide variety of industries.
Nasr has led RIT's research in the fields of sustainable manufacturing, remanufacturing, circular economy, clean production and sustainable product development for decades. He is a member of the United Nations Environment Programme's International Resource Panel, widely considered the most authoritative scientific forum for scientists and experts working in the area of natural resource management worldwide. Nasr is one of only three U.S. members.
He also serves as CEO of the Reducing EMbodied-Energy and Decreasing Emissions (REMADE) Institute, a national coalition of leading universities and companies forging new clean energy initiatives deemed critical in keeping U.S. manufacturing competitive.
The book is available beginning Nov. 12 and sold through Amazon ($175).
Topics