September 16, 2021
by Luke Auburn
New class of Destler/Johnson Rochester City Scholars includes a record 11 students from partner charter school
26 City of Rochester graduates received scholarships and academic support to study at RIT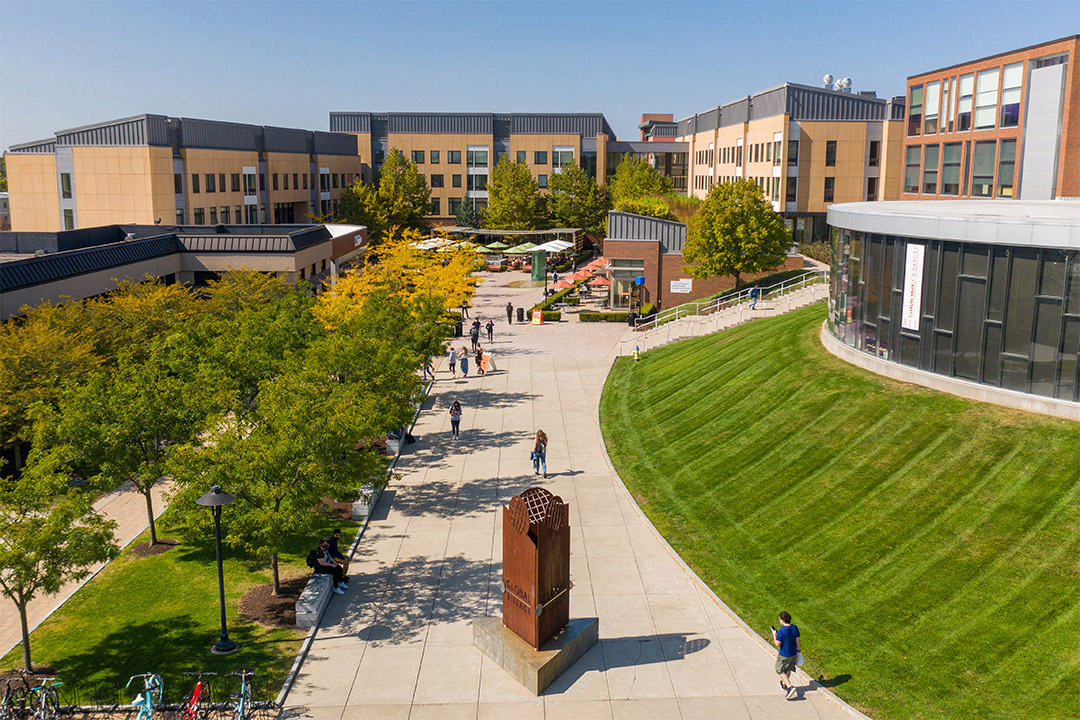 Rochester Institute of Technology welcomed 26 new students this fall through a program that provides tuition waivers as well as academic and social support to City of Rochester residents. The 12th cohort of the Destler/Johnson Rochester City Scholars program includes graduates from eight schools in the Rochester City School District and Rochester charter schools.
The program has supported more than 250 students since 2010. Scholars receive academic and social support through RIT's Multicultural Center for Academic Success as they transition into the college experience and get to participate in the Division of Diversity and Inclusion Summer Experience. Former RIT President Bill Destler and his spouse, Rebecca Johnson, founded the program, recognizing the financial challenges that prevent many City of Rochester students from attending college.
Notably, this year's cohort includes a large number of students from Rochester Prep High School, with whom RIT has a strategic partnership. TiasJah Terry, a first-year student enrolled in the University Exploration program, is one of 11 Rochester City Scholars coming to RIT from Rochester Prep this year and said it presents an opportunity to become her best self.
"Receiving the Destler/Johnson Rochester City Scholarship meant opening a wide range of opportunities for myself and thankfulness for being part of the change for the future," said Terry. "I will continue to push through adversity no matter how difficult things may get and become the happiest and most fearless young Black woman I can be. Shout out to Rochester Prep Brooks Campus and Rochester Prep High School. They molded me and taught me how to be a professional, high-achieving, and determined scholar at RIT."
Since the Rochester Prep's inception in 2014, RIT students, faculty, and staff have been helping to prepare Rochester Prep students to succeed at college through coursework, tutoring, and mentorship. When the school launched, RIT became a strategic partner thanks to longtime RIT Trustee Ronald L. Zarrella, who contributed the funding necessary to support the development and delivery of RIT's contributions.
Three students from Rochester Prep's first graduating class came to RIT in 2018, and the number of Rochester Prep graduates has grown every year since. This year, 13 Rochester Prep graduates joined RIT as freshman, including the 11 Destler/Johnson Rochester City Scholars.
"It's wonderful to have this many Rochester Prep graduates in the City Scholars program because it's just another layer of support RIT can provide," said Kit Mayberry, senior advisor for student diversity outreach, enrollment and retention. "And we're looking forward to resuming many of the collaborations with Rochester Prep that were disrupted last year by the pandemic."
Mayberry said the university will have RIT Admissions officials conduct mock admissions interviews with Rochester Prep seniors in November. Eighteen seniors are participating in capstone projects with RIT faculty members throughout the fall, and another group of approximately 10 juniors will experience a mini-capstone in April.
To learn more about the Destler/Johnson Rochester City Scholars program and RIT's strategic partnership with Rochester Prep High School, go to the Division of Diversity and Inclusion website.
Topics