New hub will bring magic of Imagine RIT to campus every day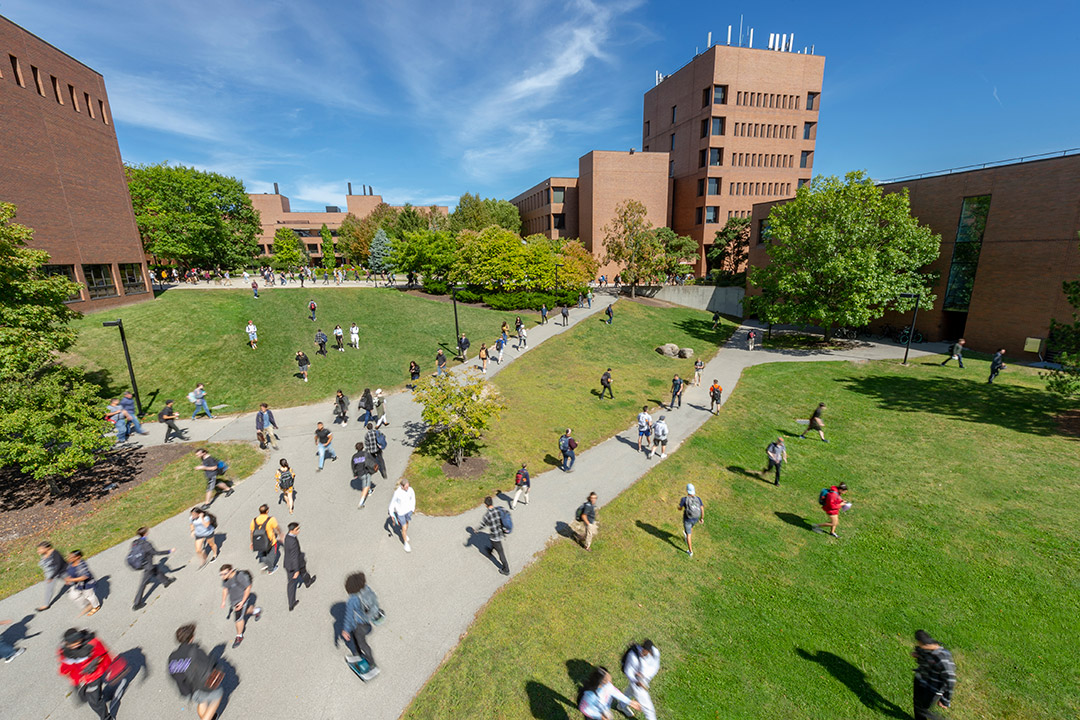 An ambitious initiative along the Quarter Mile will transform RIT into a maker's heaven, where the arts and technology converge and ideas percolate freely.
The Innovative Maker and Learning Complex, an unofficial name for now, will have a footprint of more than 100,000 square feet. The facility will occupy the grassy slope overlooking the south side of campus. It will connect the Student Alumni Union with the Wallace Library and create a new nexus point on campus.
"We realized many years ago that if we want a 24/7, lively, urbanistic-feeling community, it's up to us to build it," said James Yarrington, RIT university architect and director of planning and design services.
Envisioned by RIT President David Munson Jr. as the new epicenter on campus, the complex will reverberate daily with the hum of the Imagine RIT: Creativity and Innovation Festival.
The details are still in flux, but an emphasis on visible workspaces will showcase creative projects and collaborations currently hidden behind brick walls. Transparent spaces will highlight student project teams and demonstration studios for the arts. Other possibilities include a black-box theater and large flexible classrooms for group activities.
The complex will reflect the eclectic interests of RIT's student body. Visitors to campus will be able to "understand RIT in 15 minutes," Munson said. "We need something that is emblematic of our university and which explains visually how we are distinctive. It will represent who we are to ourselves and the outside world."
While similar in spirit to RIT's MAGIC Spell Studios, the new center will have a broader scope.
"The MAGIC Center concentrates on one sector of making and technology; this will be an all-encompassing facility," Munson said. "We need to get thousands of our own students in this facility every day, so they walk by all this making and see what all the possibilities are here."
The project also includes an extensive redesign of the library and limited renovations to the student union.
"The location is not a flat site, and all sides are potentially very dynamic," Yarrington said. "Coming into this building, we want you to feel like you're in the middle of an active, energized environment with light, artificial and natural."
These interior spaces will create "a new spine of student life and student services" running roughly parallel to the Quarter Mile, noted Tori Budgeon-Baker, RIT senior architect and space planning manager.
The project coincides with RIT's growing research portfolio, expanding doctoral programs, and global campuses in China, Croatia, Dubai, and Kosovo, contributing to the university's approximate 19,000 enrollment.
Construction costs will exceed $100 million, making it the largest undertaking since building the Henrietta campus, which opened in 1968.
The facility will be funded, in part, by $17.5 million from RIT trustee and alumnus Austin McChord, part of his record $50 million gift to RIT in 2017.
A programmatic study, "Imagine RIT Every Day," led by Yarrington and Budgeon-Baker, represented RIT stakeholders—from students and staff, to faculty, deans, and vice presidents—and took a "big-tent approach" to what could fit in the building.
Members of the task force will contribute to the design decisions, Munson said.
Boston-based architect William Rawn Associates will design the project, and Rochester firm HBT Architects will handle construction details and specifications.
The design and documentation process kicked off in July and is expected to last 12 to 18 months. This intensive early work will ensure a smooth-flowing project, said Budgeon-Baker.
By the numbers
Design and documentation process: 12 to 18 months
Construction: about 18 months
Estimated grand opening: fall of 2022
Construction costs: $100 million +
Size: over 100,000 square feet
Where will the tiger go?
Chances are high that the Tiger Statue on the Quarter Mile will be relocated during the construction of the Innovative Maker and Learning Complex. But the project presents a new opportunity to showcase the tiger, said James Yarrington, RIT university architect and director of planning and design services. "It's great on the Quarter Mile, but if it's embraced by a building as a major feature, that's even better," he said. At least the tiger's sweater would stay dry.
Architects
William Rawn Associates Architects Inc., a world-class firm based in Boston with projects across the country on college campuses and in civic spaces, will design the project. Rochester firm HBT Architects will handle construction details.
Transforming RIT
RIT launched a $1 billion blended campaign called Transforming RIT: The Campaign for Greatness. A pillar of the campaign calls for the university to enhance the student experience by building innovative learning facilities and strengthening performing arts programs. RIT will seek additional philanthropic support for this initiative when plans are available.
Topics