Odessa Despot receives 2023 Edwina Award
Recognizing her contributions to enhance gender diversity and inclusiveness at RIT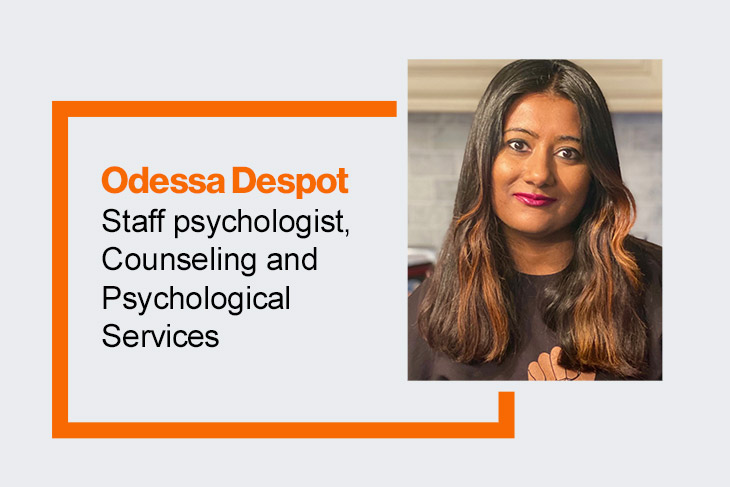 Odessa Despot, a staff psychologist with RIT's Counseling and Psychological Services, is the recipient of the 2023 Edwina Award. It was given March 1, at a kickoff event for Women's History Month, put on by RIT's President's Commission on Women.
The award, from Campus Life: Women and Gender in conjunction with Student Affairs, is given to a faculty or staff member for significant contributions to enhance gender diversity and inclusiveness at RIT. It was named for Edwina Hogadone, who was appointed dean of the College of Business in 1960. She was the first female dean at RIT and the first woman to lead of a business school in the United States for several years.
Despot said she is honored by the recognition.
"It is an esteemed privilege to be in the likes of Darci Lane (assistant director of Title IX and Clery Compliance), Amy Reed (women's basketball coach), and other Edwina Award winners," she said. "It's amazing just thinking about the exceptional work people have done to support women and bring awareness to gender inclusivity to make our campus a safe place."
Born in the Caribbean nation of Trinidad, her family moved to Queens when Despot was 10.
Being raised as an Indian-Caribbean woman in a traditional and patriarchal household was difficult for her, she said.
"I was expected to be compliant, kind, virtuous, pure, and silent," she said. "These gendered messages and cultural expectations led to inevitable negative consequences to my self-esteem, self-expression, self-image, sexual expressiveness, assertiveness, and mental health."
Despot said it wasn't until she met women mentors in college did she have better self-examination and could overcome the feelings she held growing up.
She earned degrees in secondary education and educational psychology from New York University and taught in New York City public schools.
"While working in systems, I began looking more into individual experiences," she said, and she earned a Psy.D. degree in school clinical psychology from Yeshiva University in New York.
Despot continued to teach and run diversity workshops talking about intersecting identities, race, ethnicity, and exploration. She worked at Iona College in New Rochelle, N.Y., and the University of Michigan before her husband, John Trierweiler, accepted RIT's chief marketing officer role. They relocated to Rochester in 2016.
Despot said she is committed to social justice, equity, diversity, and inclusivity.
"I identify as an immigrant woman, a woman of color, a feminist writer, activist, and an advocate for marginalized communities," she said.
She strives "to build and maintain a community that is safe; fosters belongingness, connection, health and well-being; and provides the best opportunities for community members to learn and thrive. Embracing and practicing inclusion, equity, fairness, and justice are all deeply rooted in my everyday life."
Despot said she has always wanted to help others, whether as a teacher or counselor, from a desire for equality and inclusivity.
"Cultural sensitivity is embedded in everything I do," she said. "I know what it's like to be marginalized. It feels good to belong. And I work really hard to nurture the parts of people they can get in touch with and create an environment to support them."
While at RIT, Despot has also helped run support groups including Sisterhood of Healing, an affinity group of women of color to talk about their intersecting identities and gain social support, and Real Talk, a group for ALANA students to come together to talk about college life, allyship, and how to cope with racism.
She has also written letters of support for students seeking gender affirming surgery, nurtured students who became future leaders, and nominated students for scholarships.
"I feel really connected to the student population at RIT and feel a tremendous amount of compassion for our students and wanting them to live their best lives while they are here," she said.
In her spare time, Despot enjoys watching television (Succession, The White Lotus, Atlanta, Never Have I Ever, and Derry Girls), eating good food (pasta, Indian, and ethnic cuisine), and spending time with her friends.