June 13, 2022
by Rich Kiley
Panel of key region stakeholders discusses demands of a changing job market
RIT Certified is welcomed as an effort to close workforce talent gap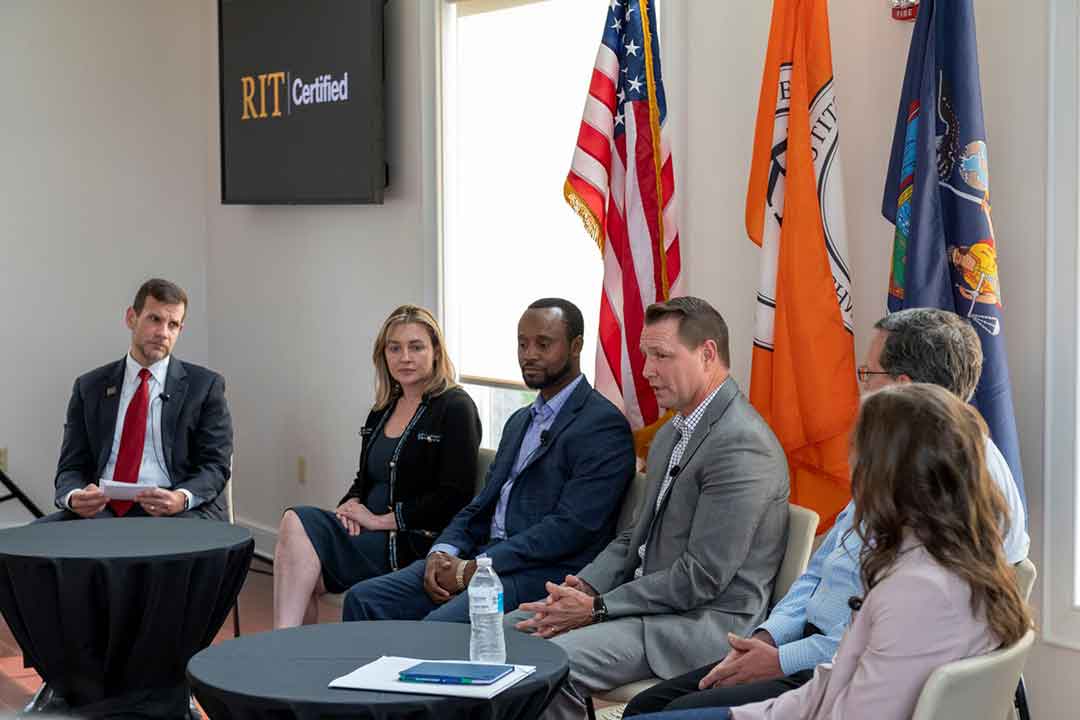 A panel discussion at RIT among some of the Rochester region's key stakeholders—employers, government officials, economic development leaders, and higher-education experts—provided the launch for RIT Certified, which aims to provide a wide range of alternative education courses, certificate programs, and skill-based learning experiences targeting people beginning their careers, changing roles, maintaining their existing job, or advancing in the workplace.
RIT Certified will begin offering a diverse portfolio of workforce development and professional training courses and certificate programs this fall.
"I think there's a very important mission orientation to what we do at RIT Certified, and we've embedded that into our service model," said Ian Mortimer, vice president for Enrollment Management and associate provost for RIT Certified. "There are far too many high school graduates who don't see a path or a clear trajectory to social and economic mobility, along with too many mid-life employees who feel tension and stress because they've been disrupted—either within their organization or the industry in which they work."
"And there are also way too many individuals who are in the twilight of their career who are getting pushed out without the dignity of finishing on their own terms," he added. "This is a very human business and if we can change, enhance, and improve one life every day and make someone walk taller or feel dignity in terms of who they are and why they exist through the power of meaningful work, we will have done our job as well as our employers and partners."
A crowd filled the Joseph M. Lobozzo Alumni House on June 8 to help the university unveil the new initiative. Dennis Di Lorenzo, RIT Certified's chief business officer, moderated the panel, "Closing the Talent Gap: Partnerships for a Better Job Economy," which addressed today's reshuffled economy amid the demands of a changing job market.
"It's pivotal that you look at it from the position of how effective it would be to provide resources to be able to retool and train new people to get into a space that they might not have access to traditionally, and that requires programs like RIT Certified," said Mohammed "Mo" Ahamed, CEO and chief diversity officer of EDI, an executive search consulting firm. "Professionals are looking for but may not have the time to return for a terminal degree, so these alternative pathways will provide tremendous opportunities for workers to retool, reskill, and succeed in the workforce in different ways."
RIT Certified will provide alternative education-to-employment pathways, offering applied training which serves both individuals in and out of the workforce and working professionals. Committed to promoting economic mobility and sustainability for individuals from all sectors of the workforce across the region, nation, and globe, RIT Certified is a partner to employers, helping organizations develop potential, fill core and specialized skills gaps, provide outcomes-based training and development to nurture and promote talent, and improve the models by which employers evaluate and assess talent.
"It's not about your lifelong career; it's really about getting those skills into your next job," observed Di Lorenzo, who co-leads RIT Certified with Thérèse Hannigan, chief learning experience officer. "As we think about RIT Certified, what we want to be able to do is augment degree-based education as well provide education through apprenticeships to allow workers to gain experience to equalize what employers need."
"Too many times there are programs out on the market that promise skill outcome for everyone, but they're not realistic in terms of the knowledge and experience that someone is bringing into that program," he added. "RIT Certified is doing a lot of work to show this program is designed for this particular person with this level of knowledge, this level of experience, and here are the outcomes and opportunities"
Ana Liss, director of the Monroe County Department of Planning and Development and executive director of the Monroe County Industrial Development Corporation (MCIDC) and the County of Monroe Industrial Development Agency (COMIDA), said it's important to ensure that training programs like those offered through RIT Certified continue to flourish in the Rochester region.
"Employers are partnering with RIT and economic development organizations, and we need to grow and keep building on the success that has already been cultivated," she said.
Matt Hurlbutt, president and CEO of Greater Rochester Enterprise, said the area relies on colleges and universities like RIT to remain competitive and keep talent fresh.
"We are a college town and we don't talk about ourselves as a college town," Hurlbutt said. "We have a lot of companies that are trying to solve global problems and need to get out of the lab, commercialize it, and get up to scale as quickly as possible. Each industry sector has certain needs and requirements, but then it's also trying to inform key decision-makers what we have in the region, how they can connect to it, and how we can make it as easy as possible to collaborate."
Julia Pagano, talent strategy coordinator, ROC2025, Greater Rochester Chamber of Commerce, called workforce readiness, particularly among students, "crucial" to the region and that RIT Certified will play a pivotal role in providing access to important certification programs that are in demand.
RIT alumnus Scott Reardon, president and chief technology officer of D3 Engineering, said, "RIT has been a major conduit for us and providing a workforce in a homegrown way" since the company's founding in 1999. "We're a 60-person company, but we have 10 openings right now," he said. "If I could find 10 software engineers in a box, I'd order them on Amazon. But it's not that easy. We need workers with specialized skills."
Through RIT Certified, university officials are marking the beginning of a new initiative to help employers, government, and nonprofits help fuel the employment pipeline.
"The creation of RIT Certified underscores RIT's commitment to help lift the economy and promote professional and economic mobility in the region," said Ellen Granberg, RIT provost and senior vice president for Academic Affairs. "RIT has been providing career-focused education and servicing the demands of employers and the economy for decades. Our academic strengths are aligned with the needs of today's economy.
"With RIT Certified, we will connect our areas of academic strength to new audiences who need alternative professional training and development opportunities. We'll add to RIT's knowledge capital by introducing new pathways for practitioners to be involved in course delivery. And we'll continue to align with employers, helping them to rethink how they can recruit and retain talent and address skills gaps in their organizations. The conversation will be ongoing as RIT continues to bridge the gap between education and access to work," she concluded.
To learn more or watch a replay of the panel discussion, go to the RIT Certified website.
Topics