February 12, 2019
by Michelle Cometa
Researchers develop tools based on risk management standards
National standards practices are tied throughout coursework to provide advantage in careers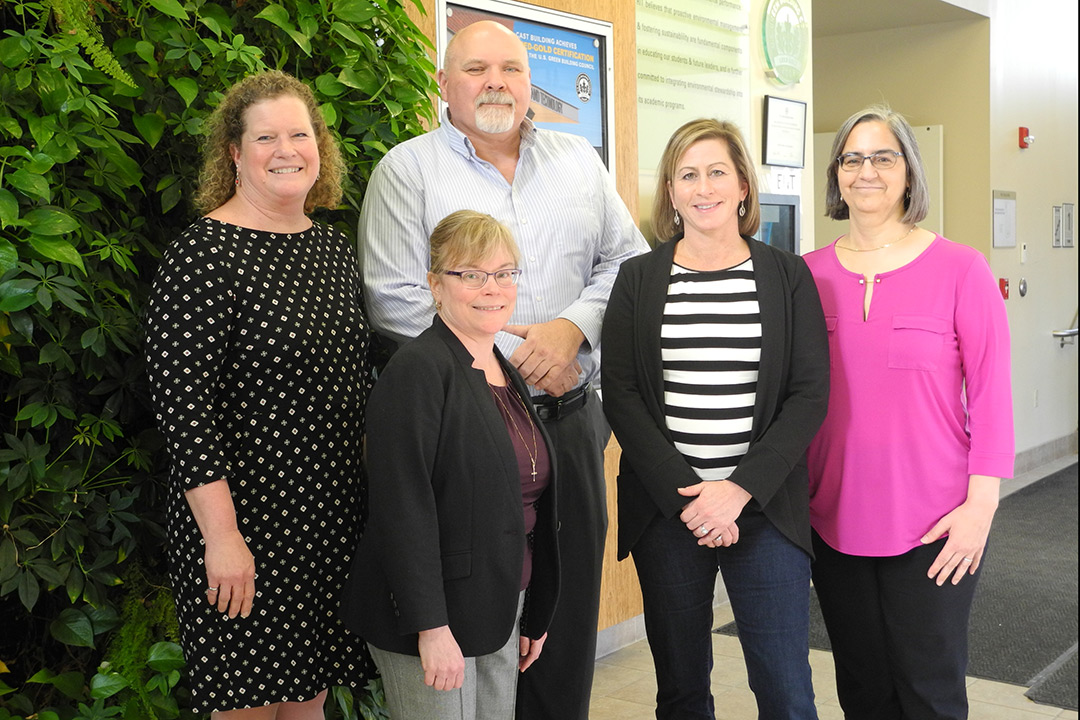 Students at RIT are learning about risk management and planning even before entering the workplace through a new series of systems-based educational tools integrating community and enterprise risk and sustainability management.
Faculty-researchers at Rochester Institute of Technology created a set of class modules for degree programs in RIT's College of Engineering Technology through funding from the U.S. Commerce Department's National Institute of Standards and Technology (NIST). The modules are standards to apply professional guidelines pertaining to the environmental, health and safety and community sustainable development. Students have the advantage of learning about the standards needed when developing and planning for risk mitigation in industry and in communities, as well as hands-on application using the standards. 
 "This is next-generation professional practice for risk management," said Jennifer Schneider, professor of environmental management, health and safety, and the Eugene H. Fram Chair of Applied Critical Thinking.  "As a professional, you are expected to understand what the standards are that govern what you do. It's more than putting widgets together. It is holistically, systematically applying a management systems as a key to professionally competency."
NIST is a government agency that describes the practices and measurements for developing consumer products through a series of guidelines, adopted by industry toward competitiveness in areas from communications technology and cybersecurity to advanced manufacturing and disaster resilience. There are more than 22,000 standards across varied business and community sectors.
Undergraduate and graduate students in the Department of Civil Engineering Technology/ Environmental Management and Safety began using the modules this academic year. The standards-based curriculum in risk prevention management systems focus on ISO standards specific to
Environmental management systems and the framework necessary to manage responsibilities, enhance environmental performance and maintain legal compliance;
Occupational health and safety management systems, to improve health and safety performance and prevent work-related injury;
Management systems for community sustainability development, to enhance sustainable design and improve incident response and resilience practices.
"What we've done is set up these educational modules to satisfy an expanding view of risk and potential impacts. Having a system-based framework allows for flexibility based on a specific type of company or community and its particular risk with the goal of sustainability. This is a unique and more holistic way of looking at risk," Schneider said.
Work done consists of more than 200 pages of materials and information within each of the modules, including activities, exercises and projects as well as links to related materials. It is a comprehensive collection available to the college's onsite and online students.
"It is a way to broaden content focusing on integrative, systemic thinking for students. They are learning the language, getting exposed to the concepts and how companies and communities apply these standards," said Maureen Valentine, department head of civil engineering technology, environmental management and safety. "These are tough concepts to describe. It is not a set of laws which you must abide by, and structured differently than codes you might find in civil engineering such as optimal loads. But these standards are the guiding processes that a company or community can work within to manage risks, measure results and make progress toward resilience. Addressing this information in class makes their learning curve in industry much shorter."
Valentine was part of the team, led by Schneider, that also included Joseph Rosenbeck, professor and graduate program director; Lisa Greenwood, assistant professor; and Gretchen Wainwright, senior lecturer, and undergraduate program chair The group received a grant for $75,000 in 2016 from the U.S. Commerce Department's National Institute of Standards and Technology (NIST) to develop standards educational modules for RIT's College of Engineering Technology. The award for "Standards-based curriculum and capacity-building across risk prevention management system domains: health, safety, environmental and community sustainable development," enables graduates to apply risk management strategies in a variety of community organizations and industries.
Related News
Topics