RIT again named among leading 'green colleges'
Innovative sustainability initiatives help university mark seventh consecutive year on list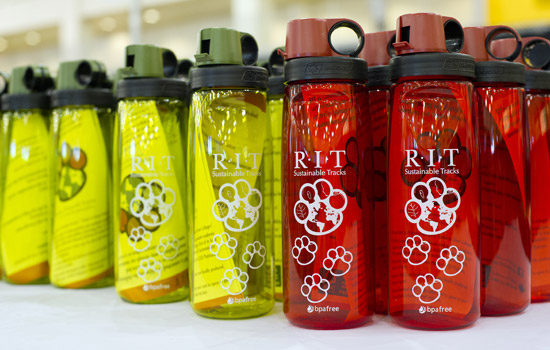 A. Sue Weisler
Rochester Institute of Technology, for the seventh consecutive year, has been named one of the greenest universities by The Princeton Review.
The Princeton Review Guide to 375 Green Colleges evaluates colleges and universities on environmentally related policies, practices and academic offerings. The company has produced lists of green colleges since 2010. The guide is an alphabetized list of schools that meet The Review's guidelines for being green.
"I am very pleased that RIT has once again been recognized as one of the greenest universities," said Enid Cardinal, senior sustainability adviser to the president. "The university remains steadfastly committed to incorporating sustainability into all aspects of operations, from construction and facilities management to research and education."
The Princeton Review's Robert Franek, senior vice president-publisher, noted the growing interest the company has seen among college-bound students in green colleges.
"Among more than 10,000 teens and parents who participated in our 2017 College Hopes & Worries Survey, 64 percent told us that having information about a school's commitment to the environment would influence their decision to apply to or attend the college."
The guide's profiles provide information about each school's admission requirements, cost and financial aid, and student enrollment statistics. They also include "Green Facts" about the schools with details on the availability of transportation alternatives and the percentage of the school food budgets spent on local/organic food.
The guide chose colleges based on "Green Rating" scores (from 60 to 99) that the company tallied this past summer from 629 colleges using data from its 2016-17 survey of school administrators. The survey asked them to report on their school's sustainability-related policies, practices and programs. More than 25 data points were weighted in the assessment. Schools with scores of 80 or higher made it into the guide. Most of the schools (362) in this edition are located in the United States, while 12 are in Canada and one in Egypt.
In the guide's profile, RIT is commended for being on the cutting edge of innovation and sustainability, achieving a "Green Rating" score of 93. The university is commended for its strong focus on Leadership in Energy and Environmental Design (LEED)-certified new construction; RIT's Golisano Institute for Sustainability, which is committed to advancing education and research in sustainability, remanufacturing and the circular economy; and serving as headquarters to the New York State Pollution Prevention Institute. The university also was applauded for an extensive heating and cooling plant replacement project that will go a long way toward reducing campus emissions.
The guide can be downloaded at http://www.princetonreview.com/green-guide.aspx.