RIT assistant professor's feature-length screenplay garners industry attention
Writer-director Ambarien Alqadar is meeting with film industry execs about production deal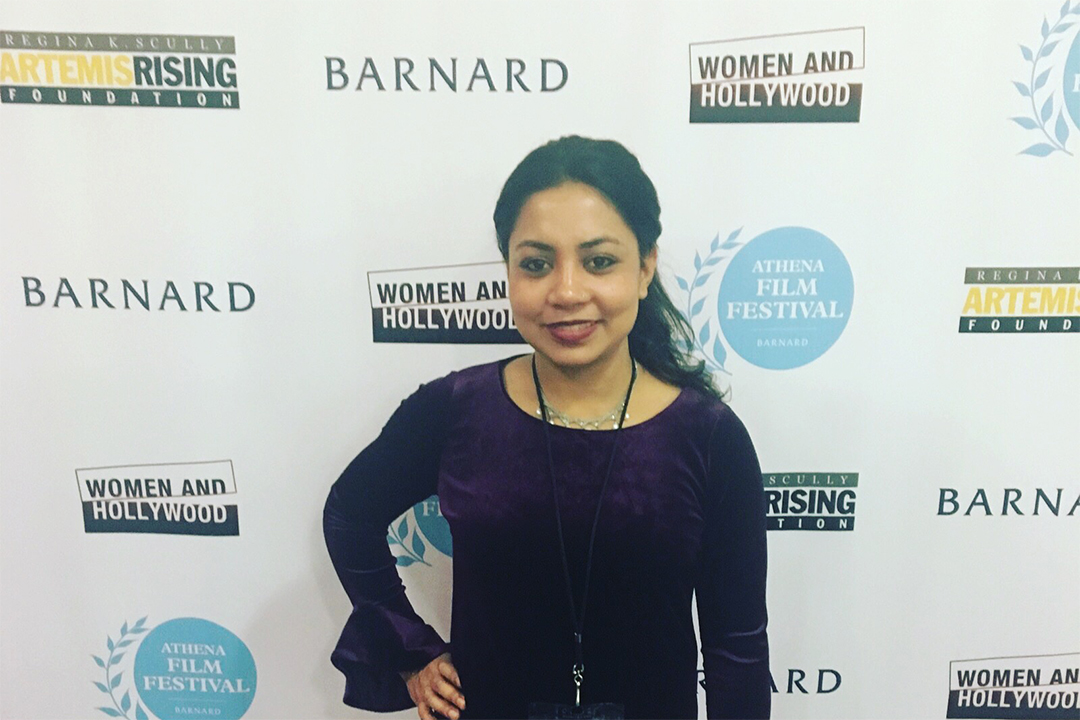 A feature-length screenplay written by an assistant professor in Rochester Institute of Technology's School of Film and Animation (SOFA) is receiving significant industry attention as she advances her moving coming-of-age story toward production.
Ambarien Alqadar is an India-born writer-director whose screenplay for The Informant is based on her thesis short film, Ayesha. The story depicts a young American-Muslim woman's desperate efforts to free her falsely imprisoned father, while trying to keep her family together. The script was developed from real-life stories Alqadar gleaned from immigrant families in upstate New York.
Alqadar's work received industry recognition earlier this year when it was chosen for the highly selective Athena Film Festival. The Athena Screenwriters Lab is a highly competitive and prestigious opportunity in the independent film industry. The lab, held in New York City and Los Angeles, is headed by the Women and Hollywood initiative, which promotes female representation in key industry roles. It has an international call and receives thousands of entries for consideration.
"I was thrilled," said Alqadar, a native of New Delhi. "I met with Academy Award-winning writers who mentored me and who I am now in conversations with about production deals. It is extremely challenging to fund feature-narratives and this is a big step in that direction."
Those meetings included such critically acclaimed writer-producers as Ligiah Villalobos, renowned for her work on Pixar's Academy Award-winning Coco; Michael Arndt, the Academy Award-winning screenwriter for Little Miss Sunshine; Laurie Collyer, known for her critically acclaimed film, Sherrybaby; and Shinho Lee, an award-winning professor and screenwriter of Korean descent whose 2008 film, The Chaser, was an official Cannes Film Festival selection.
Her screenplay also was a finalist at Sundance Institute's 2018 Screenwriters Lab. At RIT, she was honored last month when she received the College of Art and Design's 2019 Gitner Family Prize in the area of artistic achievement and contribution for outstanding professional work.
Alqadar's screenplay in The Informant is based on real-life events highlighting the efforts of a small Muslim community in Albany, N.Y., that forms lasting bonds in the aftermath of an FBI sting. Alqadar met Aala Aref—on whose life her Ayesha character is based—in the spring of 2018. Aala's father, Yassen Araf, was preemptively prosecuted and sentenced to 15 years of solitary confinement for a crime he did not commit. The family is now appealing his impending deportation.
Alqadar's coming-of-age story has magic-realist undertones for the American-Muslim woman character at the narrative's center. As she spirals into a nightmarish network of invisible spies, Ayesha learns that the dream of her father's return can only be achieved by returning to tales of the Buraq—a magical creature from Islamic mythology her father described to her as a child.
"Structured as an excavation of the narrative of selfhood of a Muslim woman, The Informant is at once deeply personal and political for me," she said. "Ayesha's story refracts parts of my own journey in terms of seeking liberating spaces within Islam—spaces that have been rendered invisible in Islamophobic interpretations of the Muslim experience."
Alqadar discovered her passion for screenwriting and directing during several years of training as a documentary filmmaker at Jamia Millia Islamia, India's prestigious AJK Mass Communication Research Center. She later became a Fulbright-Nehru Leadership Development Fellow at Temple University, where she graduated from with an MFA in 2012.
Alqadar was a recipient of The Mid Atlantic Arts Foundation's (MAAF) Creative Fellowship 2017 from the Virginia Center for the Creative Arts. Her previous award-winning films—Four Women and a Room, Elsewhere The Ghetto Gil and Ayesha—have been screened at prominent festivals in India, Korea, the United States, the United Kingdom, Canada, Spain and Germany. Her work also has been broadcast on national TV networks in India and the UK, and screened at film festivals, galleries, museums and as part of academic and interdisciplinary research.
Alqadar credits her diverse classroom teaching experiences in both India and the U.S. with inspiring her. She joined RIT's School of Film and Animation, where she teaches courses in film production, history and theory and hybrid practices, in 2015. The attention her latest screenplay is receiving means a lot to her both personally and professionally.
"Personally, it means the fulfillment of a dream the journey for which began in 2009, when I first came to United States as a grad student," she said. "Telling stories that promote empathy and intercultural understanding is central to my work and The Informant is an important step in that direction."
"At RIT," Alqadar added, "this highlights how faculty is engaged in cutting-edge scholarship and further demonstrates our reputation as recognized creative professionals in the field."
The Athena Lab has created opportunities for her that also will benefit her RIT students.
"I found a community of other women screenwriters who are making active interventions on how women are represented on screen through telling their stories in their very unique creative voices," she said. "I met award-winning, writer-director Desiree Akhavan and critically acclaimed actor Lorraine Toussaint, along with representatives from Amazon Studios, leading festival directors and industry professionals."
"Not only does this help my work," Alqadar said, "these connections will also help my students through creative networks in the industry."