RIT earns three accessibility awards from software giant Microsoft
Honor and initiative includes designation as a Microsoft Accessible University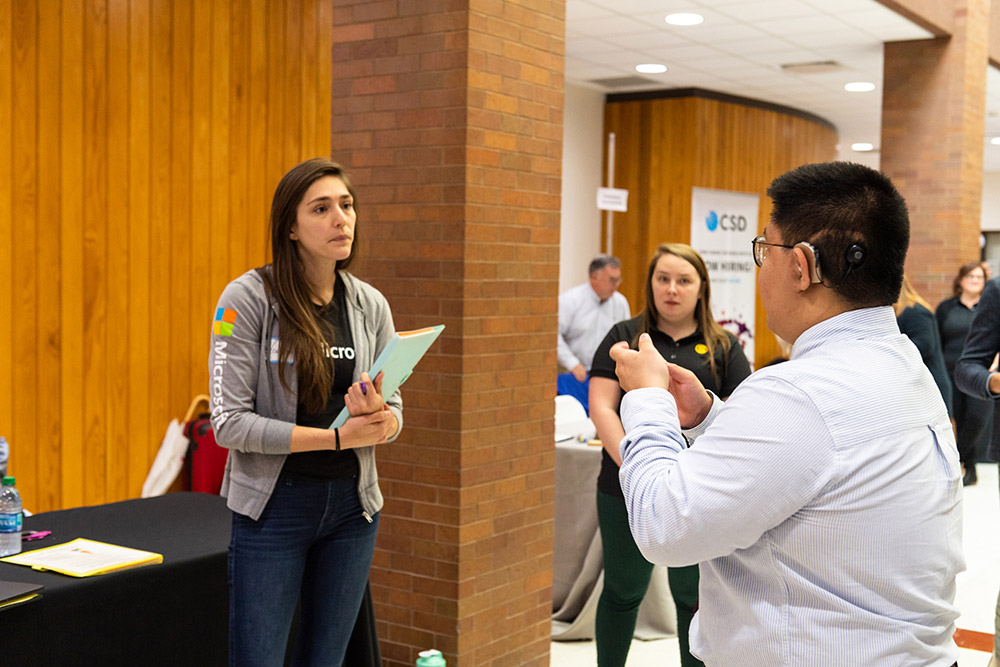 Rochester Institute of Technology has risen to new heights when it comes to improving upon and providing cutting-edge accessibility solutions by being named a Microsoft Accessible University as part of its latest initiative. RIT is one of only six universities in the United States to receive the designation.
Three financial awards will be used to fund accessibility initiatives on campus.
Project Fast Forward: Building the Pipeline of Deaf STEM Professionals of Color helps qualified deaf and hard-of-hearing high school students across the country get a jump start on a college degree by offering dual-credit college courses in STEM areas. Courses, offered in schools for the deaf and public high schools with programs for deaf and hard-of-hearing students, are taught by their own teachers, during regular school hours. The credits earned by students can be used toward a degree at RIT/NTID or any other college across the country that accepts the credit.
"This program is especially attractive to deaf students of color for whom the cost of a college education may be a barrier to entry," said Bryan Hensel, executive director of NTID. "Making the Project Fast Forward program fully accessible to deaf students of color is an important strategic goal for the program, and aligns with NTID's Antiracism and Social Justice Plan. While a priority, systemic barriers to making this important program fully accessible to this often overlooked and underserved group are significant."
Recruiting Student Leaders with Disabilities: A partnership between RIT Admissions, Disability Services, and the National Technical Institute for the Deaf, led by RIT's Director of Disability Services Catherine Lewis, is a cohort-based recruitment and retention initiative for prospective students with disabilities, modeled after the Posse Foundation's successful and longstanding approach. The goal is to empower and connect prospective RIT students with disabilities, and positively impact graduation rates among RIT students with disabilities.
According to Lewis, 2018 information from Cornell University's Disability Statistics database states that 15.2 percent of noninstitutionalized, 21- to 64-year-olds with a disability in the United States have earned a bachelor's degree or higher. In stark contrast, 2018 U.S. Census Data on the general population reports that nearly 35 percent of adults aged 25 and over have obtained at least a bachelor's degree. Compounding this access gap is an absence of college admissions recruitment efforts targeted at prospective students with disabilities.
The Science of Success: Addressing Anxiety as a Barrier to Higher Education Success in STEM is a means of supporting students' mental health by integrating anxiety management and skills training directly into strategic areas of the STEM curriculum, providing tools that identify early risk factors, facilitate meaningful student engagement, mitigate anxiety as a barrier to academic achievement, and evaluate regularly.
"Student anxiety is likely the number one threat to achieving a goal of graduating, as it prevents social and academic risk-taking, and leads to student disengagement," said David Reetz, director of RIT's Counseling and Psychological Services. "The right tools, processes, and engagement techniques will facilitate 'The Science of Success' and ensures that STEM students struggling with anxiety can achieve optimized performance in their interactions with people, and their engagement with projects."
Reetz also said that "The Science of Success" initiative will develop a process to leverage data analytics for insight regarding early identification of students who may need additional support in STEM classes and assist in the implementation of countermeasures to give these students the best possible chance of success. The initiative will also feature a RIT co-op student as a key developer of the technology that bridges academic distress with early intervention, in addition to the data collection and analysis infrastructure.
Microsoft has partnered with RIT on accessibility initiatives in the past including the use of Microsoft Translator language technology to transcribe lectures in real time to help students who are deaf or hard of hearing feel more engaged.
Topics