RIT establishes Gleason Doctoral Fellowships
Donation builds upon ongoing collaboration between RIT and Gleason Corp. toward new gear research lab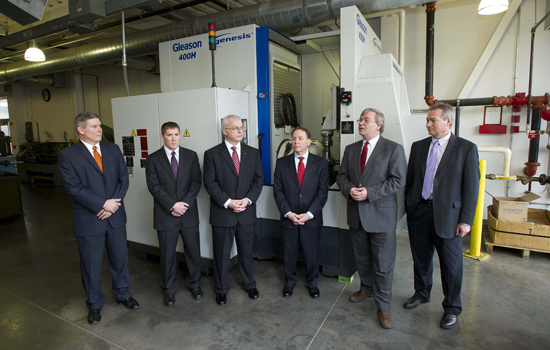 Gleason Corp. of Rochester recently donated $300,000 to establish the Gleason Doctoral Fellowships at Rochester Institute of Technology. The fellowships will be incorporated into the university's Ph.D. in engineering program and used to further collaborations between RIT and Gleason Corp. related to gear design and manufacturing research.
"Gleason and RIT have enjoyed a mutually beneficial and highly valued relationship for more than 100 years. As Gleason celebrated its 150th anniversary in 2015, we felt it important to build on our success with RIT and establish these doctoral fellowships," said Brian Perry, vice president of Rochester Operations at The Gleason Works.
"This fellowship program sponsors valuable research into advanced gear design and systems engineering that will benefit gear producers globally. Gears are used in a wide variety of products across hundreds of different applications. The need for greater energy efficiency, improved noise characteristics, greater duty cycles and lower costs are key objectives within the research plans."
Last April, RIT and Gleason Works began a new research partnership to further advance innovations in gear manufacturing, theory, materials science and product development. The company also made a significant long-term loan of gear manufacturing equipment to the college's machine shop, as part of an upgrade to the lab that is used by the college's undergraduates in mechanical engineering.
Doctoral students are critical members of any academic research team, both supporting the day-to-day work of their faculty mentors and developing their own career expertise that they will carry into industry, research or teaching arenas in the future, said Edward Hensel, associate dean for research and graduate students in RIT's Kate Gleason College of Engineering. He also coordinates the engineering doctoral program.
Some of the Gleason-RIT research getting started includes design and optimization approaches to improve meshing and contact of gear drives and design techniques to compensate for errors of alignment in the gear drive due to deflection of their supporting shafts when transmitting the nominal power. Additional research being considered focuses on wear and friction of materials and gear systems, gear manufacturing processes, and heat treatment of metals.
"Three Ph.D. students will be engaged in gear research and will collaborate with RIT mechanical engineering faculty members Alfonso Fuentes, Patricia Iglesias, Rui Liu and others for the duration of their doctoral program," said Hensel. "The knowledge developed through the team's research will have an important and near-term impact on the gearing technology industry, while the students will be mentored to become the future leaders in that industry for decades to come."
RIT and Gleason's representatives will collaborate through regular presentations of research results, pursue joint publication of findings and identify emerging areas of research interest. Gleason engineers have already been serving as adjunct faculty members in the engineering college, and several RIT students have been employed as co-op students and full time hires at the company. RIT faculty members have participated in several technical conferences hosted by Gleason, and teams of more than a dozen researchers from both Gleason and RIT have visited each other's facilities to identify potential areas for research collaboration.
Topics