RIT helps foster faculty growth through mini grants
Faculty Career Development is now accepting grant applications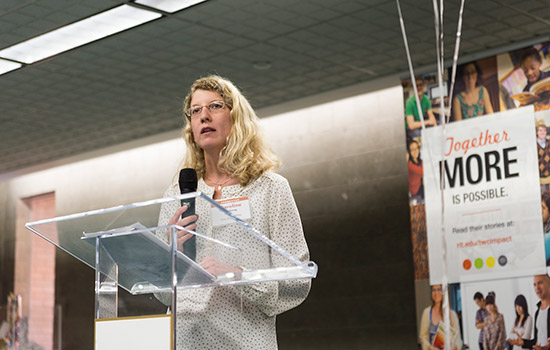 To help faculty develop professionally, hone their teaching skills and stay current in their fields, Rochester Institute of Technology's Faculty Career Development (FCD) and the Office of the Provost are now accepting applications for four annual grant programs. These offerings emphasize the crucial skill of mentoring and the specific activities of lecturers and adjunct faculty. A new Faculty Stretch grant program introduced this year is intended to reach beyond one group or department and impact the broader RIT community.
With deadlines quickly approaching, Senior Faculty Career Development Consultant Cheryl Herdklotz urged faculty to apply. "Our goal is to help faculty grow their skills and foster connections that will help propel their academic careers," she said. "The funds are available, so faculty shouldn't hesitate to pursue these opportunities."
The four grant opportunities currently available include the following:
Applications for the mentoring, lecturer and adjunct grants will be accepted online until 5 p.m. Monday, Nov. 6. For the Stretch program, applications are accepted on a rolling basis throughout the year. To learn more about eligibility requirements and the application process, go to https://www.rit.edu/academicaffairs/facultydevelopment/grants-scholarships/timelines.