August 6, 2018
by Luke Auburn
RIT helps prep Rochester seniors for next step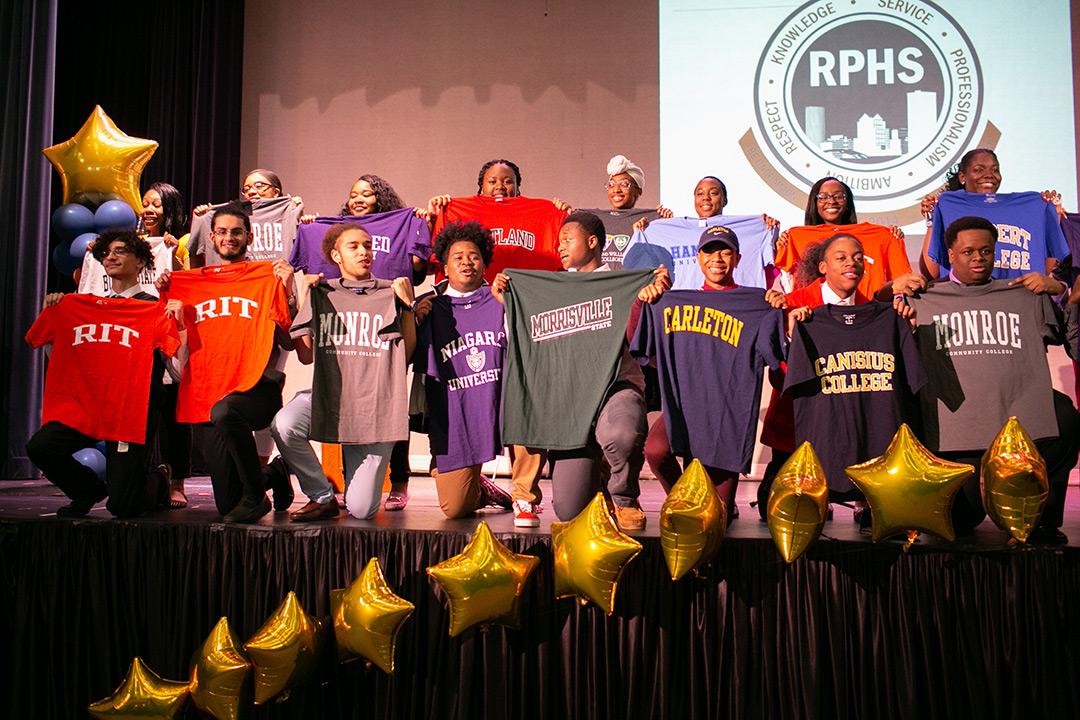 In front of a crowded auditorium at Rochester Prep High School in May, Ismael Cortes Jr. took the stage. The occasion was "Decision Day," when seniors from the charter school's first graduating class proudly declare where they will go to college.
"In four years, I will be graduating from Rochester Institute of Technology," said Cortes to cheers.
While Cortes looked elated by this announcement, he did not seem overwhelmed by the thought of college life. That's because he's already gotten a heavy dose of college-level work courtesy of Rochester Prep's strategic partnership with RIT.
Since the high school's inception in 2014, RIT students, faculty and staff have been helping to prepare Rochester Prep students to succeed at college through coursework, tutoring and mentorship.
From the beginning, the charter school has placed the focus on graduating from college, as Cortes noted on Decision Day. But while Cortes and his classmates already have their eyes focused on the endgame of earning a college degree, they took a day to celebrate the first big step of getting accepted.
The graduating class of 25 students received 96 college acceptances, and 100 percent of these students will attend college in the fall, including at prestigious national universities such as RIT, George Washington University and Carleton College.
That is significant compared to their peers in the Rochester City School District, where last year 69 percent of graduates planned to go to college, according to state data.
Sixty-six percent of the Rochester Prep graduates, like Cortes, will be first-generation college students. Cortes, who will study new media marketing at RIT, will be joined by classmates Zaid Abdulsalam (undeclared art) and Justice Marbury (photojournalism), as well as more who plan to transfer to RIT in two years after first taking classes at Monroe Community College.
"We have a really small school and everyone is close to each other," said Cortes about declaring his college decision before family, friends and underclassmen who are starting to think about college themselves. "Seeing the love that everybody showed for us made everybody excited."
A shared dream
In 2013, Uncommon Schools announced they would launch a new charter school, and RIT became a strategic partner thanks to longtime RIT Trustee Ronald L. Zarrella, who contributed the funding necessary to support the development and delivery of RIT's contributions.
"Our vision was to get every kid to and through college, with a special push on science, technology, engineering and math (STEM)," said David McBride, principal at Rochester Prep High School. "I think one of the things that was important for us—which is why the partnership with RIT has been so great—is trying to give our students a path to a STEM field."
When the school's doors opened a year later, RIT faculty and staff served on an advisory board for the school, RIT students worked as tutors for Rochester Prep students and RIT created and staffed a digital design course. Rochester Prep students also began to visit campus.
The partnership would grow each year and RIT would offer more and more opportunities for the Rochester Prep students as their skills advanced.
Marbury was among the first Rochester Prep students to do intensive work at RIT. In the summer of 2015, she came to RIT for a photography workshop with William Snyder, chair of the photojournalism program.
She quickly became hooked on photo–graphy, and RIT became like a second home. She returned for multiple photography workshops with Snyder, took photographs at Imagine RIT: Innovation and Creativity Festival for a project and eventually became one of seven students who would pilot a senior capstone project program last fall.
For her capstone project, Marbury and Cortes explored new avenues of photojournalism with RIT Assistant Professor Josh Meltzer. The students produced a short documentary about the future of Parcel 5, a key piece of open real estate in the city's center, that featured interviews with Rochester Mayor Lovely Warren and other community members.
Marbury seemed to relish the extra work.
"She's always so busy between school, work and also doing her capstone and socializing," said her mother, Mia Marbury. "Somehow she's able to get everything done and still stays on high honor roll. It's amazing to me."
As part of the inaugural class, Marbury has always been one of the oldest students at her school and feels an obligation to set a good example and take advantage of the opportunities she has been presented. She aims to be the first from her family to graduate from college and wants more students to follow in her footsteps.
"I feel like the whole school's big sister," she said.
Abdulsalam also takes pride in being among the first graduating class and blazing a path for future Rochester Prep students.
"It's exciting to be the first ones to do this, especially with my sister who's in middle school. I feel like I'm kind of laying the groundwork for her to come do and experience more."
So when it came time for Abdulsalam to visit the RIT campus for accepted student open house, he brought his sister Afnaan so she too could see what college was all about.
Abdulsalam said his family has been key in helping him find his path toward college, and it was their advice that helped him find the field he plans to study at RIT.
"Throughout my high school life, I knew I wanted to be in a medical field of some sort," said Abdulsalam. "I just didn't know what it was. I wasn't sure if I wanted to be a surgeon or anything else. And all my friends and family were like, 'Zaid, you're good at art—you should do something like that.'"
With a little help from one of his teachers, he soon discovered that the medical and the art worlds intersect in a program taught at RIT.
"We had an art club and one of my teachers told me about medical illustration and I was interested," he said. "I looked it up over the summer and when I dug into it, I was like, 'Oh, this could actually be a good way to use both my art skills and my interest in medicine.'"
Abdulsalam will enter RIT as an undeclared art major but plans to hone in on medical illustration for his degree.
Ready for college life
The partnership between RIT and Rochester Prep doesn't just get the students exploring new subjects and applying their skills in ways they normally wouldn't in high school. Being in a college atmosphere and around college students has helped the Rochester Prep students pick up the soft skills and work ethic they need to succeed at the next level.
"The goal for Rochester Prep High School, as it grows, is to produce full cohorts of students that are ready for college," said Christy Hendler, director of Strategic Initiatives at Rochester Prep. "They've had the AP classes, they have the SATs, they have the independent thinking, the drive and everything that they need to be successful."
Abdulsalam also participated in a senior capstone project last fall, designing characters for an experimental computer game that uses colored visors to distort what players see. His mother, Dilia Corujo, saw him and his classmates start to engage in their work in a whole new way.
"I think it was a great, amazing experience," she said. "If anything, it definitely taught them time management in regards to the real college world. You can't just go in and say, 'I'm not going to do my homework, I'll go to class and that's it.' You have to put in the work, the effort and the extra time."
All of this extra work paid off for her son, who was accepted to RIT, his first choice, via the Early Decision Plan and was offered a scholarship through the Destler/Johnson Rochester City Scholars program.
That scholarship provides free tuition and academic and social support for graduates from Rochester City School District and approved charter schools with financial need.
The New York State Arthur O. Eve Higher Education Opportunity Program (HEOP) also will support some of the RIT students.
As a whole, the Rochester Prep senior class received more than $3 million in scholarship offers.
And as they tend to do in most things, the three Rochester Prep graduates attending RIT got an early start on their studies this summer. They were among the 70 students chosen to participate in the RIT Division of Diversity and Inclusion Summer Experience, an intensive four-week summer program that consists of two four-credit hour courses, developmental workshops, academic coaching, exposure to research and community service programs.
The road ahead
RIT and Rochester Prep are planning to build on the successful collaborations they've had so far. For starters, officials plan to significantly grow the senior capstone program. This school year they aim to have eight RIT faculty members working with about 20 Rochester Prep seniors.
And with bigger cohorts ahead—next year's senior class will be 60 students, more than double the size of this year's—RIT and Rochester Prep will look for additional ways to get the high school students ready for college life.
"Because we started from ground zero, my expectation with the initial grant was to get the groundwork of what is possible seeded so it can perpetuate itself, and I think we've done that," said Zarrella. "I still have really big expectations for this program going forward. I hope more and more of their top students will come to RIT."
On signing day, Cortes and his classmates reveled in their moment. It was the culmination of all their hard work and the hours they've sacrificed, knowing that uncertain but bright futures lay ahead.
"Today was an amazing experience," said Cortes. "Most of the people in my family were here. I was trying so hard not to look at them just because I knew I was going to break out and cry, especially because I'm the first one from my family to go to college. It was hard for me to keep my emotions in check."
Relive Decision Day
What is a charter school?
A charter school is an independently run public school granted greater flexibility in its operations, in return for greater accountability for performance. The "charter" establishing each school is a performance contract detailing the school's mission, program, students served, performance goals and methods of assessment.
About the partnership
RIT has been a strategic partner of Rochester Prep High School since the public school, which is free and open to all families living in the city, opened in 2014. RIT's efforts were led by Kit Mayberry, vice president for strategic planning and special initiatives, who guided dozens of RIT faculty, students and staff involved in designing and running the partnership. RIT Trustee Ronald L. Zarrella contributed the funding to support the development and delivery of RIT's contributions. Rochester Prep expects to have 378 students this school year.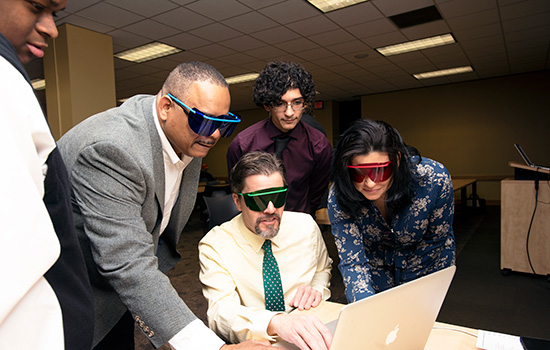 A. Sue Weisler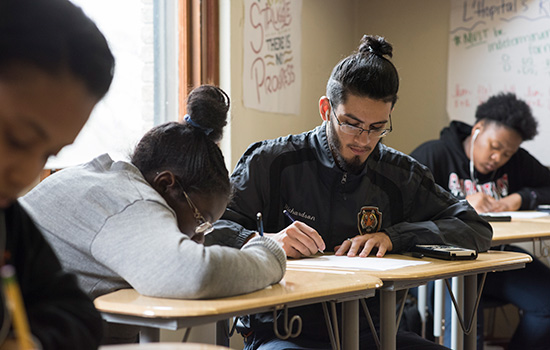 A. Sue Weisler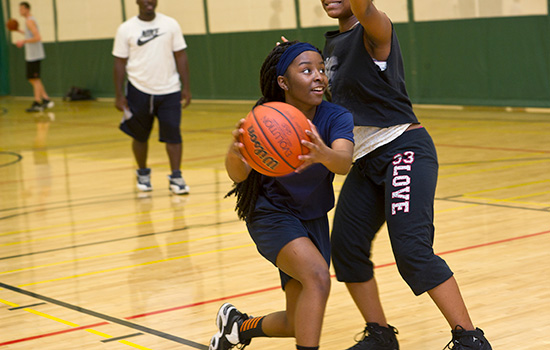 A. Sue Weisler