RIT to hold math program for eighth-grade girls
RIT College of Science hosts award-winning SMASH program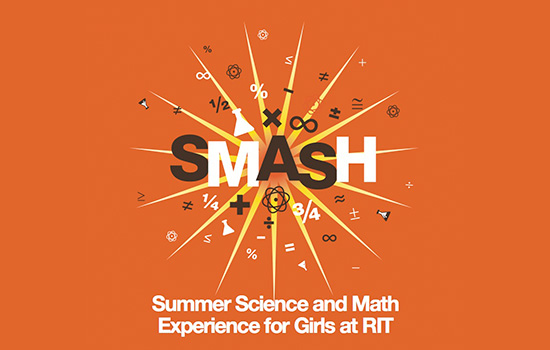 A summer program at Rochester Institute of Technology will introduce middle-school girls to a world driven by mathematics.
The RIT Summer Math Applications in Science with Hands-on experience for girls, or SMASH, will show rising eighth graders the power of mathematical modeling. Teams of girls will use math to decode mysteries in science and other real-world puzzles, while learning about future math-based careers. Participants will also gain experience presenting their ideas at the end of the session.
The program will be held in the RIT College of Science 9:30 a.m.-4 p.m. July 17-21. Daily drop-off will start at 8:30 a.m., with evening pick-up between 4-5 p.m. Attendance is limited to 40 campers.
"SMASH is designed to increase middle-school girls' engagement and interest in STEM (science, technology, engineering and mathematics)," said Kara Maki, program director and assistant professor in RIT's School of Mathematical Sciences. "Our goal is to help girls build confidence in math and science, and the courage to pursue their interests."
The Finger Lakes STEM Hub in 2016 recognized SMASH as an exemplary K-12 STEM program. Maki, a member of RIT Women in Science, developed the program with a grant from RIT's College of Science in response to the nation's drop in math and science rankings reported by the U.S. Department of Education. The SMASH program began in 2014 and is affiliated with RIT's CASTLE, Center for Advancing STEM Teaching, Learning and Evaluation.
SMASH registration is $250 and includes lunch, snacks, recreational activities and T-shirts. Need-based scholarships are available from the RIT College of Science and donor gifts. To register, go to the RIT Center for Advancing STEM Teaching, Learning and Evaluation webpage by May 31.
For more information, contact Kara Maki at kmaki@rit.edu or Corinne Teravainen, SMASH program coordinator, at cxtsma@rit.edu.