RIT hosts rare exhibit featuring work of Abram Games
Exhibition of British graphic designer's wartime poster designs marks first U.S. showing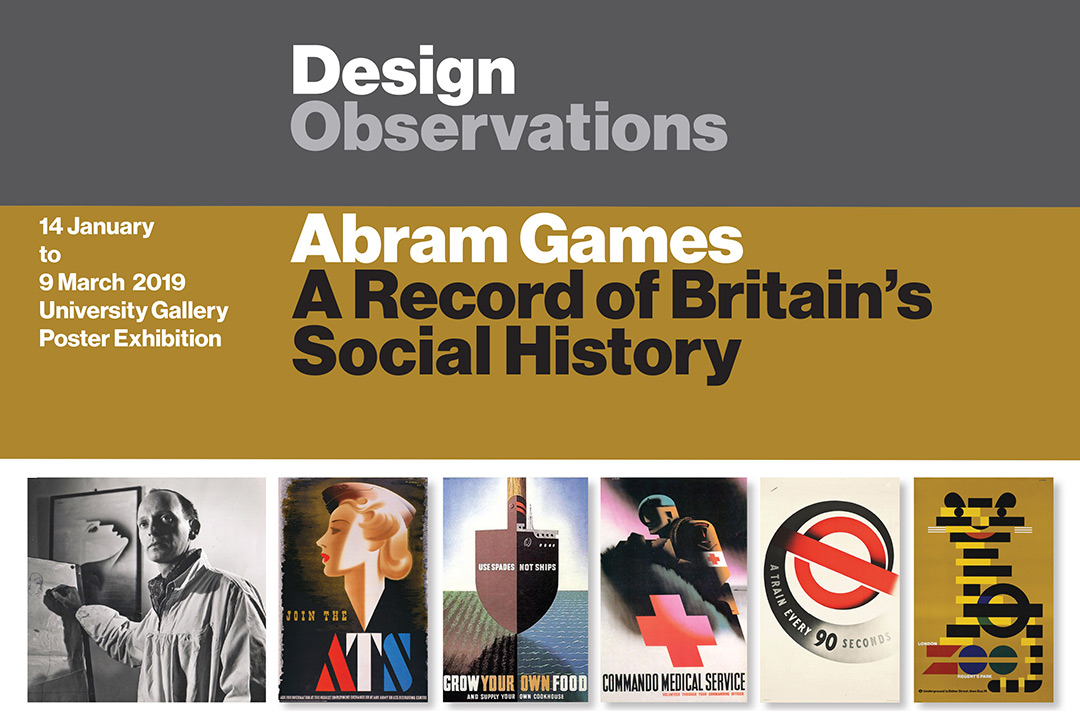 The pioneering work of Abram Games, a prominent British graphic designer renowned for his inimitable wartime poster designs, is now on display at University Gallery in Booth Hall on the Rochester Institute of Technology campus through March 9.
The exhibition, titled "A Record of Britain's Social History," marks the inaugural American show of Games' designs, according to R. Roger Remington, Vignelli Distinguished Professor of Design and director of the Vignelli Center for Design Studies in the College of Art and Design.
Remington said RIT is very fortunate to present such a rare exhibit of graphic design. The show is scheduled to move to the Hoffmitz Milken Center for Typography at the Art Center College of Design when it leaves RIT.
"We are indebted to his daughter Naomi Games for the loan of the work, her commitment to the legacy of her father's accomplishments, and for her willingness to visit RIT and share their remarkable history with us," he said.
The exhibit highlights 50 of Games' posters as well as his sketches, book covers, stamp designs and more—"all of which demonstrate the lost art of graphic design by hand," Remington noted. Naomi Games delivered a public lecture inside the gallery Jan. 22.
In an impressively productive career, Abram Games (1914 –1996) keenly understood the charge of the Russian avant-garde designer El Lissitzky's definition of an elective poster: "First seduce the eye and then address the intelligence."
His streamline-modern style, "refined but vigorous compared to the work of contemporaries, has earned him a place in the pantheon of the best of 20th-century graphic designers," Remington noted. When he once acknowledged his power as a propagandist, he claimed, "I wind the spring and the public, in looking at the poster, will have that spring released in its mind."
Abram Games was a leading member of a group of British Modernist graphic designers that included Tom Purvis, Tom Eckersley, F.H.K. Henrion, E. McKnight Kauffer and Hans Schleger. His career lasted more than six decades during which he essentially created a record of the era's social history. His graphic design was clear, coherent and creative, and his work is recognized for its "striking color, bold graphic ideas, and beautifully integrated typography."
Largely self-taught, Abram Games left St Martin's School of Art after two terms. Between 1932-1936, he worked for Askew-Young, a London studio. He was awarded first prize in a London County Council poster competition in 1936, enabling him to eventually establish a successful studio to work with clients, including London Transport, Shell and Britain's General Post Office.
In 1939, Abram Games joined the infantry, and in 1941 he was drafted to the War Office to produce a Royal Armored Corps recruiting poster. He persuaded the War Office to commission many instructional and educational posters. In 1942, he was appointed to the new post of official war poster designer. After designing nearly 100 posters, he left the War Office in 1946 and immediately resumed his freelance practice. His philosophy of "maximum meaning, minimum means" gave his posters, advertisements, symbols and stamps a distinctive conceptual and symbolic quality.
Games went on to produce hundreds of posters for private and public organizations in Britain and Israel. His symbols for the 1951 Festival of Britain (designed in 1948), BBC Television (1952), and the Queen's Award to Industry (1965) are particularly well known. He was a visiting lecturer in graphic design at the Royal College of Art in London between 1946–1953. In 1957, he was awarded an OBE, which stands for Officer of the Most Excellent Order of the British Empire—a Queen's honor given to an individual for playing a major role in business, charity or the public sector.
Abram Games was awarded the designers and art directors association President's Award in 1991. His book, Over My Shoulder, published in 1960, details his account of his career up until that point in his life.
Topics