RIT offers health and well-being management MS degree
Wegmans School of Health and Nutrition launches new degree in fall 2020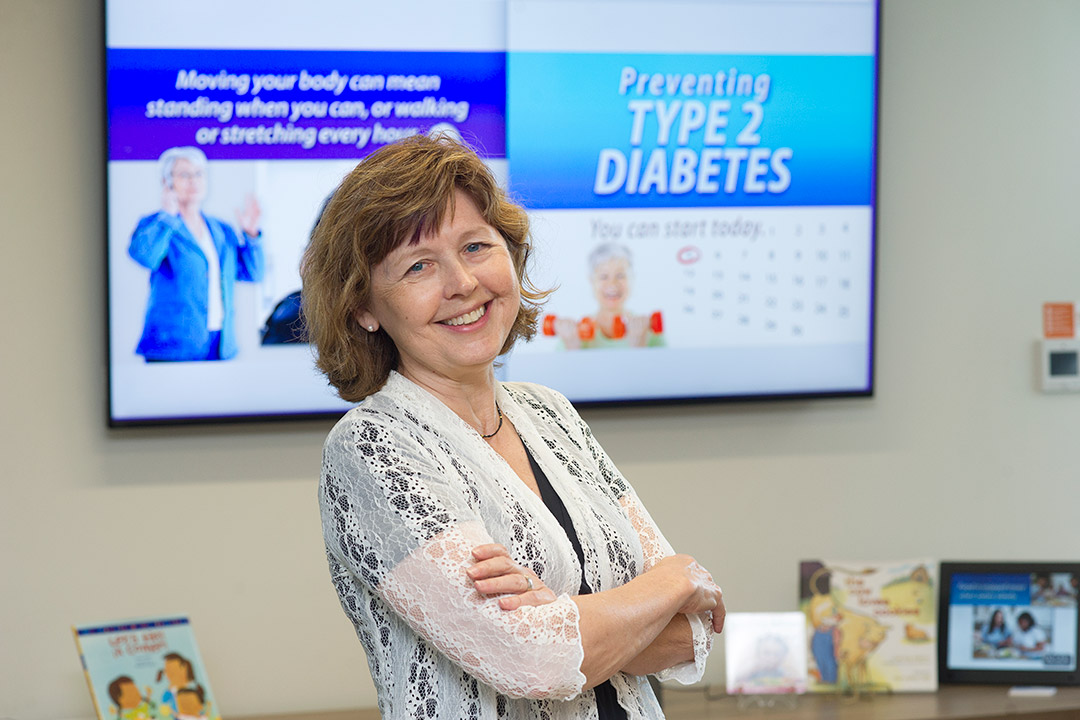 A. Sue Weisler
A new graduate degree in health and well-being management at Rochester Institute of Technology will prepare students for careers in primary health care, corporate America and community health programs, or for medical/dental school and health-related Ph.D. programs.
RIT's Wegmans School of Health and Nutrition is accepting students to the health and well-being management program for fall 2020. The program's emphasis on employee health and workforce productivity aligns with projected job growth.
According to the U.S. Department of Labor's Bureau of Labor Statistics, the outlook for health educators and community health workers who teach behaviors promoting well-being is expected to increase by 11 percent, a faster than average rate, within the next decade.
The job forecast is a reflection of "staggering" health care costs, said Barbara Lohse, head of RIT's Wegmans School of Health and Nutrition. Governmental and corporate sectors look to contain costs through healthy lifestyle management and disease prevention programs. Provisions created by the Affordable Care Act and throughout corporate America embrace wellness initiatives to improve health outcomes and reduce high health care costs linked to preventable behaviors, Lohse noted.
The rise of chronic disease—Type 2 diabetes, heart disease and chronic pulmonary conditions— in the United States is tied to inactivity, poor nutrition, tobacco use and alcohol consumption, according to the Centers for Disease Control and Prevention.
Lifestyle management is at the core of RIT's new program. The MS in health and well-being management is designed for students who are:
Seeking a path to careers designing and administering well-being programs in government, industry or corporate sector, and promoting health education;
Preparing for post-graduate studies in medicine or dentistry, or Ph.D. programs in health promotion, exercise science, public health and nutrition, or
Pursuing an advanced degree requirement to sit for the Registered Dietitian credential. By 2023, individuals must have a graduate degree to take the registration exam. The new health and well-being management program will be an option for RIT students who complete their undergraduate degree in dietetics and nutrition.
The health and well-being management is a hybrid program that blends traditional and online courses and can be completed in one academic year and a summer term. Students will complete 30 units of required and elective coursework, and a research-focused capstone course in which they design and execute a project relevant to the health-promotion industry. The health and well-being management program will prepare students to:
Design, deliver and evaluate interventions;
Conduct physical, nutritional and behavioral screening of clients to plan safe and effective health promotion programs for individuals in various states of health;
Work in interdisciplinary collaborations to promote and administer health related research, practice and policy at the local, state or federal level; and
Market program services to specific audiences with intervention strategies identified for each group.
"This is an especially good program for students planning to apply to medical, dental, physical therapy or other post-graduate health programs and who are looking for a pertinent, useful educational experience in their 'gap' year," Lohse said.
For more information about the health and well-being management MS program, go to https://www.rit.edu/study/health-and-well-being-management-ms, or contact Barbara Lohse at 585-475-6117 or at balihst@rit.edu.
Topics